LOUISVILLE, Ky. (WDRB) – The Jefferson County Board of Education may soon seek more tax revenue for Kentucky's largest school district, an effort that may need help from local voters this fall.
Board members discussed the possibility of collecting more tax money during a work session Tuesday, with some speaking in favor of seeking more than the 4% revenue growth in property tax receipts that school boards and other local governmental entities are allowed to take without triggering a possible referendum from voters.
The board has until May 21 to set a new tax rate for the fall billing cycle and must advertise the hearing in advance, according to Tuesday's presentation.
The prospect of higher taxes has been on the agendas of the school board and the administration of Jefferson County Public Schools in recent years, with leaders often pointing to the more than $1 billion in unmet facility needs in the district of nearly 99,000 students.
Even amid the global COVID-19 pandemic that has stifled economies throughout the U.S., some board members say they're ready to make their case for higher tax revenue to the public. JCPS is working out a contract with Osborne & Associates, a consulting firm, to handle public relations for whatever tax plan the board pursues.
Chris Kolb, the board's vice chair who also leads the district's Revenue Advisory Task Force, estimates that JCPS has lost out on more than $300 million in recurring tax revenue since 2010 because past school boards didn't accept the 4% revenue growth in property tax receipts, also known as the compensating tax rate, allowed by law.
"The best time to do it would have been years ago," said Kolb, who represents District 2 and favors collecting more in property taxes.
Without action to collect more tax dollars, he estimates that amount will double to $600 million by 2025.
Pursuing more revenue from base property taxes would give JCPS, which is operating on a $1.8 billion budget this year, more spending flexibility than passing a recallable "nickel" tax, which can only be spent on facility needs.
Kolb noted that the district's property tax rate is 73.6 cents per $100 of property valuation, 46th among the state's 172 school systems per the Kentucky Department of Education. JCPS is one of eight school districts in Kentucky that levies an occupational tax and one of 14 that doesn't tax utilities, according to KDE data.
"Our students in JCPS have been shortchanged for a long time by the federal government, by state government and unfortunately by our local board of education at certain times," he said.
"So really the most important things that we're honing in on where the research is leading us is effective teachers, and that means a few things," Kolb said. "It means supporting our teachers through things like attempting to get smaller class sizes. It means really putting more adults in a school building overall. More counselors per student makes a huge difference in student outcomes, more teachers per student, and then making sure that we are retaining our teachers by paying them a livable wage."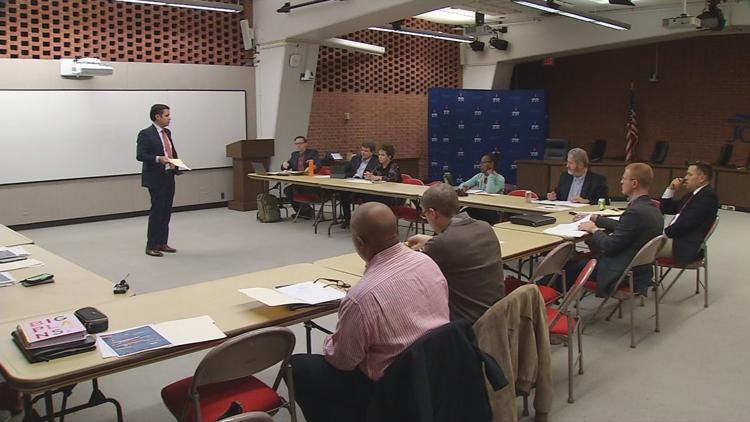 James Craig, who represents District 3, is also on board with seeking a property tax rate that nets JCPS more than 4% revenue growth after initially supporting the option to levy a nickel tax for facilities.
While it's easy to see the need for better facilities throughout JCPS, Craig says more funding through higher property tax rates can be dedicated to bridging the district's wide achievement gap between students of privilege and those living in poverty, a problem that may be exacerbated by the COVID-19 outbreak that prompted schools throughout Kentucky to stop offering in-person classes for the rest of the 2019-20 school year.
"The reality of the situation is that our achievement gap and the real needs that our students are facing won't be overcome by a nicer cafeteria or a bigger library," he said. "They need more bodies in the classroom."
"We're not going to be able to meet those needs just with the nickel tax if the proceeds of the nickel tax are tied only to facilities," Craig said.
But not everyone on the board is sold on the idea of pursuing tax hikes during a pandemic.
It's a belief not limited to the Jefferson County Board of Education. Louisville Mayor Greg Fischer told reporters last week that he would not seek higher taxes as part of his annual city budget proposal given the current economic landscape.
"Absent some type of community outpouring to say we need to raise our taxes, I'm certainly not going to advocate for that," Fischer said.
Chris Brady, who represents District 7 on the school board, noted that Jefferson County Property Valuation Administrator Colleen Younger delayed property assessments scheduled for this year to 2021 in light of the COVID-19 outbreak.
He said he would have supported higher taxes for JCPS if not for the ongoing public health crisis that has forced about 500,000 Kentuckians to seek unemployment relief.
"During these uncertain times, I think we're now climbing Everest without an oxygen mask," Brady said, adding that he heard opposition to tax increases before the COVID-19 outbreak. "I do believe that there will be substantial opposition from the public regarding increased revenue and increased taxes."
Kolb said the ongoing pandemic "definitely complicates the situation" but also adds a sense of urgency to greatly improve equity within JCPS.
"There are significant parts of the city that have not even really begun to recover from the recession of 2008, and now we're being hit with a recession that could be many, many times worse," he said. "Many of the kids that we are now educating in JCPS were born and raised during the aftereffects of the recession, which have entailed very, very high poverty for many kids."
"Frankly, we're struggling to educate a lot of those kids that are coming to us with trauma," he added.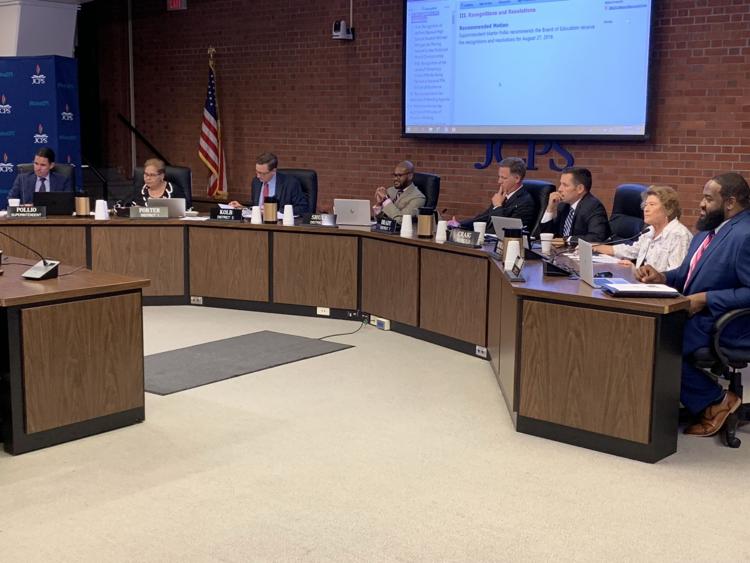 If the board seeks a property tax rate beyond 4% revenue growth or a recallable nickel tax, either could be put before voters this fall.
Successful recall petitions require signatures from enough registered voters to represent at least 10% of a jurisdiction's electorate in the most recent presidential election. For JCPS, that means 35,615 valid signatures must be obtained over a 50-day period to place such tax increases on the ballot, according to Tuesday's board presentation.
The process of collecting signatures for recall petitions got easier in Jefferson and Fayette counties thanks to a law passed last year that allows petitioners to gather them electronically.
If the effort fails in 2020, the school board may not get another opportunity to boost the district's coffers until 2022, a troubling prospect for Craig.
"It's another two classes of JCPS students who won't benefit from the additional resources that they deserve," he said.
Conversations are ongoing about scheduling a work session ahead of a tax hearing so the board can discuss its options, Kolb said.
"One thing I can assure you and everybody in the community is that we have done our homework and we are going to make the case as strongly as we can to the community and we're going to give the community the option to step up and support our kids," he said.
Correction: A previous version of this story identified Osborne & Associates as a Virginia-based company. Its principal location is Danville.
Copyright 2020 WDRB Media. All rights reserved.