LOUISVILLE, Ky. (WDRB) -- Members of the Jefferson County Board of Education will get their first look at early designs of four new schools during a work session next week.
The exterior renderings aren't final, but they provide an early glimpse of how the middle school and three elementary schools are taking shape.
The board, which approved construction of the new schools as part of a $120 million facilities plan in March, is scheduled to get an update on the projects during a work session Tuesday.
That includes early exterior designs and expected construction timelines on three of the projects already in the works: renovating and reopening the third floor at the Academy @ Shawnee and building new schools to replace Indian Trail and Wilkerson elementary schools.
Two other projects -- a new middle school in eastern Jefferson County and a new elementary school at the recently opened West Broadway YMCA campus -- only have renderings posted in Tuesday's board presentation.
Renee Murphy, communications director for Jefferson County Public Schools, said the renderings are "very preliminary" and that the Kentucky Department of Education will need to ultimately approve any school designs before construction can begin.
"This is an early opportunity for us to get some feedback from the board," she said.
Academy @ Shawnee renovation
The third-floor renovation at the Academy @ Shawnee is the furthest along of any of the district's major facilities project.
Construction is slated to begin April 1, with the north wing expected to be complete by Aug. 1 and the south wing scheduled to be finished in time for the start of the 2021-22 school year.
The board approved a $36.4 million contract with Brooks-based EH Construction to start work on the project, which includes a partial roof replacement for Shawnee, during its Feb. 11 meeting.
New elementary school at Indian Trail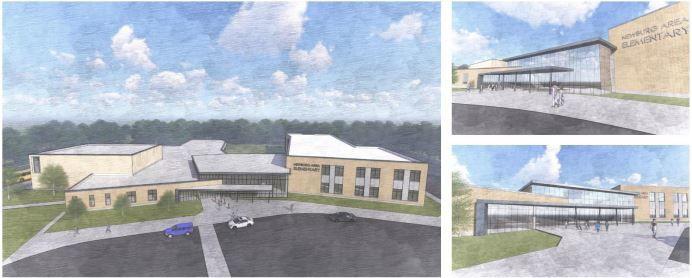 When the 2022-23 school year begins, students at Indian Trail and the now-closed Gilmore Lane elementary schools will walk into a brand new building.
Gilmore Lane Elementary was the only school that closed at the end of the 2019-20 school year as part of the district's facilities plan. That drew opposition from Gilmore Lane families, who said the school's closure should have been delayed.
Construction on the new school is expected to begin in December after the project is awarded this fall.
Louisville-based Pickett/Passafiume Architects is designing the school.
New elementary school at Wilkerson

Like Indian Trail and Gilmore Lane, students at Wilkerson and Watson Lane elementary schools will be under one roof starting in the 2022-23 school year.
Construction on the new school is expected to begin in December after the winning construction bid is awarded in the fall.
Louisville-based Studio Kremer Architects is designing the new school.
New middle school at Echo Trail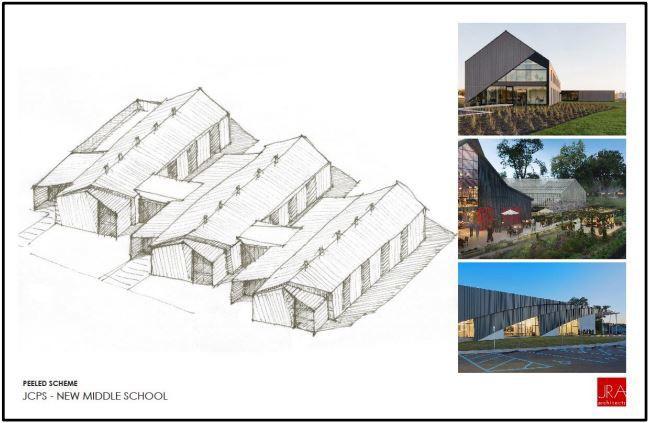 JCPS is eyeing a 40-acre tract on Echo Trail near Beckley Creek Park for a new middle school to ease overcrowding at schools in eastern Jefferson County.
But neighbors and conservation advocates have raised environmental concerns about the proposed site, saying a new school would strain roads that typically see little traffic in the area and put nearby Floyds Fork tributary at risk of pollution.
While there are no construction plans included in the board's presentation Tuesday, JCPS officials have said the new school could open for the 2022-23 school year to about 1,000 students. A decision on whether to purchase the land is expected by this spring.
"Clearly there's a lot of things we have to take into consideration when choosing land, and that's what we're doing right now," JCPS Superintendent Marty Pollio said at a Jan. 16 public hearing on the potential land acquisition.
Louisville-based JRA Architects is designing the project.
New elementary school on West Broadway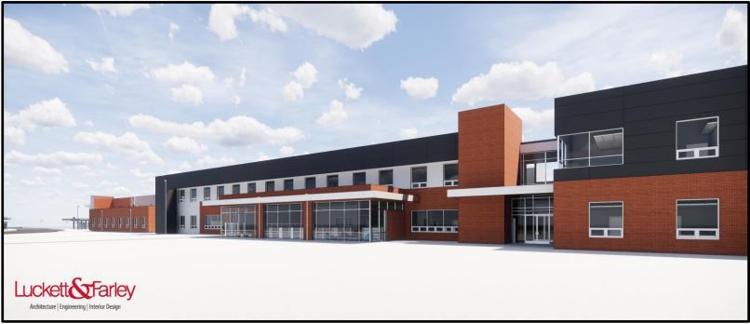 Another project without a construction timeline is the new elementary school in west Louisville that's slated for the recently opened YMCA on West Broadway.
The school will replace Wheatley and Roosevelt-Perry elementary schools.
Louisville-based Luckett & Farley is designing the new school.
Copyright 2020 by WDRB Media. All rights reserved.