LOUISVILLE, Ky. (WDRB) – After one day of classes, a touch of her nose is all Price Elementary School teacher Erin Bissinger needs to get her students to pull up their masks.
Thursday marked the second day of in-person instruction at Jefferson County Public Schools and the first for about 15,000 students in kindergarten through fifth grades whose last names start with the letters L-Z.
JCPS is offering classroom learning on hybrid schedules as part of a gradual reopening strategy, which includes implementing public health measures like masking and social distancing inside schools during the COVID-19 pandemic.
Price Elementary Principal Shuvon Ray and teachers at the school say their students have complied with those new requirements so far. Nearly two-thirds of the district's 96,000 students chose to return to schools once they reopen compared to about 35% who chose to continue learning from home.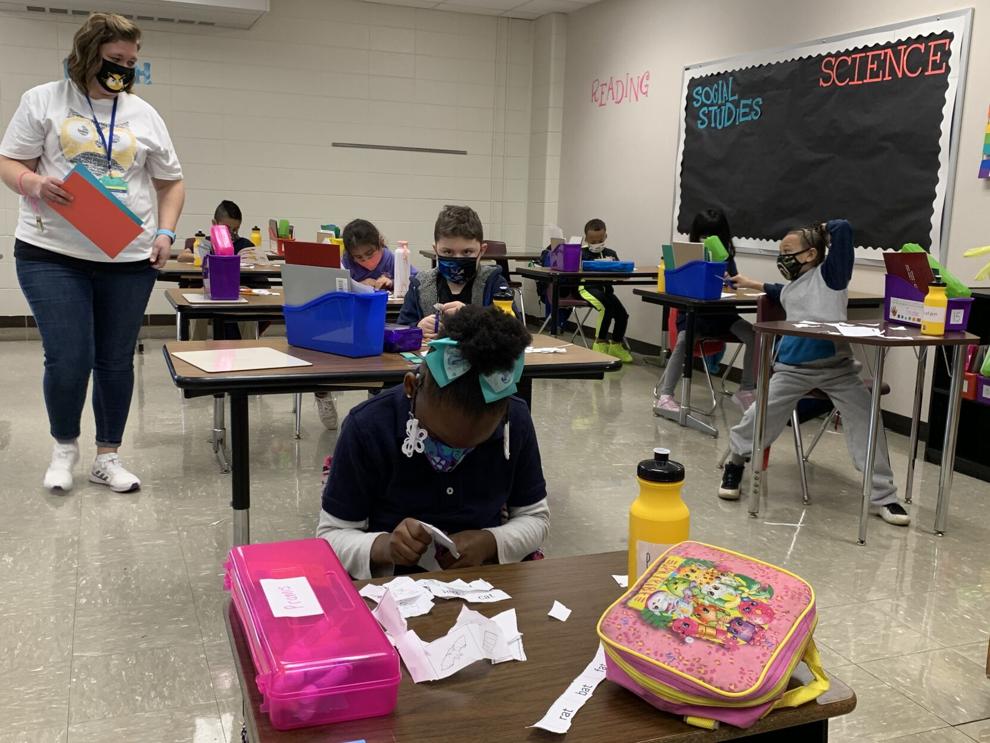 Bissinger approached Price Elementary's reopening "assuming the worst and hoping for the best" in terms of student compliance with public health guidance, she said. Six feet of distance may be difficult for some of her first graders to visualize, so marking spots throughout the building and having her students count how many tiles are between them and their neighbors helps reinforce indoor spacing, she said.
"What they did far exceeded what I expected, and I did that for myself so I wouldn't feel overwhelmed, but they were really good at keeping their masks on," Bissinger said during a press conference at the school. "We had several reminders to put them back over our nose. I have a silent signal now for them."
"I have no doubt that within a week they'll be experts at it," she said.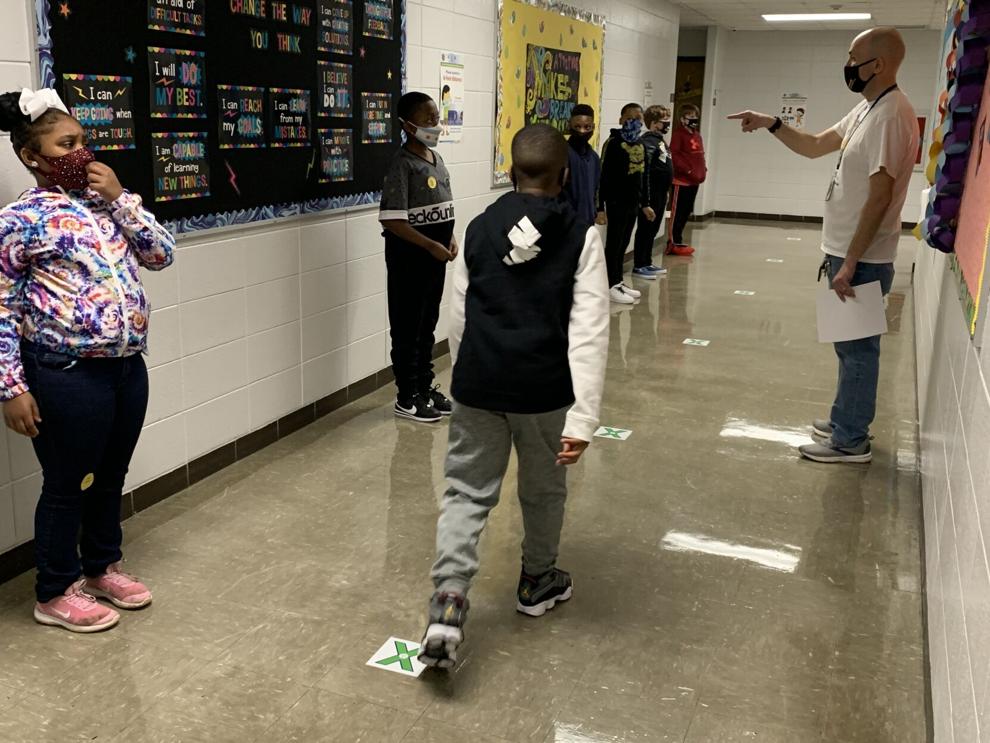 Based on what she observed Wednesday, Ray believes compliance will not be a problem at Price Elementary as students return to classrooms.
She attributes the school's early success to its planning in advance of Wednesday's reopening.
"Before school started, we had an opportunity just to go over what we should be focusing on," Ray said. "We want to make sure that safety is paramount."
"Practice, practice, practice, build relationships. That's been our focus for this week," she said.
JCPS Chief of Schools Robert Moore said schools have had to adapt normal back-to-school routines for the current environment, particularly in setting standards inside their classrooms. Teachers are "pros at what they do," he said.
Instead of teaching kindergarten students to sit in their assigned spots on a carpet, for example, "it's sit on the X crisscross applesauce," he said.
"This is typically what happens at the beginning of the year for kindergarten," Moore said. "They teach kindergartners how to do school, and that's what they're doing."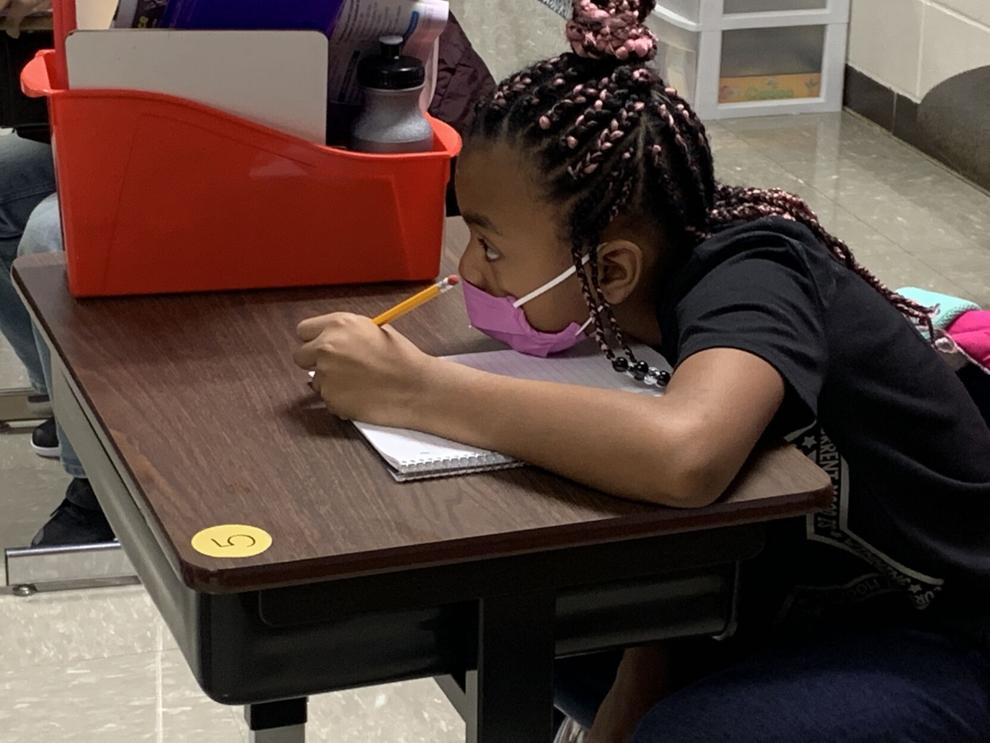 The first day of in-person classes at JCPS had few hiccups, according to the district.
Three students were sent home sick Wednesday, though not necessarily for COVID-19 symptoms, and one student whose quarantine had not been completed was sent home and had no contact with other students, said Renee Murphy, head of communications for JCPS. She was not aware of any COVID-19 rapid tests that had been administered Wednesday.
Mark Hebert, communications manager for JCPS, said the district had received no reports of students sent home Thursday with coronavirus symptoms.
"I think the biggest challenge that I observed yesterday and today has simply been some of the students who arrive on the day that they weren't supposed to arrive, which we expected," Moore said.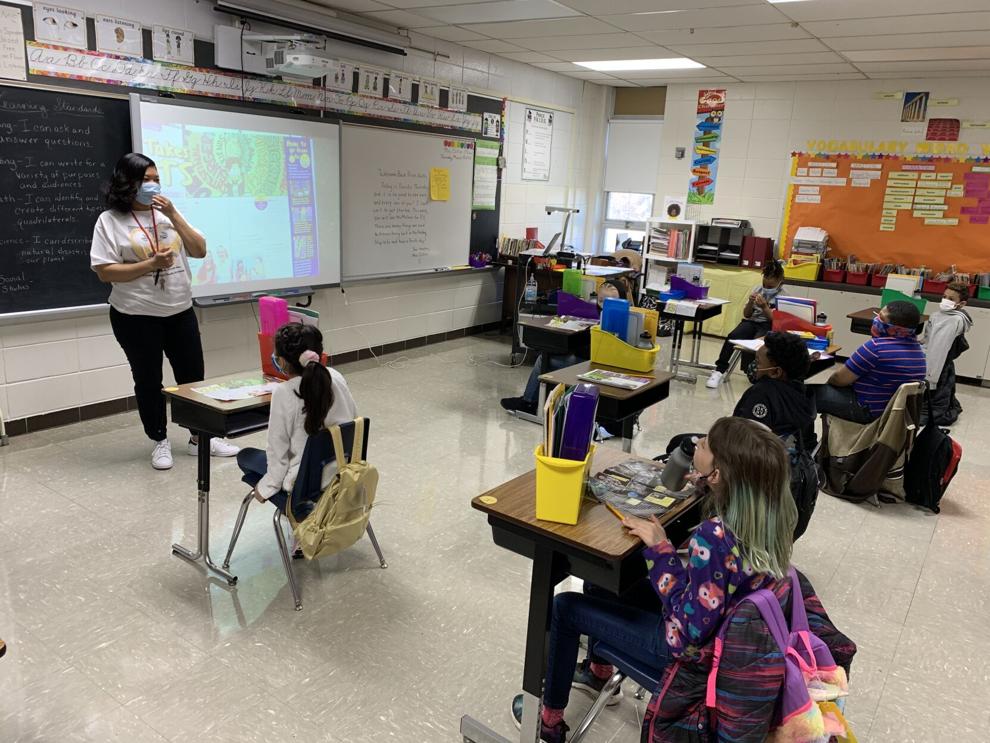 In one instance, Moore said a few students arrived at Indian Trail Elementary School on Wednesday when they were scheduled for classes Thursday. Rather than sending them home after the mix up, Principal Joseph Wood had them stay for the day.
"He was having them eat breakfast, taking care of them, making sure their needs were met," Moore said. "We made sure those kids are safe and that they're taken care of."
Teachers and students at Price Elementary who returned to classrooms were eager for the opportunity.
"I feel like the energy is there, and you could tell the students were even participating more than they do online," said Dimitra Collier, a third grade teacher. "They were excited and ready."
Hybrid learning for early childhood students will begin Monday followed by middle and high school students on April 5.
Copyright 2021 WDRB Media. All rights reserved.