LOUISVILLE, Ky. (WDRB) -- The Kentucky Board of Education unanimously approved an emergency regulation Thursday requiring masks inside public schools into 2022 on the heels of a similar executive order issued by Gov. Andy Beshear earlier this week.
The emergency regulation will be in effect for up to 270 days, and the board will consider rescinding it 24 hours after changes in recommendations from the U.S. Centers for Disease Control and Prevention or the Kentucky Department for Public Health on universal masking. Special meetings require 24-hour notice before they begin.
Emergency regulations last for 270 days under state law, Education Commissioner Jason Glass told members of the Kentucky Board of Education and Local Superintendents Advisory Council Thursday.
"We want to clearly communicate that it is not our intent to keep kids in masks for 270 days and also communicate that we are monitoring this very closely," Glass said during the state education board meeting. "... As conditions continue to be dynamic and shift, we want the requirements that we're asking schools to put in place to control and mitigate the virus to shift with that."
Beshear signed an executive order Tuesday requiring masks for those 2 and older inside schools, preschools and child care centers for 30 days. The governor cited the recent surge in COVID-19 cases, driven by the more infectious delta variant, for requiring universal masking as schools begin the 2021-22 school year.
The CDC and Kentucky Department for Public Health recommend school districts implement universal masking policies after originally suggesting such policies only for those who have not been vaccinated against COVID-19, which are available to those 12 and older.
"We want students back in real-time learning face-to-face as much as possible," board member Lee Todd said before the vote. "We're basically at war with this virus."
Other state education board members who spoke during Thursday's meeting echoed the same sentiment, saying they hoped universal masking would help limit the spread of the more infectious COVID-19 variant and keep students and staff out of quarantines.
"Failing to implement a mask requirement, in my opinion, is negligent given all of the information that we have and that we have gone over and over and over time and time again," Lt. Gov. Jacqueline Coleman said.
"That is negligence. We would be knowingly endangering our children if we allowed this to continue and just willfully stood back."
LSAC unanimously voted before Thursday's meeting to request the state education board table the emergency regulation and work with the state health department to develop local health metrics for school districts in determining COVID-19 mitigation measures.
Several superintendents on the panel expressed misgivings about the emergency regulation and state mandates on universal masking inside schools.
Taking such decisions away from local policymakers was of particular concern among LSAC members.
"I think local leadership needs to be able to make that decision based on what we're seeing," said Russ Tilford, the superintendent of Lyon County Schools who suggested the development of local health metrics to guide school decisions.
"We would like to be given the opportunity to try to do those strategies, use the data, work with our local health departments and make those decisions together for our school community as well as our community at home," Anderson County Schools Superintendent Sheila Mitchell said.
Others urged the state education board to slow down the process of approving the emergency regulation on masking inside public schools.
"I don't see the need to do this now," said Glasgow Independent Schools Superintendent Keith Hale. "I'm not disagreeing with anything you said, but to rush this and push this through right now, I don't see how it benefits anyone."
Glass, however, said enacting the emergency regulation will reintroduce "the proven mitigation strategies" to limit COVID-19 transmission that schools had in place during the 2020-21 school year.
"We're asking districts or will be requiring districts in this case to make sure that they have in place the same set of mitigation strategies that we have shown are effective in Kentucky," he told members of LSAC.
Although Thursday's Kentucky Board of Education and LSAC meetings were virtual, a few protesters showed up in Frankfort to voice their opposition to the state's mask mandates in schools.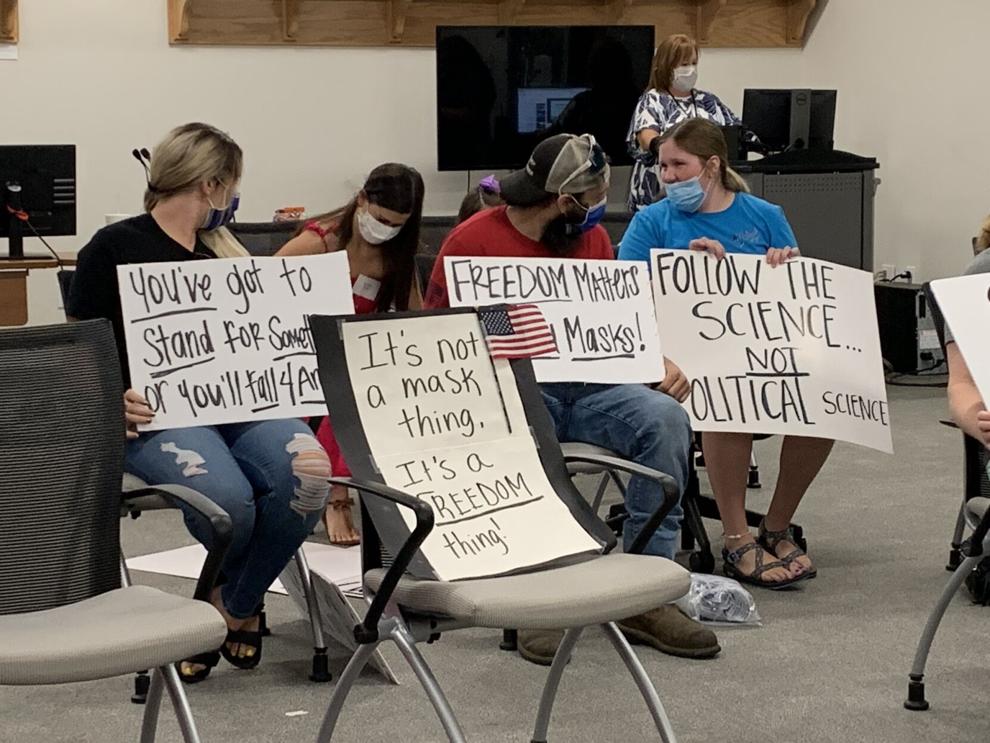 Morgan Burton, of Simpsonville, says she will consider homeschooling her children following the board's decision.
"I just feel like it should be an option for parents to choose," she said of universal masking. "I feel like it should not be something that is a permanent requirement for children."
Both the executive order and emergency regulation include several exemptions on masking in schools, including those with disabilities that prevent people from wearing masks, those who are receiving services, those who are hard of hearing or are communicating with people who are hard of hearing, those who are giving speeches who can maintain 6 feet of distance, anyone who is consuming food or beverages, and those who are exercising.
Copyright 2021 WDRB Media. All Rights Reserved.