LOUISVILLE, Ky. (WDRB) – Louisville Gas & Electric Co. is moving closer to filing condemnation lawsuits against Bullitt County residents who have refused to sell easements for a proposed natural gas pipeline.
Two landowners told WDRB News that LG&E's attorneys have sent letters in recent days warning that the utility is prepared to start legal action in just over a week if easement deals aren't reached.
Kimberly Brown, who has opposed a high-pressure natural gas line through her farm, said she received a letter July 15 giving her 10 days to make a counteroffer for her land or face a lawsuit. Another resident said she received a similar letter Wednesday.
LG&E spokeswoman Natasha Collins confirmed that all 10 property owners who haven't reached agreement with the company have been notified. That would appear to include Bernheim Arboretum and Research Forest, which is fighting the pipeline's path through a swath of land it owns north of its public forest on Ky. 245.
Bernheim officials did not immediately respond to a request for comment on Thursday.
Kentucky law allows gas pipeline operators to condemn land if they can't agree with property owners. Collins said eminent domain is a "last resort" in the utility's effort to acquire the land it needs for the 12-mile, $39 million project.
LG&E wasn't able to provide a comprehensive list of condemnation actions it's taken in the past. But Collins said legal action is "not typical," and noted that there are just two such cases pending.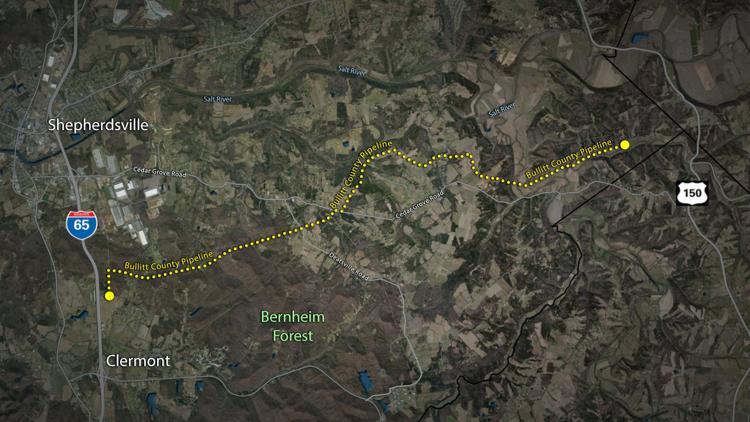 The pipeline would run between south of Mount Washington and Interstate 65, south of Shepherdsville, and eventually connect to existing distribution and transmission lines. LG&E has argued that the pipeline is needed to link up with an existing line and create a backup supply of gas to 9,500 customers.
Opponents have raised concerns about whether the route selection, and a process that kept key details about the route and opportunities for public input hidden until after state utility regulators approved the project. In response, Kentucky state Rep. Thomas Huff told WDRB News in May that he would file a bill for the 2020 General Assembly to increase transparency on pipeline projects.
The Louisville-based utility also predicts the line will serve future industrial users along Ky. 480 and Ky. 245 near I-65. The company said in filings with the Kentucky Public Service Commission that an unnamed "large existing customer" expects to increase its gas usage "considerably," but it has declined to identify that user.
Reach reporter Marcus Green at 502-585-0825, mgreen@wdrb.com, on Twitter or on Facebook. Copyright 2019 WDRB Media. All rights reserved.