LOUISVILLE, Ky. (WDRB) – Counselors and mental health professionals keep busy schedules at Jefferson County Public Schools as students continue to adjust to learning during a historic global health crisis.
In Kentucky and throughout the U.S., the COVID-19 pandemic has upended three academic years and forced students and teachers at school systems across the country to take their lessons out of classrooms as buildings closed for periods. Kentucky schools closed for in-person learning at the behest of Gov. Andy Beshear in mid-March 2020.
For students and staff at JCPS, remote learning was the norm for a year until Kentucky's largest school district reopened classrooms for alternating groups of students on a hybrid schedule starting with elementary schools in March followed by middle and high schools in April.
Rayontae Cardine, a fourth-grade student at Indian Trail Elementary, says he prefers coming to school for classes over learning from home.
"The computer kind of hurts your neck just trying to type, and it's kind of hard to fix mistakes," he said, noting that making friends at school is easier face-to-face "because you only get a limited time with other people" while doing schoolwork remotely.
The transition back to in-person instruction has come with some bumps for students like Cardine as JCPS schools returned to a traditional schedule and the denser classrooms that followed.
Erica Woolridge, Indian Trail Elementary's counselor, and Casey Burch, the school's mental health practitioner, say the social adjustment has proven difficult for many students who have not been in full schools and classrooms since March 2020, if ever, so far in the 2021-22 academic year.
"I think some of our students have forgotten how to interact with one another, just simple conversations and how to play and things like that," Woolridge said, noting that the pandemic has taken a social, emotional and academic toll on students. "They're behind."
Woolridge helped resolve a small confrontation in Indian Trail's cafeteria after a young student was aggressive toward another who was sitting in her assigned seat for lunch. Students must sit in assigned seats as part of the district's COVID-19 contact tracing program.
"When we kind of talked to her about it she realized that was too much, but it's just like they have forgotten that personal interaction with one another just to say, 'Hey, you're in my seat,' or, 'Hey, I need an adult to help me to fix this,'" she said. "Just things like that, those interpersonal communication things because we were on computers for 18 months that they just kind of lost some of that."
Cardine is among Indian Trail students who meet regularly with Burch.
"Usually I feel angry," he said of his mentality before their talks. "… There are certain things that distract me that kind of get on my nerves."
His meetings with Burch help him "work through some of the stuff" that he's going through, he said. Some things, like why he can't get out of his chair to stretch when the urge strikes, are hard for him to understand, he said.
"It helps me a lot," Cardine said.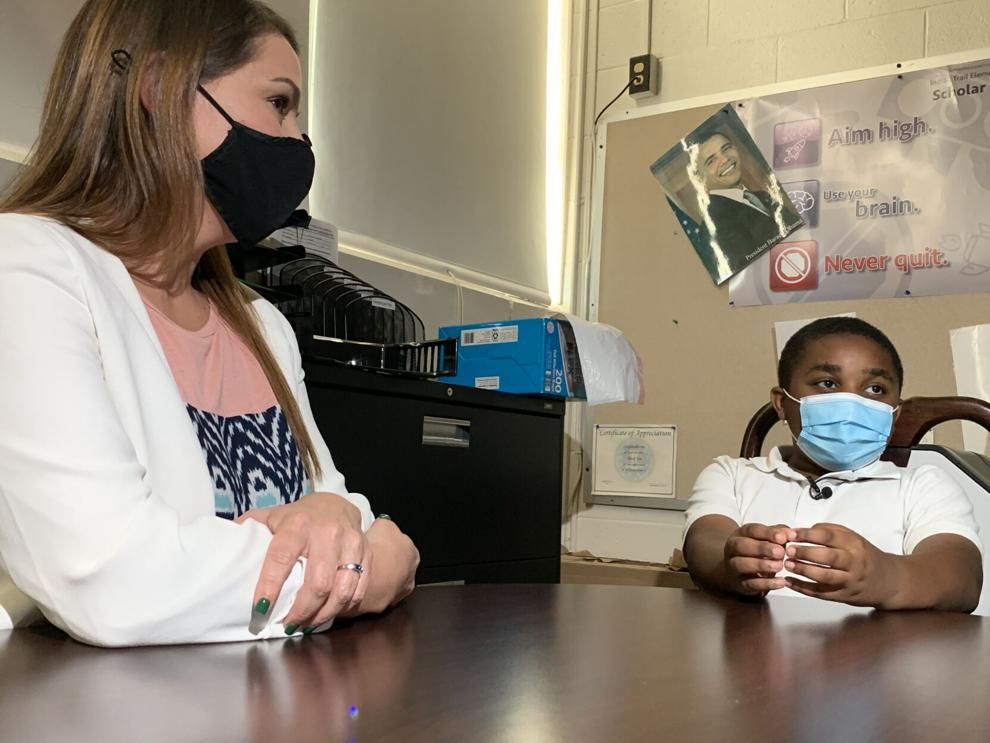 Others have noticed similar impacts from the COVID-19 pandemic on Louisville's youth.
Ben Johnson, assistant director of Louisville Metro Parks and Recreation, said Jefferson County children and teenagers struggled socially as schools, community centers, businesses and more closed during the COVID-19 pandemic.
He believes students who are bused to schools outside their communities as part of the JCPS student assignment plan were especially affected by the widespread closures because they missed social interactions with their friends from school and their neighborhood friends.
"Our kids lost two peer groups during the pandemic, so I think some of their struggles were magnified because of that," Johnson said. "… You have to sort of reorient some young people. The socialization has gone away."
The Parkhill Community Center, where Johnson spoke with WDRB News, was among spaces closed off to Louisville's youth early in the pandemic.
The community center reopened in March along with several others. Johnson estimates that about 20 to 40 fewer young people come through the center's doors on average compared to pre-pandemic numbers, and he expects an uptick in attendance as the days shorten and temperatures drop.
"100 is sort of where we were, and so we're getting back to that," Johnson said.
Community centers like Parkhill provide safe spaces for young people and can help connect them with needed resources thanks to partnerships involving Metro government, JCPS and community organizations, Johnson said.
Ballard High School sophomore Jamoni Beasley is among those who come to the Parkhill Community Center every day.
"I like coming here because it's fun," he said, noting that he enjoys playing basketball with friends there.
Jamoni says he appreciates the mental health resources available for students at Ballard. JCPS has spent about $3 million annually since February 2019 to give every student access to mental health practitioners like Burch, who is in her first year with the district.
"If you are upset in classes, you can go to a person to talk to," Jamoni said. "… You can go in there and relax with their therapy dog."
Many students at Indian Trail Elementary also struggled with COVID-19 mitigation measures when classes began in August, but Burch said that waned as the 2021-22 school year progressed.
"They now do better about keeping their mask over their nose, accepting the sanitizer, understanding their seating arrangements, specifically at the lunch tables," she said.
"In the beginning there was a lot of debate on why they can't sit with their friends or why they are in certain numbered seats to where now they understand and they just go along with it and they know that that's what is expected of them."
Indian Trail Elementary students aren't alone in their struggles so far this school year. Burch says other mental health practitioners in JCPS elementary schools have shared similar experiences with her.
"It does seem like it is collectively across the board, having the same experiences with children and the students dealing with the pandemic," she said.
Both Burch, who is in her first year at JCPS after leaving private practice, and Woolridge, who is in her sixth as Indian Trail Elementary's counselor, shoulder heavy workloads.
They estimate they work directly with students during about 90% of their time at the school and handle administrative tasks in the remaining 10% and after hours.
Before the pandemic, Woolridge said she spent about 60% of her time with students and 40% on administrative duties.
"I have very little time during the day for planning or documenting," Burch said. "Sometimes that's done, again, at night. Pretty much I am hands-on with students all day."
Contact tracing adds another responsibility to their already loaded schedules.
"A lot of times my assistant principal and myself are doing contact tracing after hours, honestly, to keep up with the demand, although thank goodness it has reduced lately," Woolridge said.
However, they say their long hours and heavy workloads are worth helping students navigate turbulent times.
"There's time after work that I definitely have to get caught up on my administrative tasks, but it's worth it because the kids, they need a live person that they can come and talk to," Woolridge said.
Both said families can take steps at home to help their children cope with stress, such as listening, reducing screen time, spending more time outside, asking questions about their days and setting consistent routines.
JCPS also lists several mental health services available for students here.
Copyright 2021 WDRB Media. All Rights Reserved.