LOUISVILLE, Ky. (WDRB) – Every week, the number of vaping-related lung illnesses increases across the country as health officials scramble to contain the recent, and at times deadly, outbreak.
Louisville-area schools, meanwhile, are taking a proactive approach to the rapidly growing problem of students using electronic cigarettes, sometimes right under the noses of teachers and staff.
Data obtained by WDRB News show dramatic increases in the number of nicotine-related confiscations at Jefferson County Public Schools and Bullitt County Public Schools last school year, and both districts have ramped up efforts to educate students on the health risks of vaping and e-cigarettes.
"There's not a ton of research out that makes these kids think, 'Oh, well maybe I need to stop doing that,'" said Chris Kenney, who teaches health and physical education at Marion C. Moore, a middle and high school. "They think, 'Well I'm not smoking cigarettes, so this is a better alternative,' when research says these can be as harmful or more harmful than an actual cigarette."
For some of the younger students in JCPS, the message has taken hold.
"It smells like candy and tastes like candy, but it's still harmful to your health," said Anish Darjee, a sixth grader at Moore, who said he never wants to use the highly addictive product.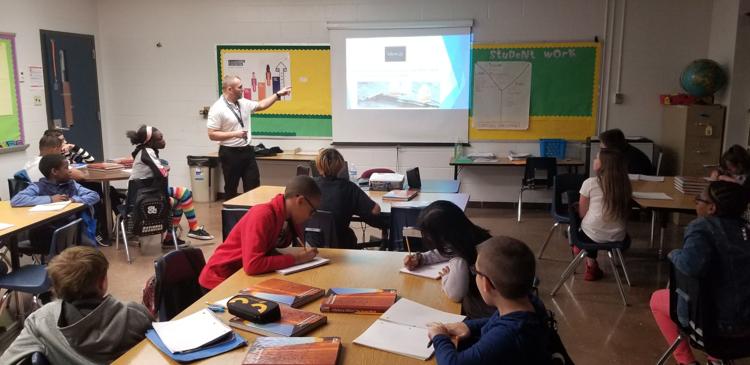 The outbreak has prompted health officials in Kentucky and across the U.S. to urge consumers to stop using e-cigarettes because of concerns about severe lung injuries.
It's also brought varied responses from governments and retailers.
President Trump has called for a ban on flavored vape "juice," the liquid that often includes nicotine that users consume, to keep kids from using e-cigarettes. New York, Washington and Montana are among states that have barred stores from selling flavored juice, and Walmart announced last month that it will not restock its current inventory of e-cigarettes once it's sold out.
But vape retailers say their businesses are being unfairly targeted in the crackdown against e-cigarettes. Many have noted that the recent spate of lung illnesses seem to be connected to the use of black-market vape cartridges that include tetrahydrocannabinol, or THC, the active ingredient in marijuana.
Bo Landry, chief operating officer of Nashville-based Saffire Vapor, noted that the U.S. Food and Drug Administration found earlier this month that most of the samples tested by the agency, and by states in their own investigations, detected the presence of THC and that many of those who have fallen ill reported using vaping products with THC.
He noted that some vaping cartridges containing THC have been found to include vitamin E acetate, which can cause lung damage when inhaled, and myclobutanil, a fungicide that can produce hydrogen cyanide.
"Our mission has been to educate our customers so they can share the dangers of purchasing illegal THC and using that product," Landry said in an email to WDRB News.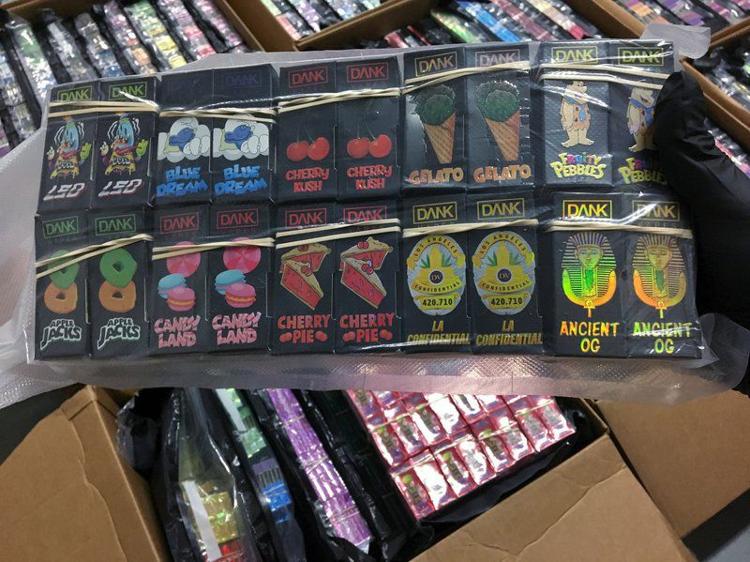 Dr. Sarah Moyer, Louisville Metro's director of Public Health and Wellness, said with a growing body of research that shows the harmful effects of vaping, the risk of lost business for some is worth the long-term health of many.
"There's really great evidence now that these aren't safe," she said. "… The products are still new, and so we're still seeing what the long-term outcomes are."
'Hiding in plain sight'
Even before the recent outbreak of lung illnesses and deaths, JCPS was trying to curtail students' use of vaping products.
In April, the district unveiled its "Vaping Equals" campaign to raise awareness of the health risks of e-cigarettes.
According to data obtained by WDRB News, the district had reason worry that many of its students were addicted to nicotine.
Between the 2017-18 and 2018-19 school years, nicotine-related confiscations jumped by about 140% at JCPS schools. While confiscations at high schools are far more prevalent, tobacco-related products were taken from students at some middle and elementary schools.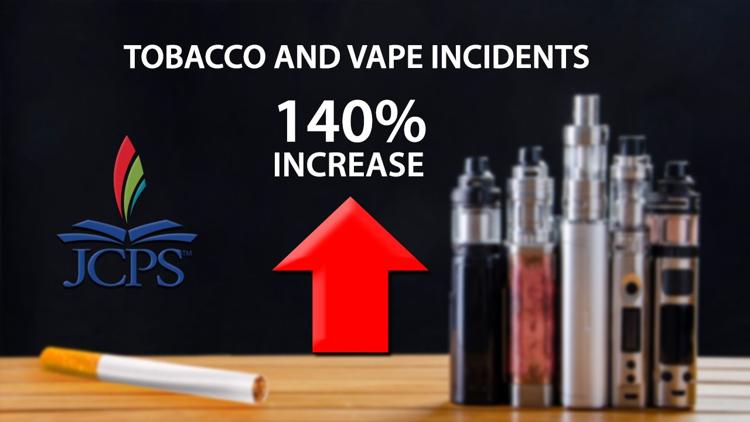 In all, JCPS reported 674 confiscations last school year, up from 281 the year prior. That's about 3.8 seizures per day in a district with about 100,000 students. Because JCPS does not separate vaping and tobacco products in its reporting, it's unclear exactly how many of those incidents were related to e-cigarettes as opposed to cigarettes or chewing tobacco.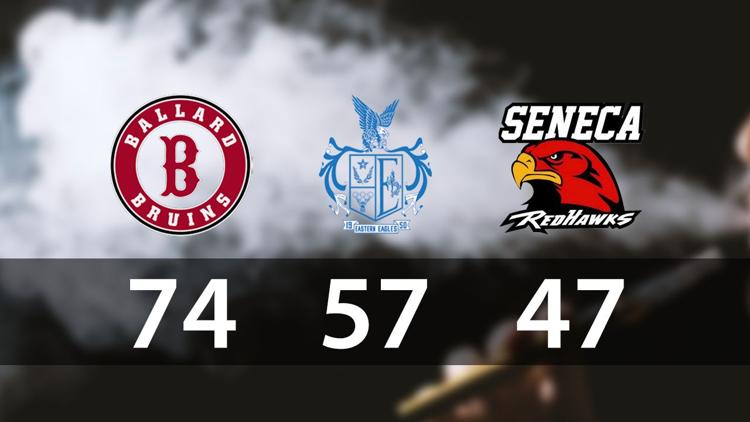 The pace of tobacco-related confiscations has moderated a bit, with 88 – about 2.9 per school day – reported during the first 30 days of the current academic year.
The district's awareness campaign coincides with efforts in health classes to educate students on the health and safety risks of e-cigarettes.
Kenney, the health and PE teacher at Moore, mostly focuses on the adverse health effects that users could face after vaping.
One condition, known as "popcorn lung," is linked to a chemical that's been used in flavored juices and e-cigarettes that's also found in popcorn flavoring, though many companies have claimed they no longer use it in their products.
Researchers have also linked vaping with cancer in mice, which could foretell problems for human consumption.
Batteries in some devices have also caused them to explode, another risk that users face, Kenney said.
One of the more sobering facts that he presents in his classes is that the nicotine content of an e-cigarette or vape juice can be far greater than an actual cigarette, making the habit more difficult to kick.
The lessons, he said, are resonating with his students.
"They are very receptive to what we're teaching them," Kenney said.
Bullitt County, which serves about 13,000 students, has also seen its numbers of nicotine-related confiscations jump in recent years.
Confiscations there rose 83.5% between the 2017-18 and 2018-19 school years, from 249 to 457. Of the 457 seizures last school year, 234 were related to vapor products, up from only 32 during the 2017-18 school year, according to data provided by the district.
As of Sept. 27, BCPS students have had tobacco-related products taken from them 123 times. Eighty-five of those, or 69.1%, were vapor products.
The district has also developed an awareness campaign on vaping-related health issues and expanded its anti-tobacco policies to include all nicotine-delivery products, said Sarah Smith, safe and drug-free schools coordinator for BCPS.
BCPS has also developed an instructional program called "Catch My Breath" for its middle- and high-school students, and the district has test strips that can detect THC in vaping liquid, Smith said, noting that many lung issues have been linked to illicit vaping products.
"We use that as a bridge for our families so that we can talk to our families about how this is suspected THC and the dangers of THC along with the vaping devices," Smith said. "… We can't use that as a disciplinary measure, but it's a really good bridge and a partnership for our community and our parents that we use at our schools."
Detection of the products can be difficult, Kenney and Smith say. Some devices look like ordinary objects, such as USB memory sticks, while clothing has been designed and marketed specifically to conceal them.
One way students have hidden their vaping use, Smith said, is through hooded sweatshirts with drawstrings that can keep a device out of sight.
"It looks like a kid is chewing on their drawstring," Smith said. "In essence, they could be smoking a vaping device, and no one would even know it."
"Unfortunately, things can be hiding in plain sight," she added, noting that principals have done a good job of keeping teachers aware of things to look for in their classrooms.
A national epidemic
As of Oct. 8, the U.S. Centers for Disease Control and Prevention is investigating nearly 1,300 cases of lung injuries associated with vaping across the country. Of those, 26 deaths have been confirmed in 21 states, including one in Indiana.
Two additional deaths have been attributed to vaping in Indiana since, according to the Indiana State Department of Health.
In Kentucky, officials at the Cabinet for Health and Family Services say 28 cases of lung injuries that are believed to be linked to the growing epidemic have been reported, with one confirmed, six probable and three ruled out. Two of the suspected cases have been reported in Louisville, according to Moyer.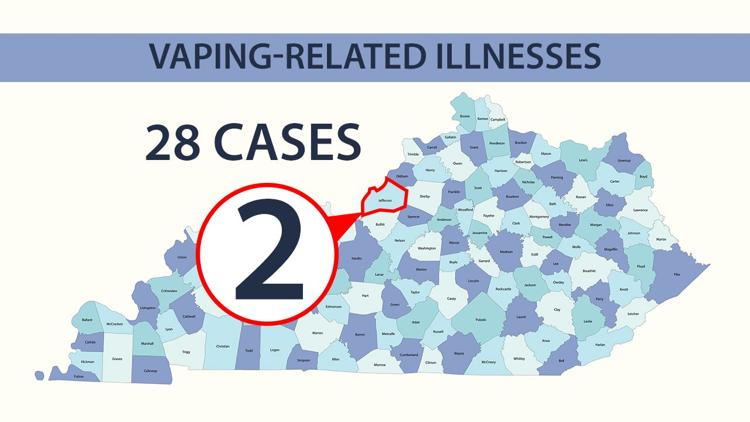 Based on CDC data from 1,043 patients, 15% are younger than 18, 21% are between 18 and 20 years old, and 80% are younger than 35. "They've been marketing to the younger generation, and so we're seeing a lot of the cases in people under 36 and teens," Moyer said.
That's led to growing scrutiny of how the state can curb e-cigarette use among younger users. For Moyer, taxing vaping products and raising the age to purchase tobacco to 21 would help discourage teen use.
Bills to tax e-cigarettes and raise the tobacco-buying age to 21 didn't get a single committee hearing in the 2019 legislative session last spring. Floor amendments to raise the legal age to buy tobacco to 21 – including two from House Speaker David Osborne, R-Prospect, and Sen. Paul Hornback, a Shelbyville Republican who chairs the Senate Agriculture Committee – also failed to get attached to bills as they moved through the General Assembly.
Rep. Jerry Miller, R-Louisville, has pre-filed a bill for the 2020 session that would add a 27.5% excise tax on vapor-product inventory for retailers. Miller's House Bill 383 from the 2019 session would have tacked on a 4-cent tax for every fluid milliliter of vaping liquid in store inventories, but the legislation died in the House Appropriations and Revenue Committee.
Landry, the Saffire Vapor COO, said he would support restricting e-cigarette sales to adult-only retailers, which would remove the products from gas stations and convenience stores; require age verification and ban online sales; limit the amount of nicotine allowed in vaping products; and bar advertising and labeling targeted at young people.
He said a survey of 750 Saffire customers found that flavored vape juices helped 85% quit smoking cigarettes.
"As a company we have served over 154,000 customers since we first opened in 2012 and have never had one health complaint or concern," Landry said in an email to WDRB News. "…Our average customer age is 30+ years old and we are worried that a 'flavor ban' will drive a large majority of those back to smoking."
One company, Juul, is the subject of a potential class-action lawsuit filed in U.S. District Court in Covington.
John McFaull, of Lexington, claims the company has made false claims in its advertising, which targeted youth, and that he never would have consumed Juul products had he known that they were more addictive than the tobacco dip he was trying to quit.
Juul says the case is meritless and that it "is committed to eliminating combustible cigarettes, the number one cause of preventable death in the world."
"Our product has always only been intended to be a viable alternative for the one billion current adult smokers in the world," the company said in a statement. "We have never marketed to youth and do not want any non-nicotine users to try our products."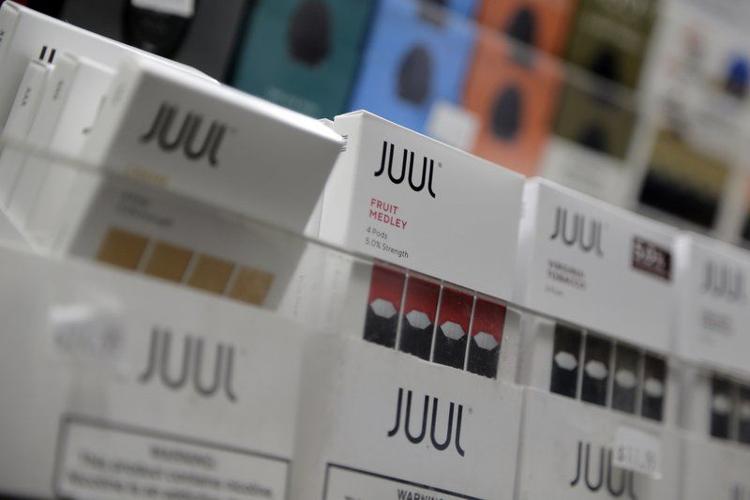 Moyer contends that e-cigarette use is not a safer alternative to smoking and that if anyone wants to quit, they should seek traditional tobacco-cessation programs and products.
"The studies are mixed in whether or not it helps with smoking cessation, but the studies are really clear that the methods we've been using for 10, 20, 30 years work really well," she said.
Those who are looking for help quitting nicotine can call the health department at 574-STOP, Moyer said.
Copyright 2019 WDRB Media. All Rights Reserved.