LOUISVILLE, Ky. (WDRB) -- The Louisville Metro Police detective accused of lying to get a search warrant for Breonna Taylor's apartment is fighting to protect his integrity and job.
In a letter to Detective Joshua Jaynes, LMPD interim Chief Yvette Gentry said she has "the utmost confidence in my decision to terminate your employment" for breaching department polices on truthfulness and search warrant preparations.
An attorney representing the detective, however, said Wednesday he thought the allegations against Jaynes "are demonstrably wrong."
"I was not surprised that the pre-termination letter was delivered; we'd heard rumors about that," said Jaynes' lawyer, Thomas Clay. 
"What did kind of surprise me were the grounds that are alleged as the basis for this termination action," Clay added. "There are two of them: "One, that he should have been at 3003 Springfield Drive when that search warrant was executed, and second was that he was untruthful in a statement he included in the search warrant affidavit." 
Clay said Jaynes' whereabouts were never in question during the fatal March 13 raid on Taylor's apartment on Springfield Drive near Pleasure Ridge Park.  
"There was a briefing prior to the execution of four search warrants that were executed simultaneously. Each person who participated in the execution of the search warrants was assigned a location where he or she was supposed to be," Clay said. "Detective Jaynes was supposed to be at 2424 Elliott Avenue. He was supposed to be exactly where he was, and the people who attended this briefing — we had sergeants, we had a lieutenant, we had a major and we had a lieutenant colonel, who is on the chief's staff, who attended that briefing — and nobody said anything about Joshua Jaynes being at 3003 Springfield Drive.
"So, that's the first grounds in this pre-termination notice to fire him," Clay added. "The second is he was untruthful in a search warrant affidavit when he included information, which had been obtained from a USPS employee."
In an interview with LMPD's Public Integrity Unit not long after the fatal raid, Jaynes said his name was on the search warrant affidavit for Taylor's apartment that Judge Mary Shaw signed on March 12 "because I probably had the most experience in that group of writing and drafting search warrants." The detective initially said he verified through a U.S. postal inspector that suspected drug dealer Jamarcus Glover had been receiving packages at Taylor's home. In an interview with WDRB News in May, however, the postal inspector denied that claim, saying LMPD did not use his office to verify that information. 
LMPD was repeatedly told there were no packages, "suspicious or otherwise," delivered to Taylor's home, according to testimony in an internal report from the department.

In Jaynes' pre-termination letter, Gentry said Jaynes "lied when he swore 'verified through a US Postal Inspector.' Detective Jaynes did not have contact with a US Postal Inspector, he received the information from Sergeant (Jon) Mattingly, who got it from a Shively Police Officer."
"Your actions have brought discredit upon yourself and the department," Gentry wrote. "Your conduct has severely damaged the image our Department has established within our community. The results of your actions seriously impede the Department's goal of providing the citizens of our city with the most professional law enforcement agency possible.
Clay, however, said his client told the truth and can prove it.
"The basis is that information is a conversation he had with another member of LMPD — Sgt. (Jonathan) Mattingly, who told him the information that is contained in that statement in search warrant affidavit," Clay said. "There's an issue as to whether Sgt. Mattingly told him, because I believe initially Sgt. Mattingly said, 'I didn't do that.'
"The problem is, once (Attorney General Daniel Cameron) did his investigation, Detective Jaynes' partner verified every detail of that conversation, which supported Detective Jaynes and what he put in that search warrant affidavit," the attorney added. 
Jaynes was reassigned in June amid the investigating into the fatal shooting of Taylor. The detective has not commented on the situation, but Clay said his client "feels betrayed."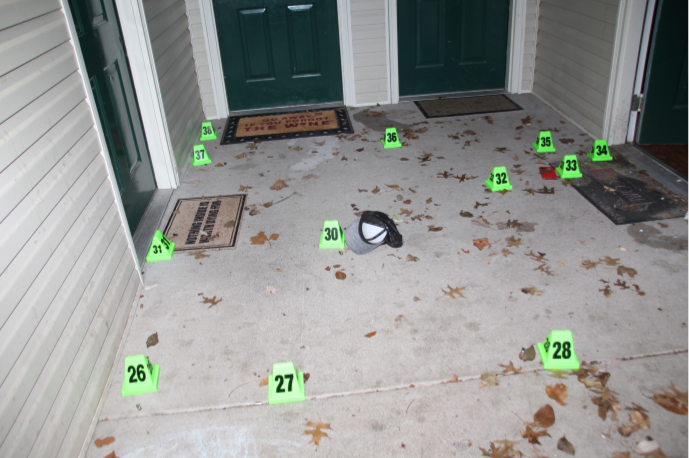 "He feels like the department has turned on him — both the department and mayor's office — and that they have not done anything to back up police officers who did what they thought they were supposed to be doing under these circumstances," Clay said. 
Clay also believes Mayor Greg Fischer knew about the raid. A spokesperson for the mayor's office said state law prohibits the city and LMPD from commenting further about the case. 
"(Fischer) had a representative who attended some of these briefings," Clay said. "I am confident that the mayor and his office were kept informed of what was going on in these search warrants and how they were being executed."
Claiming he thought LMPD officers were intruders, Taylor's boyfriend, Kenneth Walker, fired a single shot that hit Sgt. Jonathan Mattingly in the leg when officers broke down the front door of the apartment just before 1 a.m. on March 13, Kentucky Attorney General Daniel Cameron found during an investigation into the case.
Mattingly, Detective Myles Cosgrove and former Detective Brett Hankison combined to return 32 shots. Taylor was hit six times and died in her hallway. 
In addition to Jaynes, Gentry sent a pre-termination letter to Cosgrove, who investigators determined fired the shot that ultimately killed Taylor. Both detectives will have a hearing with Gentry in the coming days before a final decision is made.
No charges were brought against the officers involved in the raid in connection to Taylor's death. Hankison, whom the department fired in June, plead not guilty in September to three counts of wanton endangerment for allegedly firing rounds into an apartment neighboring Taylor's. 
Related Stories: 
Copyright 2020 WDRB Media. All Rights Reserved.