LOUISVILLE, Ky. (WDRB) -- A former professor and current Louisville resident can now add "songwriter" to her resume following a battle with breast cancer.
Kimberly Landrum was diagnosed with breast cancer in August of 2019 and following treatment at U of L Health's Brown Cancer Center, she was asked to try the center's music therapy program.
She was treated at UofL Health and is now doing great with no evidence of the disease in her body.
"I was really struggling with accepting the new me because I had just been through a lot," Landrum said. "It was able to tell my story in a very personal and creative way."
Tuesday, March 1, is World Music Therapy Day.
After completing her treatments, she was struggling with survivor's guilt and called the Resource Center at the Brown Cancer Center.
So she was told to give music therapy a try.
Landrum and her music therapist, Chris Willett, decided to write a song sharing her life story.
"So I can take part credit," Landrum said. "I definitely feel like it's my words, but they tweaked it. They helped me tweak it and make it sound more professional."
The songwriting helped Landrum put emotions into words that she previously had difficulty expressing.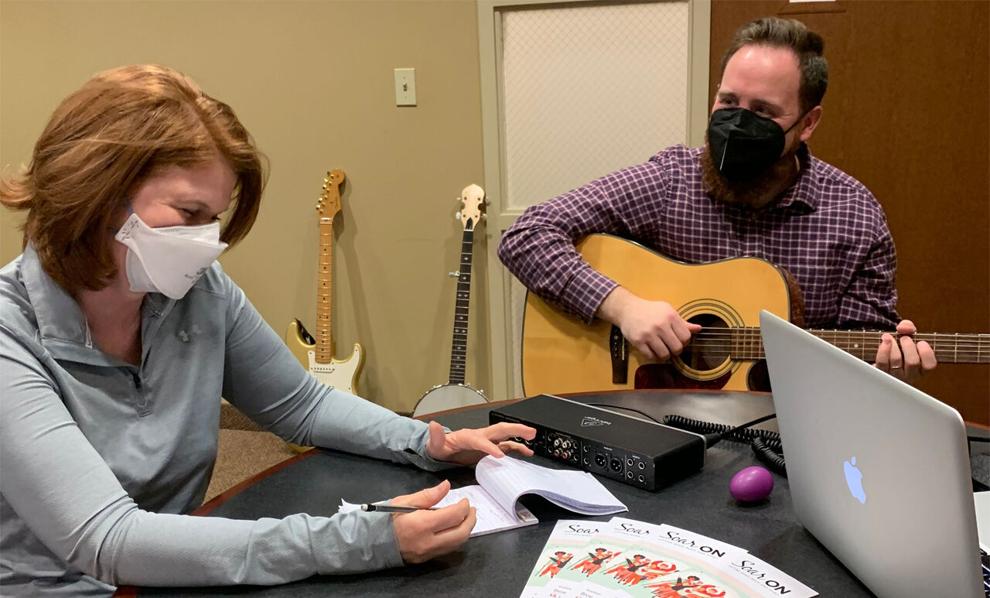 "It allowed me to express things that I didn't know how to express," she said. "When I tried to talk about how difficult it was, I always felt guilty because I'm 'a survivor.'
"If feel like it was very, very collaborative. It was definitely my story, so they asked me lots of questions. That's where we kind of came up with the chorus part of it."
She said she had been a professor, and it felt like they were writing a research paper, which enabled her to choose the right words.
The song she wrote is called "Little did I know" and she admits she didn't know much about music when starting the program 10 sessions ago, but she had help along the way.
"Some people come and are terrified at the idea that music is in the title so we kind of work with everybody along the spectrum," said Chris Millett, U of L Health's Music Therapy Coordinator. " Millett says 60% of his oncology music therapy patients are writing songs.
Landrum and Millett describe the song as "folk-y" with a country aspect. U of L Health intern Rebekah Wilson sang the song while the music was performed by Millett.
"It's a very sad song, and I don't consider myself a very sad person," Landrum said. "So I think that when some people hear it, they're a little bit taken aback. But it was able to tell my story in a very personal, creative way. But if somebody didn't know me and they didn't hear the song, I'm not sure they would realize that I went through cancer in the song." 
When it comes to who Landrum says would be her dream to sing the song: "I would say Kasey Musgraves. That is our goal but if we could ever have anyone sing it I think we would be thrilled beyond thrilled."
The words of the song are deeply personal to Landrum as she looks back at her cancer journey. The chorus lyrics say "I can be brave like you see me when you're holding my hand."
It's a journey she hopes gives inspiration to those struggling with cancer and those who have recovered.
"I hope that more people that are facing the challenge of cancer take advantage of it because it really is an amazing way to have some healing," Landrum said.
EDITOR'S NOTE: The interviews, song recording and lyrics included with this story were provided by UofL Health.
Related Stories:
Copyright 2022 WDRB Media. All Rights Reserved.