LOUISVILLE, Ky. (WDRB) -- No charges will be brought against two Louisville Metro Police officers who shot and killed a man in the parking lot of a Kroger in the Portland neighborhood on Nov. 7, 2019. 
In a letter dated July 8, 2020, to a member of LMPD's Public Integrity Unit, Commonwealth's Attorney Tom Wine said officers Patrick Norton and Alex Dugan "were justified in using deadly physical force" against Shelby Gazaway, 32, who was shot nine times and killed after witnesses said he fired multiple shots inside the grocery store and in the direction of the officers in the parking lot. 
"The facts are straight forward but tragic," Wine said in the letter. 
"Both officers stated that they believed their lives as well as those of citizens were in danger because of Mr. Gazaway's conduct," he later added.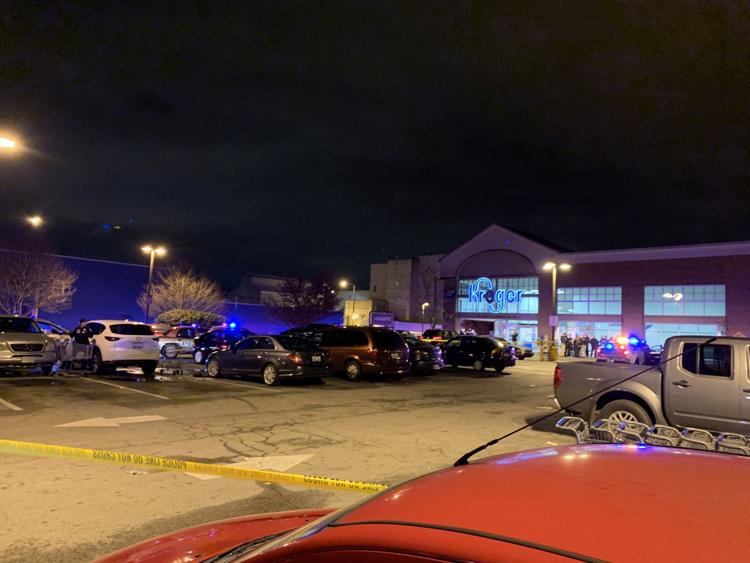 Witness accounts detail shots fired inside Kroger
According to Wine's report, Kroger surveillance cameras spotted Gazaway at 6:03 p.m. parking a Hyundai Santa Fe that belonged to his mother near the entrance to the Kroger at 520 N. 35th St. Once inside the store, Gazaway approached a man, whose name was redacted in Wine's report, in the produce section and "struck (redacted) in the back of the head, knocking off his hat."
"There appeared to be a brief encounter between the two individuals and perhaps words were exchanged," Wine said, noting that the man later told authorities at University Hospital that Gazaway asked him "What's up?" to which he replied "nothing." 
Surveillance footage from inside the store that night shows the men wrestling with a cart before a fight breaks out, according to Wine's report. The men fall to the floor wrestling each other, during which time Wine said "(redacted) pulls out a small pocketknife."
"The two wrestled for the knife, and (redacted)'s hand was cut," Wine's report says. The man was later treated at University Hospital for lacerations to both hands and an elbow. 
A deli counter clerk told authorities that she saw Gazaway "deliberately bump (redacted)," the ensuing fight and "Gazaway fire into the ceiling and then fire several more shots." Wine said her account was "corroborated by a male stocking clerk, the butcher, and a female customer service clerk." One of the store's assistant managers also said they "witnessed Gazaway fire into the ceiling, rupturing the water lines."
According to Wine's report, another assistant manager at the store intervened during the fight and "pulled (redacted) off Mr. Gazaway." When the employee saw Gazaway pull out a gun from his waist, Wine said they called on their store radio "that someone had a gun and to clear the store."
Wine's report said the first of 38 calls to 911 alerting dispatchers of an "active shooting" at the Kroger was made at 6:05 p.m. 
"Several shoppers who were interviewed did not see the fight but did report hearing shots fired," Wine's report says. "While the number of shots reportedly fired ranged from 4 to 10, one consistent theme was there was a shot fired, a beak in the action, some more shots fired and another break in the action before a final round of shots are heard to be fired within the store." 
A surveillance camera in the Kroger parking lot captures customers "running out of the store less than 4 minutes after Gazaway entered," Wine noted. 
Police arrive on the scene as Gazaway walks out of store
Officers Norton and Dugan were investigating a stolen vehicle about a block away from the Kroger when the active shooter call prompted them to respond to the store, according to Wine's report. Body camera footage shows Norton position himself behind a brick pillar looking out toward the store's parking lot and Dugan following with a rifle he got from their police car. 
Warning: The video below may be disturbing to some viewers.
A witness can be heard pointing out Gazaway, wearing a red hooded sweatshirt, in the parking lot to Norton, who turns on the mounted flashlight of his gun, points it toward Gazaway and yells "Hey! Hey! Hey!" before appearing to fire a shot and moving behind the pillar. 
According to Wine's report, a camera in the parking lot captured Gazaway "extend his right arm pointed toward Norton who is at the northeast corner of the building."
The same camera shows "Norton is behind the brick pillar and appeared to have turned on his gun mounted flashlight and to fire shots," Wine's report says. "As he opened the door to his SUV, Gazaway gets between the door of the SUV and the interior of the vehicle. After a volley of gunfire, Gazaway falls to the ground."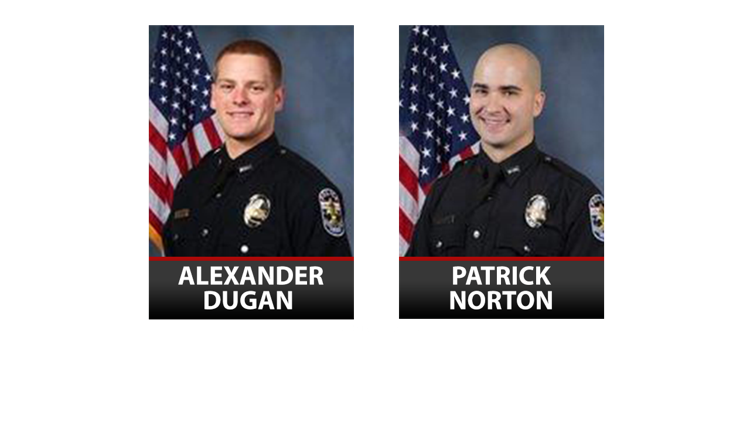 Norton told members of the Public Integrity Unit that Gazaway fired toward him after he yelled, according to Wine's report. Norton told investigators that he returned fire but "couldn't remember how many times." 
LMPD's Crime Scene Unit found 15 shell casings at the scene that were consistent with Norton's Glock 22 semiautomatic, according to Wine's report. An autopsy revealed that seven "medium caliber projectiles" were recovered from Gazaway's body. 
The same witness who pointed Gazaway out to police "heard the officers give verbal commands to drop the gun. He could also see muzzle flashes coming from the direction opposite of the officers," Wine's report says. 
Another witness, a woman who Wine said was sleeping in a car waiting on a family member to finish shopping, said she saw Gazaway shooting inside the store. 
"She saw him being shot by LMPD but thought he was firing into the store when police shot him," Wine's report says.
A third witness in the parking lot, according to Wine's report, "saw Mr. Gazaway walk out of the store, turn to face the store, then fire to the left (in the direction where Dugan and Norton would eventually take up their positions), to the right, then three (3) or four (4) shots toward a TARC bus (again in the direction toward Dugan and Norton)." 
According to Wine's report, there were two gouges "believed to have been made by bullet projectiles" on the brick pillar Norton was using for cover. 
Most of Dugan's body camera footage of the incident is obstructed by his rifle stock. Dugan told PIU investigators that "he could see a gun in Gazaway's right hand and watched as he appeared to duck behind the SUV door," according to Wine's report.
"Dugan could see the front driver's window shatter from Norton firing at Mr. Gazaway," the report says. "Dugan yelled, 'Drop the gun.'"
According to Wine, Dugan fired his rifle twice, and "the autopsy report reveals two small caliber projectiles were recovered from Mr. Gazaway's body." 
Another LMPD officer, Sean Miller, arrived at the Kroger after Gazaway was shot and parked behind Gazaway's car near the entrance, according to Wine's report. 
"(Miller) found Gazaway face down beside the SUV. He was gasping for breath and stopped breathing within a few seconds," Wine's report says. "Miller rolled Gazaway over and assisted by officer Sara Stumler (7805), attempted to render first aid. They found a Glock semi-automatic under Gazaway's body. EMT's arrived shortly thereafter and advised Mr. Gazaway was deceased." 
Neither Norton nor Dugan can be heard on body camera footage identifying themselves as police, and Wine said neither claimed to have done so in recorded statements. 
"The quick sequence of events would have made it difficult to make any such announcement," Wine said, nothing that "only about 4 1/2 minutes elapsed" between the moment Gazaway knocked off the man's hat inside the store and the moment police shot him. 
Family interviews, phone records 
Members of Gazaway's family described him as "a spiritual, happy person" and said they were "shocked by his reported behavior that day," according to Wine's report. Gazaway's mother, Semone Stephenson Carter, told police her son had no criminal record and "did not suffer from depression or exhibit any violent tendencies." 
"She and other family members could not understand why Gazaway went to this Kroger store as it is not one where they usually shop," Wine said in his report. 
However, Wine said text messages Gazaway sent to family members "revealed he was in fact troubled by something." 
"Unfortunately, there was a darker, troubled side of Mr. Gazaway that his family did not fully appreciate," he added. 
According to Wine's report, Gazaway on Nov. 1, 2019, "sent a group text to friends inviting them to his birthday dinner" but canceled that invite "for personal reasons" at noon on Nov. 3. 
"On the same day at 5:15 PM (Gazaway) sent this message to his mother and grandmother, 'Im (sic) good see u on the other side,'" Wine's report says. "About fifteen (15) minutes later Ms. C responds, 'Worried about you son. Two questions and I will leave you alone until... Do you feel suicidal? Do you want to harm yourself in any way?'
"Two hours later Gazaway responded 'No,'" Wine's report continues. "Then he sent two back to back text. 'What it is Im (sic) guessing is I have been holding this in for so long. I started a path of healing my body and I guess this part of it.' 'When u hold this in for so long all this is coming out. The crazy thing is I can not stop it.' There were no more cryptic messages after that." 
Gazaway's family in June held a news conference across the street from the parking lot where Gazaway was shot and killed. Members of the family, including Carter, asked police to investigate the case further.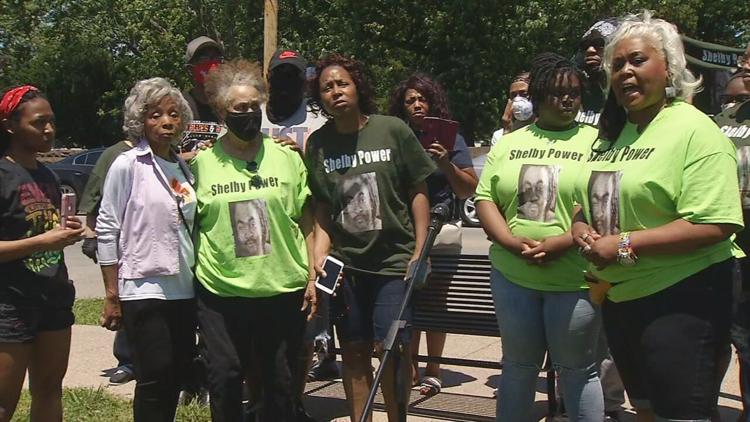 "It is still unreal. I still expect my son any day to walk into the house," Carter, said in June. "I miss him. I don't want anyone to feel this pain. I want justice for my son."
Citing the officers' failure to identify themselves as police, Carter said they "ambushed" her son.
"They didn't even give him an opportunity to talk," she added, noting that police did not use deadly force in the case of Gregory Bush, who is accused of shooting and killing two people at a Kroger in Jeffersontown in October 2018.
In his ruling, however, Wine said Norton and Dugan's actions were justified because of the danger Gazaway presented to shoppers inside the Kroger and to the officers. 
"The nagging question is why Mr. Gazaway acted so violently on November 7, 2019," Wine said to conclude his report. "Unfortunately, that is a question neither I, nor Mr. Gazaway's family, who loved the son, brother and uncle they knew as a warm and caring person, can answer." 
Related Stories: 
Copyright 2020 WDRB Media. All Rights Reserved.