NEW ALBANY, Ind. (WDRB) -- Facial recognition technology is the hottest new tool the New Albany Floyd County Animal Shelter is using to help reunite lost pets with their owners.
Finding Rover is a free app and online service that uses pet facial recognition to connect anyone that loses a pet with anyone that finds the pet. It scans the pictures of dogs and cats uploaded to the app in order to make a match.
"Finding Rover reached out to us," said Marilee Snider, the adoption coordinator of the New Albany Floyd County Animal Shelter. "They're trying to establish a network of shelters that can come together and use the program."
In order for the system to work, pet owners need to create profiles for their animals. It includes the pet's name, age and microchip information, along with the owner's email address and zip code. The key to the pet facial recognition technology is to upload a picture of the animal. The picture should not be taken at an angle, and the animal's face should be centered and fill the frame.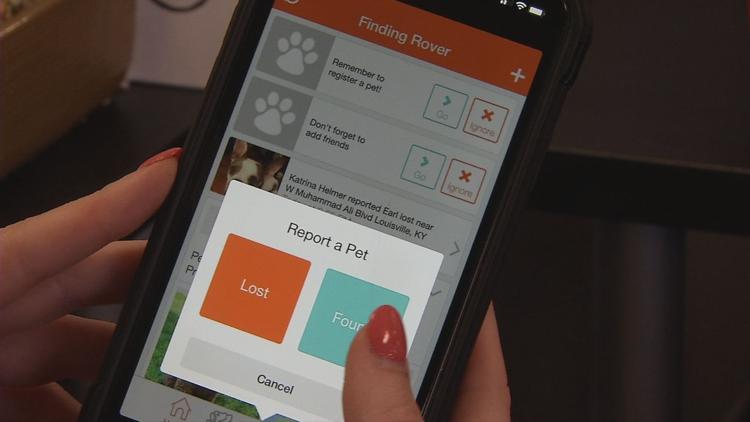 "You can register your pet at any time, whether they're missing or not, to go ahead and have that safety net already there," Snider said.
If the animal runs off, the owner clicks the "lost" button. That triggers the app to scan pet pictures that are already uploaded to the system to try and find a match.
As of Friday, the app shows profiles for 49 stray animals at the NAFC Animal Shelter.
"Anytime an animal comes in, we take their picture, and it automatically goes into our software program," Snider said. "And then that automatically put it on Finding Rover."
Snider said this app is also very helpful for any concerned citizens that find lost or stray animals. By uploading pictures and locations of where the animals were found, that creates another option to help reunite the lost pets, other than just relying on the shelters.
"The more people that use Finding Rover, the more successful it will be in returning animals to their home," Snider said.
People can also search through lists of lost and found animals based on location. Click here to download the Finding Rover app or to use the program's online system.
Copyright 2019 WDRB Media. All Rights Reserved.