LOUISVILLE, Ky. (WDRB) -- A former basketball star was killed in a fight in west Louisville. 
The Jefferson County Coroner's office confirms Anthony Grundy died in an altercation in the Russell neighborhood Thursday night. Grundy was a former NBA basketball player and Central High School alumnus.
Grundy's longtime attorney and friend, E.Lee Turner, Jr. of Raleigh, North Carolina, confirmed the passing of the 40-year-old former basketball star.
"Anthony was a very happy, kind-hearted type of person who worried about others more than himself," Turner said. "I was in hopes that life would turn around for Anthony, and I was saddened to hear last night that this had happened."
Officers responded to 10th Street and West Muhammad Ali Boulevard around 6:30 p.m. Thursday. According to LMPD, a man in his 40s suffered a life-threatening injury and was taken to University Hospital, where he died. The coroner's report says he died of multiple sharp force injuries. 
Grundy did not play all four years at Central High School in Louisville. He went on to earn high ACC honors as a point guard for the North Carolina State Wolfpack playing between 1998-2002. He was named first-team All-ACC during his senior season.
"As a player, you want a teammate you can follow, especially when you are on that court in crunch time," said Chuncey Bender, Grundy's longtime friend. "Add he was that guy."
Indiana Head Basketball Coach Archie Miller played with Grundy at N.C. State and took to Twitter expressing condolences and sharing old pictures of the pair together on the court:
So Tough to hear the news of the passing of one my Best Men. Thoughts and Prayers go out to everyone impacted. Take it way back with a couple of these. Absolute Warrior, one the most fearless I have ever been around. #RIPAG #GRUNDY pic.twitter.com/t5V0aCriYJ

— Arch Miller (@Archie_Miller) November 15, 2019
"So tough to hear the news of the passing of one my Best Men," Miller wrote in the twitter post. "Thoughts and Prayers go out to everyone impacted…Absolute Warrior, one of he most fearless I have ever been around."
Grundy played a short stint with the Atlanta Hawks in the NBA in 2006, but spent the most of his 12 professional basketball seasons overseas, including stops in Greece, Turkey, Iran and the Philippines.
After several DUIs in North Carolina, Grundy spent about a year in prison in 2017 and returned to Louisville after his release.
Grundy found himself in legal trouble again in June of 2019. He pleaded not guilty in a hit-and-run crash where a 59-year-old woman died after being hit while crossing Dixie Highway just south of Algonquin Parkway.
Grundy turned himself in days after the crash. Court records say he admitted to driving the red Jeep police had been looking for and said he knew he had hit something in the roadway. But he did not stop and continued on his way to his girlfriend's house. Prosecutors charged him with leaving the scene of an accident and failing to render aid. Court records say he was driving without a license, insurance or registration.
At the time of his passing, Grundy was out of jail on bond. His next court date was scheduled for Dec. 11.
"That was definitely a freak accident," Bender said. "Because I knew for fact he wasn't into alcohol anymore. That was over that was done."
The exact details surrounding his passing are still under investigation according to LMPD. Grundy passed on his mother's birthday. His last post to social media came hours before his death, asking friends of Facebook to wish his mother a happy birthday.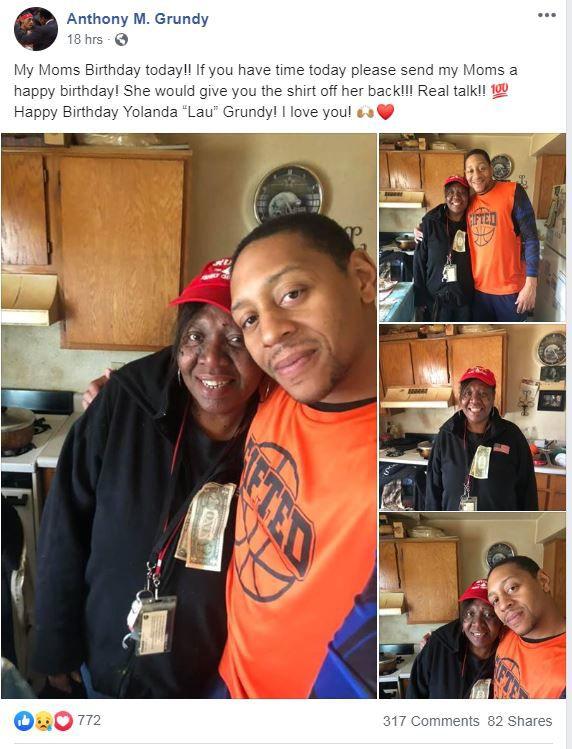 Copyright 2019 The Associated Press. All rights reserved. This material may not be published, broadcast, rewritten or redistributed.