LOUISVILLE, Ky. (WDRB) -- Impeachment is rare in Kentucky. In fact, a governor has never been impeached in the commonwealth's nearly 230-year history, and it's only happened to a handful of other elected officials.
But there is a growing concern that impeachment is becoming more of a political weapon.
Two impeachment petitions landed at the state Capitol this week. One seeks to remove Democratic Gov. Andy Beshear, and the other, filed a few days later, calls for Republican Rep. Robert Goforth to be kicked out. Both petitions allege "misdemeanors in office"
"There's a real danger here," said Dewey Clayton, a political scientist at the University of Louisville. "It's damaging, in a sense, that it takes away from the real seriousness of this particular charge." 
Clayton said impeachment is a serious matter and is concerned that in today's sharply divided politics, it is being weaponized.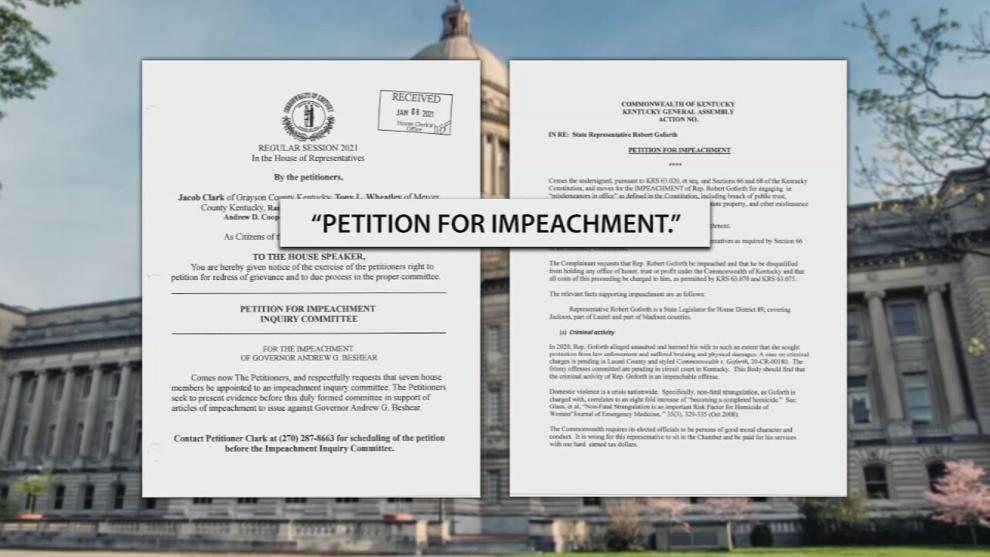 "I think there's a degree of politics without a doubt that's on display here," Clayton told WDRB News. 
Democratic Senate Leader Morgan McGarvey said he is also concerned about abuse, especially since, in Kentucky, any citizen can file an impeachment petition for any alleged misconduct.
"The climate is so divisive politically right now, and it's so easy to file articles of impeachment in Kentucky that this is the sort of thing that could easily turn into a political weapon," McGarvey said. "It's not what we want, and it's not what we need."
Rep. Jason Nemes, the Republican chairman of the House Impeachment Committee, said it may be time to take hard look at the state's impeachment law.
"Speaking as a legislator, not as chairman of the committee, I think the law has to be changed," Nemes said. "I don't think just a few people should be able to file a petition and get an impeachment process going."
McGarvey said he is not sure about changing the law but said impeachment must be reserved only for the most serious of offenses.
"The way to get people in and out of office is at the ballot box," he said. "And to overturn the will of the voters really takes a serious and egregious act."
In the meantime, Nemes said his job is to make sure the impeachment process is fair and that both the accused and the accusers are heard.
"I think the law has to change, but until the law does change, I'll enforce it," he said.
Copyright 2021 WDRB Media. All Rights Reserved.