LOUISVILLE, Ky. (WDRB) -- Kentucky has declared a state of emergency after construction waste from a Louisville road project ended up in a Bullitt County creek.
Jon Maybriar, director of Kentucky's Division of Waste Management, confirmed the status Tuesday, saying it's believed 225,000 gallons of concrete slurry slid into Blue Lick Creek. The grey sludge-like material came from a $4 million taxpayer-funded paving and repair project on Poplar Level Road in Louisville. 
"It was disappointing to see somebody would discharge that material into what was once a beautiful stream," Maybriar said. "So there's a lot of work ahead of the responsible party to restore that stream and make it look like it used to look."
Through open records requests, WDRB News obtained the agreement between Bluegrass Contracting and property owner Mitchell Warren. It reveals the state contractor paid $35 per tanker to dump on Warren's land off Brooks Hill Road beginning March 23.
That's legal, according to Maybriar, but pictures caught the company's trucks pouring right over a hillside, and the slurry slid down into the stream and off into Blue Lick Creek.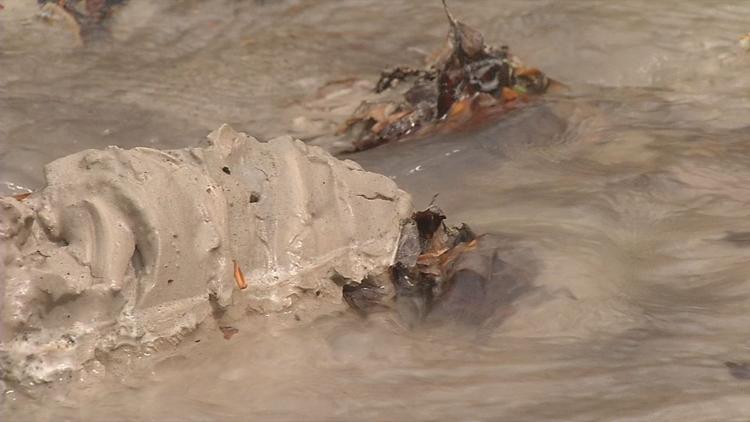 "I mean, pictures don't even do it justice," said Wendy Geary, whose family owns 11 acres in the woods along Blue Lick Creek. "Disgusting. It's absolutely disgusting."
Division of Water officials said Bluegrass Contract now faces violations and fines for damaging the waters of the commonwealth. 
"Pretty much everything that lived in this stream is now exterminated," University of Louisville Environmental Science Professor Russ Barnett said. "It's just flushing down and killing more aquatic life as it's moving."
Barnett, director of the Kentucky Institute for the Environment and Sustainable Development and a former deputy commissioner of the Environmental Protection Agency, tested the pH samples in the sludge-filled creek.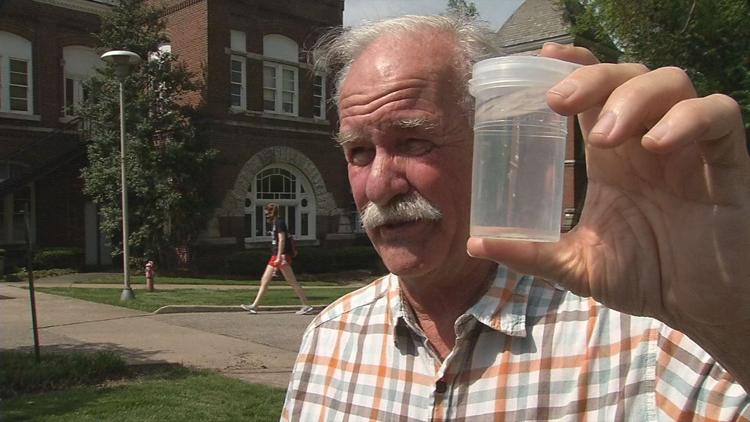 "We're talking about something 20 times higher than what we'd see there normally," he said. 
Consensus among several environmental experts is the waste is not impacting drinking water, but fish and other aquatic life cannot survive in the creek in its current condition. 
As one neighbor said, the sludge has "killed" the creek. 
Weather has hindered the cleanup, and the slurry has started to harden in some places. Crews installed barrier-like dams downstream with the intent of catching the waste before it did further damage, but strong storms the last two weekends tore down the barriers. 
"We have declared a state of emergency, which allows us to allocate resources to oversee a cleanup like this," Maybriar said. "They're using a track-hoe to scoop the material out of the creek and then placing it in dump trucks ... and take it to the top of the hill for proper disposal."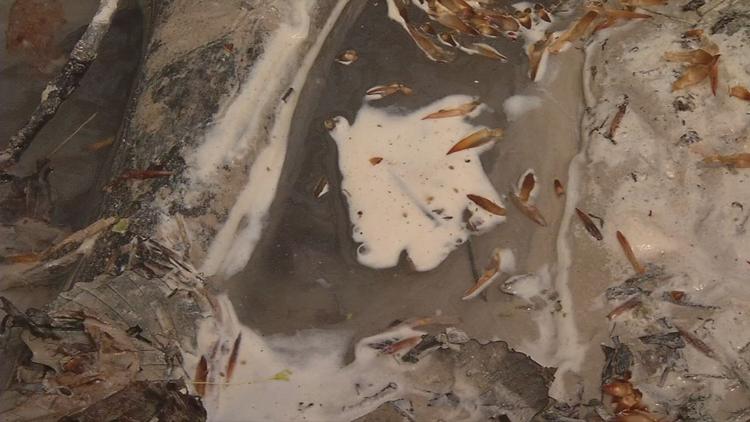 Officials said the contractor is responsible for the costs of the repair, and none of it will be paid for by taxpayers.  
Investigators have not determined if the dumping was criminal, negligent or a mistake. 
To date, Bluegrass Contracting has not returned calls for comment.
A public meeting will be held at 6 p.m. April 24 at the Hillview Community Center, hosted by the Kentucky Department for Environmental Protection, Division of Waste Management and Division of Water.
Related Stories:
Copyright 2019 by WDRB Media. All rights reserved.