LOUISVILLE, Ky. (WDRB) -- In the span of just three days, 20 people were shot in Louisville in 15 separate shootings. The Louisville Metro Police Department says there have been no arrests in any of these instances. 
According to LMPD, between 2:20 a.m. and 10:00 p.m. on Sunday, July 26, officers responded to six shootings, including one on Interstate 64W, where four people were shot inside a car. One man was killed. 
On Monday, six more people were shot. LMPD says victims include a pregnant woman and two 14-year-old boys. Tuesday, there were four other shootings by 5:30 a.m.
Only two of these 20 shooting victims were killed, but trauma surgeons who see these patients say non-fatal shootings also affect families for a lifetime.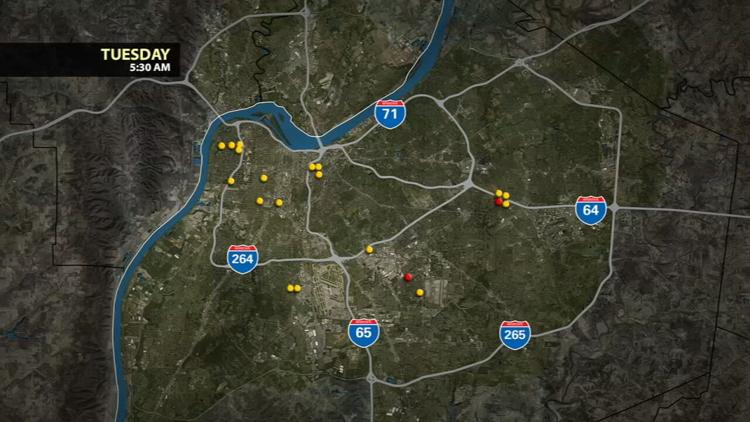 "What you can't forget is every one of those shootings is somebody's son, somebody's daughter, somebody's dad, somebody's mom, and the impact beyond that obviously goes well beyond that individual to families and communities," said U of L trauma surgeon Keith Miller. 
According LMPD, out of Louisville's 79 homicides so far for 2020, 72 are from fatal shootings. Data also shows shooting numbers have been increasing month by month, especially since the pandemic hit. It's concerning for the U.S. Attorney's Office. 
On Tuesday during a press conference, U.S. Attorney Russell Coleman, who represents the Western District of Kentucky said, "What brought us here is 79 homicides this year in Louisville and 310 shootings."
Coleman went on to say, "That's over 100% increase in shootings, non-fatal shootings in Louisville this year."
"The numbers are eye opening, but the amount of grief and devastation associated with those numbers is heartbreaking," said Miller.
When compared to the historically violent year Louisville saw in 2016, Miller said 2020 looks to be record-breaking, and not in a good way.
"This is well beyond 2016 at this point," he said.
Here is a full breakdown of shooting LMPD responded to between Sunday morning and Tuesday morning:
2:20 a.m. --  one female shot in the 

1600 block of Dixie Highway. Male also goes to University Hospital after being shot. 

2:30 a.m. -- 4 people shot on 

I-64 W between Hurstbourne Ln & I-264, one male fatally shot

4:00 p.m. -- 1 female shot 

1600 block of Brashear Drive

4:45 p.m. -- 1 female fatally shot in the 4900 block of Shasta Trail

5:00 p.m. -- 1 man shot in the area of Dr. W. J. Hodge & Greenwood Ave.

10:00 p.m. -- 1 female shot 

4200 block of Regina Ave
10:30 a.m. -- 1 woman (pregnant) shot 

in the 100 block of N. 34th St.

10:45 a.m. -- 1 man shot in the 3900 block of W. Market St.

2:00 p.m. -- 1 man shot in the 700 block of S. Hancock St.

2:15 p.m. -- 1 man shot in the 

3600 block of Virginia Ave.

9:00 p.m. -- 2 teenagers (14-years-old) shot 100 block of E. Southland Blvd. 
12:18 a.m. -- 1 man shot in the 

300 block of Glendora Ave.

12:23 a.m. -- 1 man shot in the 5400 block of Riata Dr.

12:46 a.m. -- 1 man shot & taken to University Hospital (location of shooting unknown)

5:30 a.m. -- 1 man shot in the 

3400 block of Herman St.
Copyright 2020 WDRB Media. All Rights Reserved.