LOUISVILLE, Ky. (WDRB) -- A decades-old festival in Louisville's Portland neighborhood was canceled just a few weeks before it was scheduled to begin.
Since the mid-1970s, Portland's streets have been filled with a homecoming in early June known as the Portland Festival.
"People who have lived here and moved on in their lives, they return," said Evie O'Connell, a lifelong Portland resident. "Some as far as New Orleans come back to this festival to see their friends."
The event is a street festival with a carnival, food booths, vendors, rides, a car show and even a parade.
People come together to "celebrate the history of the neighborhood, the people and the relationships in the community," said Mike Neagle, who's lived and worked in the Portland neighborhood for years and also serves as the treasurer for the Portland Festival.
Unexpected situations like the COVID-19 pandemic forced the parade to cancel in 2020 and in 2021. It returned in 2022, and there were plans for it to continue in 2023. But now, organizers said the money just isn't there.
"We started a little under and we just couldn't find a way to pull it together," Neagle said.
Recently, the Portland Festival website made a plea for help, even breaking down the cost — more than $30,000 — so that people could see the pricing of everything from security to T-shirts. But Neagle said they're still more than $10,000 short to pull off an event this size.
The shortfall led to the decision to cancel the 2023 Portland Fest.
"I think there's a definitely a need and want to continue this forward, but we need the support of the community," Neagle said, adding that it's a committee of about five people responsible for planning the annual event for thousands.
"To ask a small group of people to do this year after year is asking too much," O'Connell added.
She was one of the many people looking forward to the festival. 
"I was very sad," she said. "I was actually stopping by to offer a donation that I had received when I got the information that it had been canceled."
She's been to several of these festivals over the years and believes they will continue in the future, as long as the community is able to help make it happen.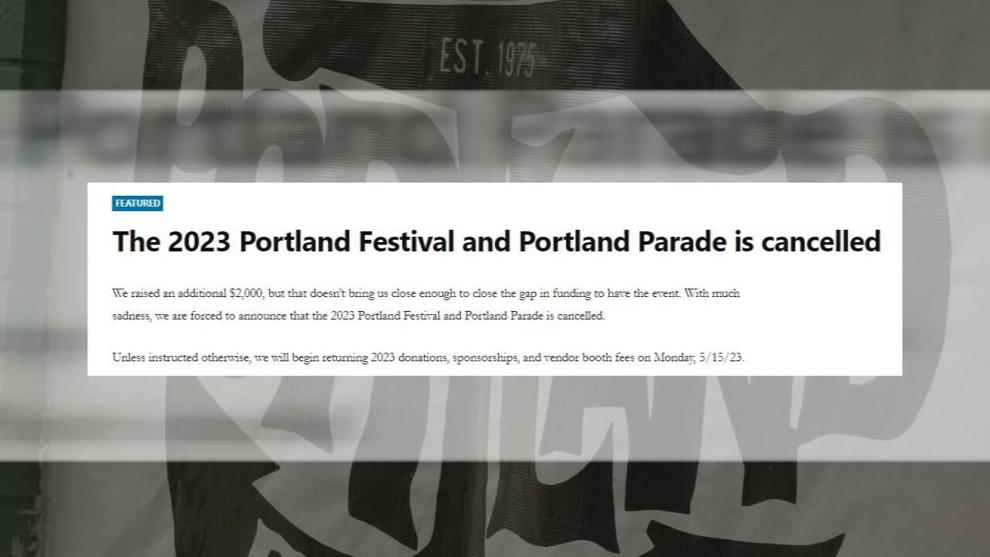 "It's very disappointing, but I don't think it's that surprising," she said. "Life is difficult. We're all trying to recover from COVID and the financial situation nationwide is uncertain."
O'Connell said if community members aren't able to help financially, she's hoping they'll consider volunteering to help put the event on in future years.
"The festival will continue," O'Connell said. "How it will continue depends on what kind of support we get from the community."
Neagle said he's in the process of contacting vendors and donors to give them their money back for this year. He said there are discussions about potentially holding a festival in the fall, but it's not certain if that will happen.
Neagle is hopeful the Portland Festival can return in June 2024.
Copyright 2023 WDRB Media. All Rights Reserved.