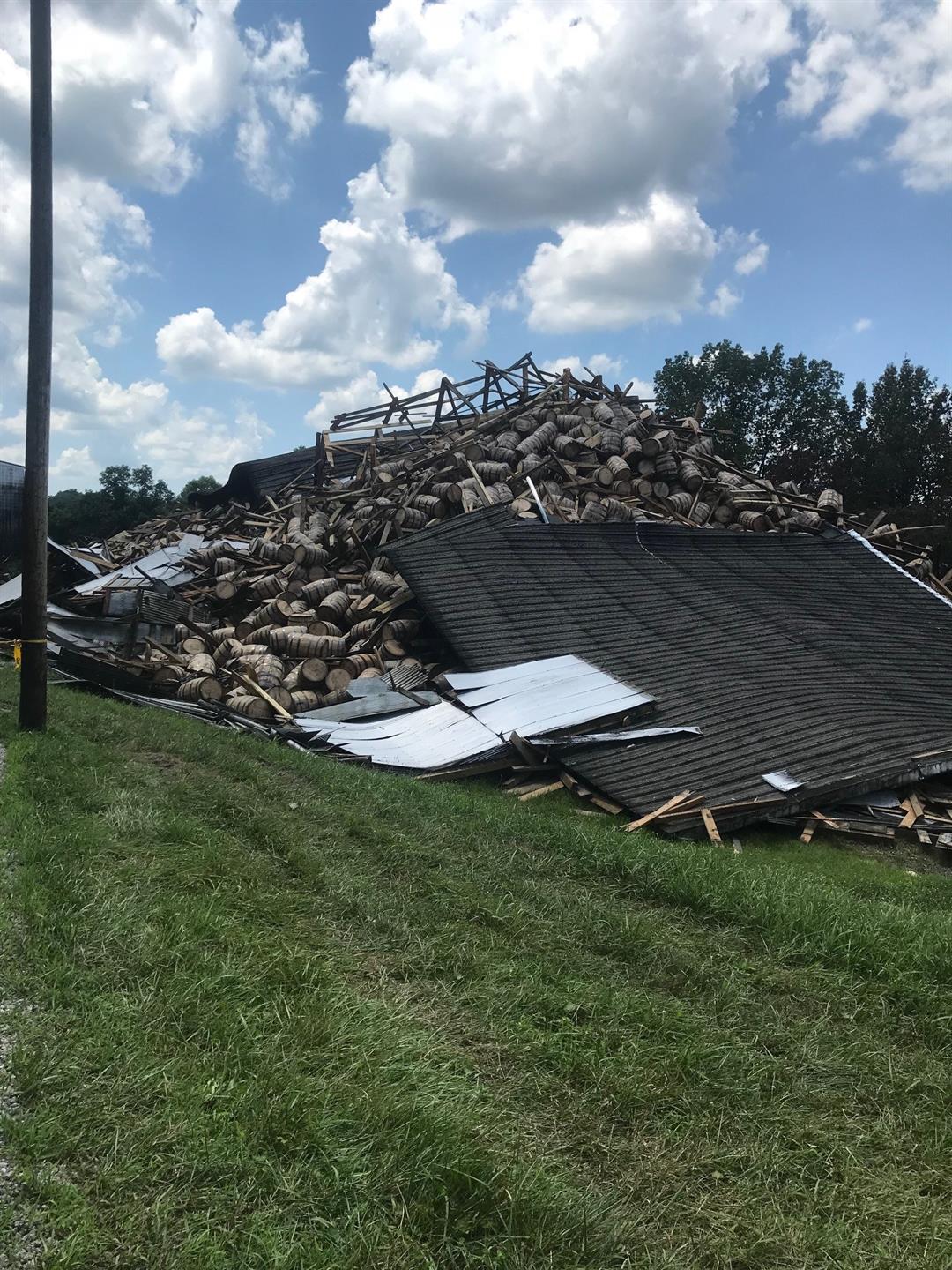 BARDSTOWN, KY. (WDRB) -- The bourbon warehouse in Bardstown that partially collapsed last month collapsed completely Wednesday afternoon, sending thousands of barrels tumbling to the ground, authorities said.
Neighbors of the distillery on Barton Drive were asked not to light fireworks because of the potential fire hazard. 
The remaining portion of the warehouse at the Barton 1792 distillery came down at about 2:20 p.m. on Wednesday, according to Nelson County dispatch. 
No one was hurt, and no one was inside the warehouse when it fell, county emergency management spokesman Milt Spalding and the company said.
Valerie Nevitt, who lives near the warehouse, said she heard the sounds of wood splitting and then the rumbles of barrels falling upon one another, reminiscent of last month's then-partial collapse. 
Spalding said the scene looks like "a mountain of bourbon barrels." He estimated 9,000 barrels tumbled from from the building.
Still photos from the Bardstown Fire Department showed what appeared to be a section of the roof atop piles of barrels.
Spalding said state and federal officials are on the scene to determine if any bourbon spilled into nearby streams.
A statement from Sazerac, the distillery owner, said "no runoff from today's collapse entered any waterways." The company credited the distillery team's "preparation and quick action," and notified state government environmental regulators "immediately." the statement said.
Half of the 1940s-era building collapsed on June 22 spilling about 9,000 of the 18,000 barrels of bourbon inside.  The spilled barrels cascaded down a hill and into two nearby creeks. Hundreds of fish were killed.
The Sazerac statement said the distillery "had equipment on site to address any further problems from the debris from the initial collapse or from the structure that remained standing. The Distillery team worked quickly to contain the spill from the barrels."
In addition, the statement said the half of the warehouse that collapsed Wednesday "was unable to be secured after the initial collapse due to worker safety concerns."
It is unknown how many barrels of bourbon can be salvaged. It may be weeks before inspectors determine the cause of the collapse.  
Third-party experts have inspected remaining barrel warehouses at Barton 1792 since June 22, and they "are deemed safe," the statement said. Warehouses at other two Sazerac distilleries in Kentucky also have been inspected and deemed safe. 
Related content:
Copyright 2018 WDRB News. All rights reserved.