LOUISVILLE, Ky. (WDRB) – In the first months of Ohio River bridge tolls in early 2017, late fees paid by drivers made up a scant amount of the overall revenue collected.
But as crossings increased on the RiverLink network, so has the revenue raked in from penalties for delinquent invoices.
In all, late fees have brought in about $10 million of the $121 million collected since tolling began, according to a WDRB News analysis of data obtained through a public records request.
They accounted for more than 10 percent of all toll revenue during the last 12 months. And in March, late fees were 17 percent of the total toll-related collections -- the highest single-month share since tolls began on the downtown Interstate 65 Kennedy and Lincoln bridges and the upriver Lewis and Clark Bridge.
For May, the most recent month available, the fees stood at about 12 percent of the total revenue, which includes pre-paid accounts linked to transponders and money paying off mailed invoices.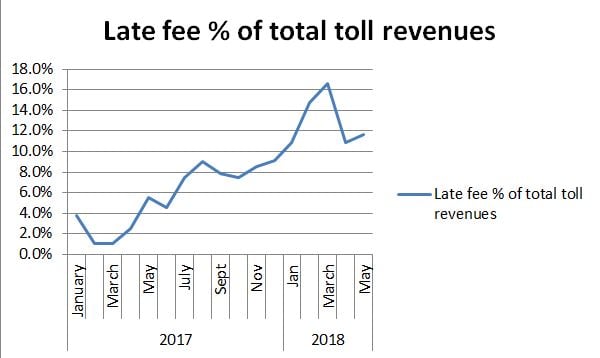 There's no target for late fee revenue, said Mindy Peterson, a spokeswoman for RiverLink, the electronic toll collection system operated by Kapsch TrafficCom for Kentucky and Indiana.
"I'm not surprised to see the percentage of revenue related to fees increasing," she said. "That's going to increase."
One reason is that the states have begun to ban drivers from renewing their vehicle registrations until they settle outstanding tolls, including late fees.
The charges are added in stages.
Drivers must pay a $5 late fee if an initial mailed invoice isn't paid within a month. An additional $25 fee is added if the bill isn't settled within another month. If that second invoice isn't paid, it a $30 collections fee is added and the account goes into a collections process.
In March, toll officials announced an amnesty program that allows drivers without a RiverLink account to sign up online through a one-time offer that lowers tolls and waives fees. Peterson said 40 to 50 people per day are adding accounts under that program.
"The point all along has not been, 'Let's raise fees.' The point has been, 'Let's have people become part of the system, become an account holder.' It's the easiest way for them to pay tolls," she said.
In fact, in May tolls paid by RiverLink account holders made up 37 percent of the total revenues, the data shows. That was the highest share since last October.
There is no toll industry average for late fee revenue, said Neil Gray, governmental affairs director for the International Bridge, Tunnel & Turnpike Association. "It varies from state to state," he said.
In Colorado, for example, late fees accounted for 3.8 percent of revenues collected from a toll road outside Denver last year, according to the E-470 Public Highway Authority. In Southern California, penalties make up roughly 10 percent of all revenue from the The Toll Roads of Orange County.
Reach reporter Marcus Green at 502-585-0825, mgreen@wdrb.com, on Twitter or on Facebook. Copyright 2018 WDRB Media. All rights reserved.