LOUISVILLE, Ky. (WDRB) -- A crowd of more than 50 protesters marched through parts of the Waterfront Park in downtown Louisville and onto the Big Four Bridge chanting "Ta'Neasha Chappell, say her name" on Sunday evening.
It's the second night of protests following her death in the custody of police at the Jackson County Jail on July 16.
Jefferson Square Park has been the epicenter of the Breonna Taylor protest movement, and was the first location Chappell's name was shouted out by protesters in support of her family.
According to Indiana State Police, Chappell was arrested after a police chase that began in Edinburg, Indiana and headed south into Clark County before ending with the vehicle crashing north of the 7-mile marker.
Police said Chappell, 23, and two other accomplices stole more than $3,000 worth of merchandise from the Polo Ralph Lauren store at the Premium Outlet Mall in Edinburgh.
The circumstances surrounding Chappell's death are still unclear as ISP is still awaiting autopsy and toxicology results.
Exhausting their option, Chappell's family hired the legal team that assisted Taylor's family. Their lawyers told them inmates in the Jackson County Jail were mistreated and even denied medication.
According to a team of attorneys, Chappell had bruises on her face, caught a fever and vomited before her death.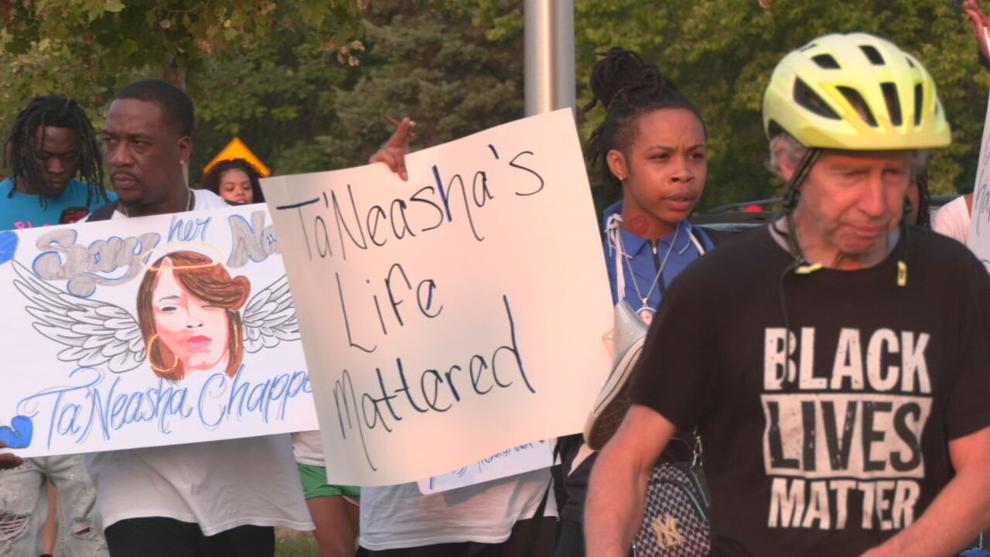 Chappell's brother, Jeffontae McClain said his family wants to know the cause of death, and hopes marches like this one, with a large turnout, will help.
"Those law enforcement officials are more pressed and have to answer," he said alongside Lavita and Donte McClain,  Chappell's mother and father, before the march. "It takes more than just one or two or a family to get answers. It takes all of us."
Chappell's sister, Ronesha Murrell, told WDRB News that the group will be heading to Jackson County on Tuesday in hopes of answers, justice and closure.
Related Stories:
Copyright 2021 WDRB Media. All Rights Reserved.