LOUISVILLE, Ky. (WDRB) -- The streets are closed, the stage is set and the tree is ready for Light Up Louisville to return downtown.
Streets around Jefferson Square Park were already blocked Wednesday afternoon in preparation for the 41st annual event, which kicks off at 4 p.m. Friday at Santa's Workshop on 6th Street. 
There will also be a Vendor Village at 6th and Jefferson streets and live music on a stage set up outside of Metro Hall.
The Lots of Lights Parade will start at 6:45 p.m. at 4th and Liberty streets. It'll go down Jefferson Street and disperse at 7th and Jefferson streets. Santa is expected to arrive around 8 p.m. to help turn on the tens of thousands of lights in Jefferson Square Park, including the city's Christmas tree. A fireworks show will follow the lighting.
As the COVID-19 pandemic continues, safety precautions will be in place. Organizers said instead of in-person photos with Santa, a green screen will be set up for holiday photos. Santa's Workshop will also have a "one-way loop" for children to come through to pick up crafts and cookies.
Below is a list of street closures that will be in place from noon to 11:30 p.m. Friday:
Jefferson Street from 3rd to 7th streets
Liberty Street from 3rd to 7th streets
Cedar Street from 6th to 7th streets
4th Street from W. Market to W. Liberty streets
5th Street from W. Market Street to W. Muhammad Ali Boulevard
6th Street from W. Market Street to W. Muhammad Ali Boulevard
7th Street from Cedar to W. Jefferson streets
Armory Place from W. Liberty Street to W. Muhammad Ali Boulevard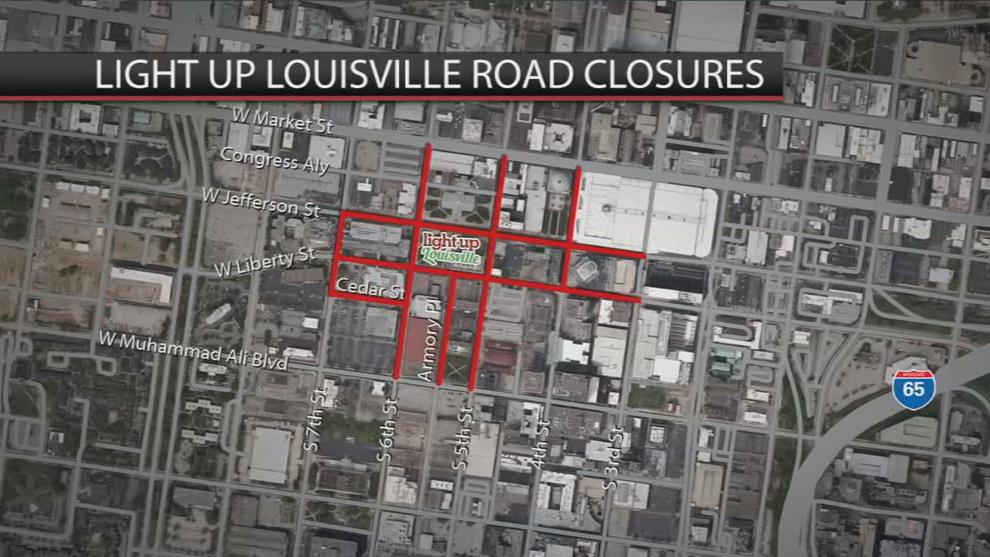 Organizers said parking will be available "on all non-restricted parking meters" outside the event, at PARC garages and some private lots. The closest PARC garages include the one behind Metro Hall on Market Street, the garage at 4th and Market streets and the garage on 6th Street behind the Louisville Gardens.
More information about Light Up Louisville can be found by clicking here.
Related Stories:
Copyright 2021 WDRB Media. All Rights Reserved.