FRANKFORT, Ky. (WDRB) -- Legislation that would require school resource officers to carry firearms while on duty easily cleared the House Education Committee on Tuesday.
Senate Bill 8, sponsored by Sen. Max Wise, passed the panel on a 16-5-1 vote. All "no" votes came from Democratic Jefferson County lawmakers while Rep. Jim Glenn, D-Owensboro, was the lone "pass" vote.
SB 8 comes as the Jefferson County Board of Education is working to finalize policies governing its school security officers, who will be employed directly by the school district. A board policy committee is scheduled to meet Tuesday to continue discussing procedures like what equipment the Jefferson County Public Schools officers should carry and what uniforms they should wear.
While draft policies currently have the officers armed with district-issued handguns, some school board members have expressed their reservations with allowing school security to carry guns in JCPS schools.
Lawmakers who voted against SB 8 worried not only about requiring guns to be carried in schools, but also taking such decisions away from local school boards like Jefferson County's.
Rep. Tina Bojanowski, D-Louisville, said she has heard from both supporters and opponents of arming police in schools.
"Many people I talk to are feeling safer because an SRO would have a firearm, and there's another community who's very desperately feeling more unsafe, and their concern is that with the firearms that maybe their kids would be more targeted and maybe more likely to have an issue with the SROs," she said. "I'm really struggling with that."
Wise, R-Campbellsville, said he understands the importance of local control, but sometimes state government must "look out for the protection of the Commonwealth of Kentucky when it comes to public safety."
"I know as a parent when I drop my children off at school, I want to make sure that they're going to a safe environment, and I know every district's not the same," he said. "I completely get that. Taylor County is not Jefferson County and vice versa, but at the same time, if we are going to say these schools are going to be safe and you're having sworn law enforcement officers, they've got to be able to do their job" in emergencies.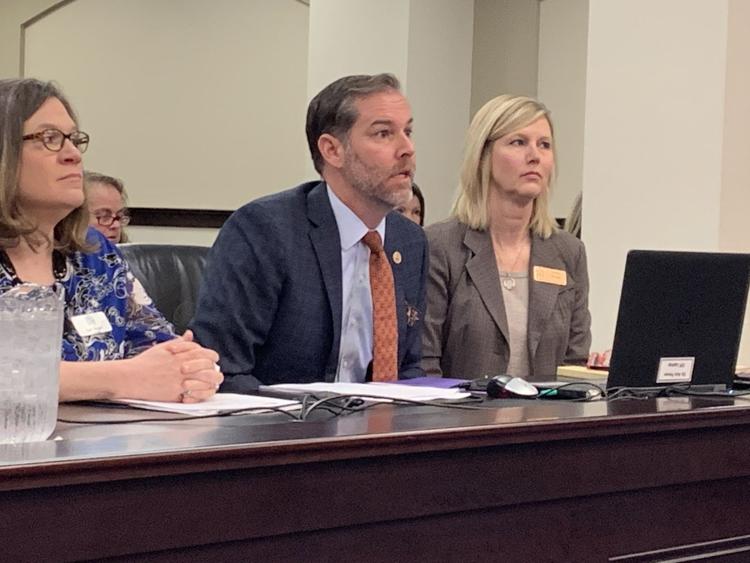 Keturah Herron, juvenile justice field organizer for the American Civil Liberties Union of Kentucky, said lawmakers invest more in preventative measures like counseling and mental health services rather than requiring police to carry firearms.
Students, particularly disabled youth, are more likely to be arrested or charged criminally if there are resource officers in their schools, she said.
If legislators truly believe that arming school resource officers will make schools safer, then those officers should also be required to have body cameras, Herron said.
"SROs should turn them on when they respond to an incident and have a reviewing body to look at the footage when SROs have any type of physical contact with students," she said. "I believe this will give protections to SROs and school districts as well as students."
While the JCPS school board is still debating whether to arm its internal team of school security officers, Wise reiterated that a district survey found that 82% of middle and high school teachers and staff who responded believe school resource officers should be armed and 90% wanted the officers in their buildings.
"I think the survey speaks for itself," Wise said. "If we are going to have sworn law enforcement officers in schools, I think it is the expectation that they not have a slingshot, that they have a firearm."
But Rep. Lisa Willner, a Louisville Democrat who previously served on the Jefferson County Board of Education, said support and opposition are split in her 35th House District.
She told WDRB News that the Legislative Research Commission survey she sent to her constituents showed that 45% support arming school resource officers, 45% oppose and 10% are undecided.
Decisions of whether school resource officers should carry guns in schools should be up to local boards, she said.
"The people who have reached out to me specifically, students and teachers, have really made a point to say our kids are coming from often communities with lots of violence, that it can be triggering to have armed police officers in schools, that it would create more disruption," Willner said.
Last year's School Safety and Resiliency Act requires districts to hire one school resource officer for every school as funding and prospective employees become available. SB 8 would amend that to stipulate that districts must have an armed officer for every school campus.
The new school safety law also requires districts to hire one school counselor for every 250 students, also as money and qualified personnel are available. SB 8 would add mental health professionals to that mandate.
Willner said she voted against SB 8 "with some real regret" considering the steps taken in the legislation to provide mental health services to youth.
"There's so much in it that's positive," she said. "... There are just a lot of folks in my district who are very concerned about (arming school resource officers), and I do think it's a decision that ought to be decided at the local level."
The bill now moves to the House for a vote, but two Democratic members of the education committee who voted against SB 8 during Tuesday's meeting filed three floor amendments to the bill later that day.
Rep. Mary Lou Marzian, D-Louisville, filed a floor amendment to remove the requirement that school resource officers carry firearms, and Rep. Jeff Donohue, D-Fairdale, filed two that would require them to wear body cameras and remove the mandate of arming them. Instead, school resource officers could be armed with Tasers, stun guns or other weapons for protection under his floor amendment.
SB 8 passed the Senate on a 34-1 vote Jan. 27 and cleared the Senate Education Committee without opposition Jan. 23.
Copyright 2020 by WDRB Media. All rights reserved.