LOUISVILLE, Ky. (WDRB) – As 2009 was about to roll into 2010, I wrote another in a seemingly endless series of updates on Kentucky and Indiana's plan to build two new Ohio River bridges.
"Bridges project suit moving to Ky.,"proclaimed the December 23 headline in The Courier-Journal, where I was in my fourth year of covering an idea that promised to remake the Louisville area's transportation landscape.
There was just one thing standing in the way: Money. Or, rather, the lack thereof.
The federal government had signed off on the Ohio River Bridges Project in 2003, but for the previous six years there had been little to show for it.
Consultants and planners consulted and planned. Engineers refined drawings. Bridge designs were chosen. Community groups met, and met again. Kentucky and Indiana bought land and slowly met goals meant to preserve properties – historic and otherwise. And the River Fields group, which opposed the East End bridge, filed a federal lawsuit seeking to reevaluate the whole thing.
Let me take a rare moment to offer a reporter's opinion: I think most people at the time – even those in the halls of power – doubted this project would actually happen.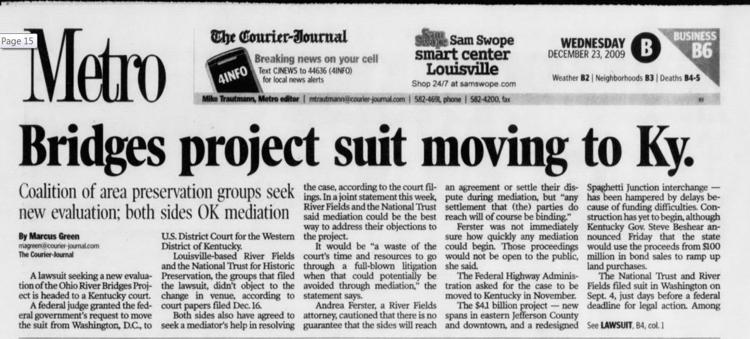 Over and over, I recall using lines like these from that December newspaper story a decade ago: "The $4.1 billion project – new spans in eastern Jefferson County and downtown, and a redesigned Spaghetti Junction interchange – has been hampered by delays because of funding difficulties. Construction has yet to begin….."
Of course, the bridges project did happen. It required the then-governors of Kentucky and Indiana – Steve Beshear and Mitch Daniels – and Louisville Mayor Greg Fischer to agree to changes in cost and scope, and ultimately the use of tolls.
I spent the last 10 years writing about this project, first for the C-J and for the last six years for WDRB.com. My colleague Chris Otts likes to joke that I know more about bridges and tolls than almost anyone. I don't. I've just been doing this a while.
When you cover a topic long enough, there are stories you're proud of and stories you wished you'd spent more time digging into. The bridges project is the largest transportation venture in Kentucky's history. So, yeah, I've got some regrets.
I regret that I didn't shine more light on the environmental cost of adding more roads to a city with one of the worst urban heat islands in the U.S. I regret not being more skeptical of a plan when it was clearly floundering. I regret not bringing more attention to the potential health consequences of new traffic patterns.
Remember "8664," the group that pushed to tear down I-64 in downtown Louisville and build only one bridge? I fielded plenty of angry phone calls and emails from people who accused me of giving 8664 too much influence, quoting their leaders too much, suggesting it could work.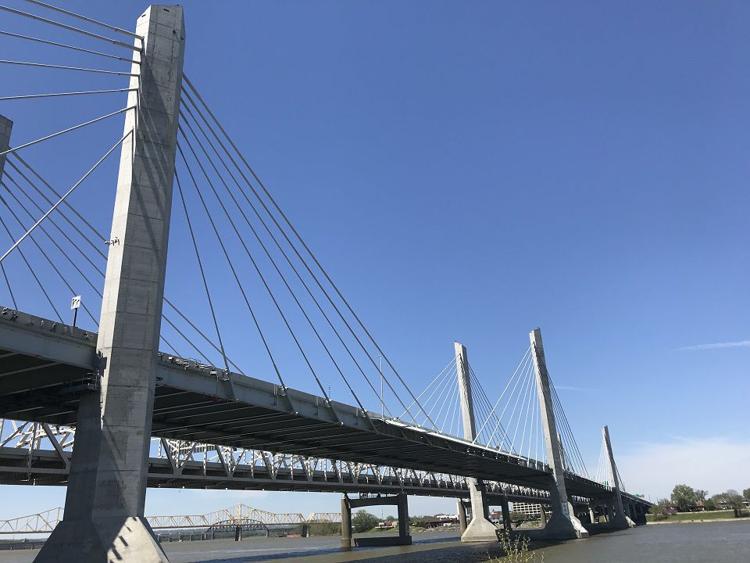 To me, I was just reporting the news as it happened and including different perspectives. But I do regret not raising more questions about why our award-winning waterfront was getting more concrete and whether our community was choosing the smartest way forward.
These are important questions. Transportation decisions affect all of us, whether we drive, take public transit, walk, cycle, ride-share, use a wheelchair or get around in another way. And let's be honest: No one moves in one way alone.
I'm proud of the work we've done at WDRB since the bridges project wrapped up in 2016 and Kentucky and Indiana launched the RiverLink toll system on those spans. As construction ended, one of my sources said to me, "Well, the bridges are done. What are you going to do with all of your free time?"
I didn't hesitate. "Over?" I recall saying with a laugh. "Now is when the real story begins."
For the last three years, my WDRB colleague Travis Ragsdale and I have tried to tell the real story of RiverLink. Yes, it's true that the toll revenue is meeting its goals – the real bottom line for the state governments that have ponied up money and debt.
But it's also true that RiverLink customer service got off to a rocky start. And that RiverLink contractors have failed to get billing details for hundreds of thousands of drivers from across North America.
While Kentucky and Indiana drivers must pay their tolls or face registration holds, we uncovered that RiverLink has no way to require drivers from other states to settle their bills. We used a leaked study to show that vehicle crossings over the Ohio River actually declined after the toll bridges opened. We revealed the abandoned plans to move dozens of call center jobs from Texas, Puerto Rico and central Indiana to the Louisville area.
These are just a few of the stories we've pursued so that the people largely paying for these bridges – you and I, the residents of Kentuckiana – will know how this toll network is truly operating. We've got more reporting planned. Stay tuned.
Now, about those regrets.
In covering the bridges project during its slow-moving development phase, I learned that stories that seem incremental and bureaucratic are far from pointless. In many cases, they're about decisions that will have an impact for generations.
Look around. Kentucky is weighing a new bypass around Louisville through areas that would be forever changed – in ways good and bad, no doubt. The state soon plans to begin widening I-71 and the Gene Snyder Freeway. Louisville Gas & Electric wants to run a pipeline across Bullitt County, including on land owned by Bernheim Arboretum and Research Forest.
We'll continue to cover these stories in the new year and decade ahead. We'll dig into the details and show how these projects might benefit our community – and scrutinize their consequences.
If I learned anything from the bridges project, it's this: Now is the time to ask questions.
Reach reporter Marcus Green at 502-585-0825, mgreen@wdrb.com, on Twitter or on Facebook. Copyright 2019 WDRB Media. All rights reserved.