LOUISVILLE, Ky. (WDRB) – A federal judge won't expand a lawsuit over RiverLink billing practices into a class action case, a temporary win for the operator of the Ohio River toll bridge system.
Two Indiana drivers claim they never received an initial invoice after crossing the bridges between Louisville and southern Indiana, but were mailed a second invoice with a $5 late fee first. Another driver claims he wasn't given enough time to pay.
Attorneys for those drivers want to broaden the lawsuit against Kapsch TrafficCom USA Inc. and its toll collector, Gila LLC, and take in countless others who they believe were sent invoices improperly.
U.S. District Judge Tanya Walton Pratt turned down that request, ruling on September 29 that too many people would be included in the proposed class-action groups. And because of the payment circumstances of each driver, she found, the court ran the risk of "minutiae overrunning the case."
But on Wednesday the lawyers for the drivers asked Walton Pratt to reconsider her order, saying in a filing in U.S. District Court in Indianapolis that they don't agree with her basic conclusion: That some fees assessed for unpaid tolls are allowed.  
Kapsch and Gila "have not created and mailed a single proper 1st Toll Notice since the inception of the Riverlink Toll System," the drivers' attorneys contend. "Therefore, Defendants' fees and penalties were improper from the start and must be refunded regardless of when they were paid."
The attorneys also claim RiverLink databases and other lists can identify those who could join the lawsuit.
At issue is a set of policies that representatives of Kentucky and Indiana state government set for RiverLink and the companies they hired to manage it. Among other things, these "business rules" govern how tolls are collected for drivers who don't have RiverLink accounts and receive invoices in the mail.
The rules call for toll notices to be due 35 days after they are generated and mailed within 5 days after they are created, giving drivers 30 days to pay.
The lawyers pushing for the class action case argue that hasn't happened. In one example filed in court, they cite a toll notice with an "invoice date" of December 12, 2017 and a "due date" of January 11, 2018.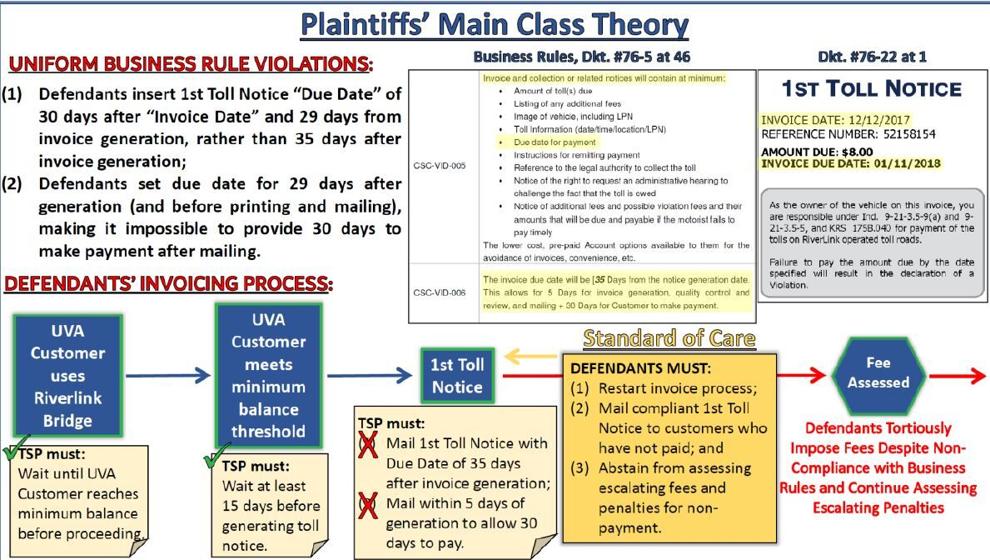 In her ruling, Walton Pratt noted that RiverLink collectors have "consistently mailed 1st Toll Notices with a due date of 30 days after the invoice date, which is earlier than contemplated by the Business Rules (35 days after generation date)."
And, she wrote, they have "assessed fees and penalties on some customers before a 1st Toll Notice was even sent at all."
Attorneys for Kapsch and Gila argued that even if the "interpretation" of the invoice date is true, such a "bare procedural violation" doesn't warrant a class-action lawsuit – especially since there's no evidence those potential class members suffered a "concrete and particularized harm."
Kapsch, hired by Kentucky and Indiana state governments, has acknowledged some errors in invoicing drivers who used the bridges. But it and Gila argue that a class action lawsuit isn't a practical way of resolving the complaints.
Lawyers for the drivers contended that a broader approach is "a superior, and perhaps the only, manner of efficiently litigating these issues."
They pushed for three different types of people who could join a class-action lawsuit: all drivers and entities without toll accounts that paid RiverLink fees or penalties; those who paid fees but were never mailed an initial invoice; and those who were assessed fees – but weren't given proper notice or enough time to pay.
Walton Pratt dismissed all three requests, ruling that they are too broad or contain too many differing individual examples of how tolls were paid.
Earlier this summer, Kentucky and Indiana officials agreed to hire Texas-based Electronic Transaction Consultants to replace Gila as RiverLink's toll collector and customer service provider. The states also plan to seek a new contract for the work now done by Kapsch, which includes operating the roadside gantries, scanners and other equipment on the Kennedy, Lincoln and Lewis and Clark bridges. 
Related Stories:
Copyright 2021 WDRB Media. All Rights Reserved.