FRANKFORT, Ky. (WDRB) – When lawmakers returned to Frankfort for the start of this year's legislative session last week, they were greeted by a letter from the Kentucky Association of Professional Educators stating that all teachers deserve a say in their retirement system and the state's education system.
In a letter obtained by WDRB News, KAPE also included the number of its members in the recipient's legislative district. Donna House, KAPE's executive director, said that's because the group wants to let the General Assembly know what services it offers to lawmakers' constituents.
A bill that would have altered the makeup and selection process for the Kentucky Teachers Retirement System's board of trustees last year – House Bill 525, sponsored by Rep. Ken Upchurch, R-Monticello – prompted teachers in about a dozen school districts to stage "sickouts" in protest.
The legislation would have diminished the influence of the Kentucky Education Association on board nominations and would have added two trustees, bringing  KTRS board membership to 13.
KEA's president currently chairs the nominating committee for board openings, but HB 525 would have allowed the state's largest education group to nominate candidates for only two board seats, one representing active members and the other representing retired members. KAPE, which supported the measure, would have been allowed to nominate candidates for one seat representing active teachers.
The grassroots advocacy group KY 120 United called for the Feb. 28 "sickout," and hundreds of red-clad advocates filled the House State Government Committee meeting as HB 525 passed on a 12-5 vote despite Stephanie Winkler, KEA's president at the time, testifying against it. The legislation did not get called for a vote on the House floor.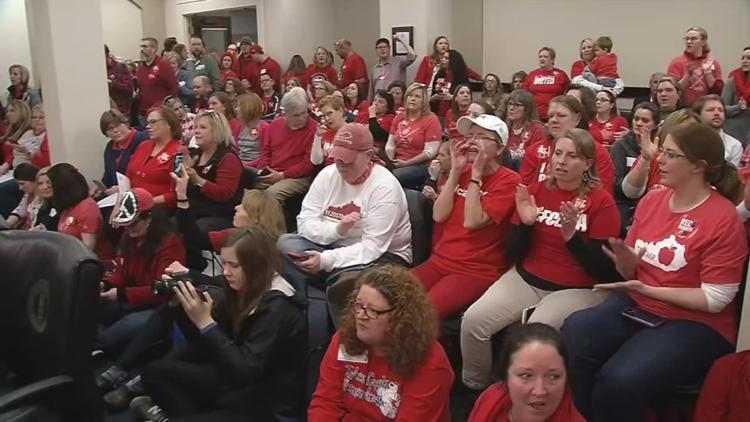 No bills similar to HB 525 have been filed during this year's legislative session, but a spokesperson for the House Republican caucus told WDRB News that discussions on the matter are continuing  "as there does appear to be a great deal of support among classroom teachers and other stakeholders."
HB 525 brought into public view the divide between KEA and KAPE, which has more than 4,000 members and offers itself as an alternative to the state's largest education association. KEA has nearly 29,000 members.
KAPE, in its letter, wrote that every active educator in Kentucky should "be offered the opportunity to be nominated as a candidate to serve" on the KTRS board. The group indicated that four of its members were rejected as prospective KTRS trustees by KEA in February.
"The nominating process is currently controlled in its entirety by the president of KEA and a committee compiled of KEA members," KAPE wrote.
The organization also said that many school districts refuse to allow independent associations to participate in payroll deduction programs or attend benefit fairs. Such groups, KAPE said in the letter, "offer similar or even better benefits than the KEA union," including legal services.
"Many conservative teachers do not wish to belong to the KEA or (Jefferson County Teachers Association) union for personal reasons," KAPE wrote in the letter. "SCHOOL EMPLOYEES DESERVE THE RIGHT TO CHOOSE WHAT PROFESSIONAL ASSOCIATION THEY WISH TO JOIN. SCHOOL EMPLOYEES NOT CHOOSING TO JOIN KEA SHOULD ALSO HAVE A VOICE IN THEIR RETIREMENT SYSTEM AND THE DIRECTION OF EDUCATION IN THE COMMONWEALTH."
House, KAPE's executive director, said the group isn't aware of any proposed legislation that might affect KTRS board membership.
"KAPE has not taken a position on any hypothetical proposals or scenarios about the Teachers' Retirement System," House wrote in an email to WDRB News. "To the extent a bill is introduced in the General Assembly that might impact the Teachers' Retirement System, KAPE will inform its members of the status of that bill at that time."
Asked whether KY 120 United would again call for teachers to demonstrate in Frankfort should a bill like HB 525 resurface and gain traction in the General Assembly, KY 120 United Co-Founder Nema Brewer said her group has "made it perfectly clear where we stand on that issue."
Brewer said the integrity of the KTRS board would be compromised by tinkering with its membership.
"The biggest concern for us isn't so much control from one association or the other, but it's limited interference by people who may want to do harm to the solvency of the board and the pension system," she said in an interview with WDRB News.
The possibility of further school closures comes weeks after Democratic Gov. Andy Beshear reversed a previous determination by Republican Gov. Matt Bevin's Labor Cabinet that more than 1,000 teachers who participated in last year's "sickouts" were actually engaging in illegal work stoppages.
Brewer described KAPE as an "anti-union union" that has been highly critical of KEA and the National Education Association and said she wished the two sides would get along and stop "infighting."
"It's kind of a little sister, big sister kind of thing, and it's unfortunate because it doesn't do anybody any good," she said. "But we're not giving up control of our pension board if we can help it."
Copyright 2020 by WDRB Media. All rights reserved.