LOUISVILLE, Ky. (WDRB) -- Instead of running away from gunfire, Davon Taylor ran toward it. 
"I heard about eight gunshots go, 'Pow pow pow' really fast," Taylor said Saturday. "I didn't question it. I just said, 'Oh my God, somebody needs help. Let me help him.'"
Ringing out about a block from Jefferson Square Park, the shots broke the silence of the otherwise peaceful Thursday morning near the epicenter of Louisville's protests for racial justice. At South 5th and Liberty streets, Taylor saw Devon Robinson, 19, lying on the ground shot and unconscious. Robinson's family said the teen was waiting at the corner to catch a bus to visit his dad. 
Taylor, a lifeguard at Kentucky Kingdom, started CPR.
"I was just telling him like, 'Come on, keep going, keep going. We're almost there. Keep going; I got you. You're gonna be okay,'" Taylor recalled.
Aided by his CPR training for his job, Taylor said he resuscitated Robinson, who briefly woke up before an ambulance arrived.
"Before he left, I heard him mumble a little, 'Am I gonna be okay?'" Taylor said. "I was like, 'You're gonna be fine; I'm here with you. We're gonna get through this together.' They took him to the hospital, where he later passed away."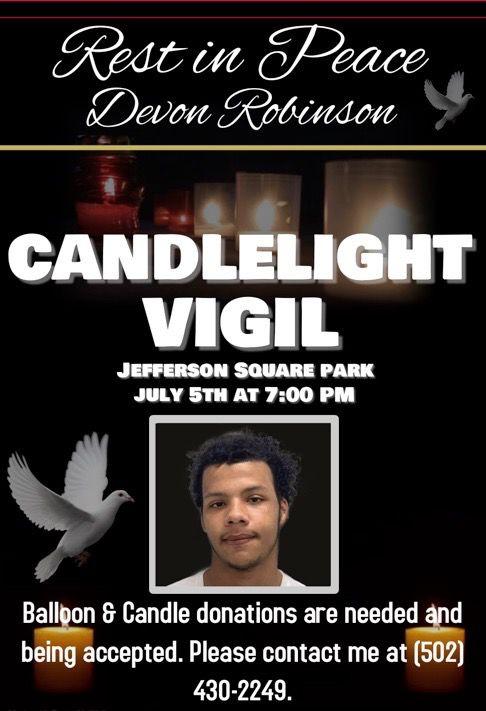 Taylor said he's since talked to Robinson's family, who thanked him and called him a hero for trying to save a life.
"I'm telling them I don't want to be a hero. I just want to be a Good Samaritan," Taylor said. "He died with somebody who cared and who wanted to make sure he was comfortable."
He didn't previously know Robinson, but now Taylor wants to now help the victim's family organize a public vigil at 7 p.m. Sunday in Jefferson Square Park. The group is looking for candle and balloon donations for the event.
Although Robinson didn't make it, Taylor acknowledges how his actions did briefly help. It's why he says others should get CPR certified, too.
"If you do not know CPR, please make sure that you learn CPR," he said.
As of Saturday evening, no one has been arrested in connection to Robinson's death. Family members told WDRB News they believe Robinson was involved in an ongoing feud and that he was being chased by someone he knows. Robinson's brother and grandmother are hopeful that cameras, witnesses and the fact that the shooting occurred in broad daylight can help authorities apprehend of Robinson's killer.
Related Stories: 
Copyright 2020 WDRB Media. All Rights Reserved.