CHARLESTOWN, Ind. (WDRB) - Dozens of animals are missing from Wildlife in Need, and the owner of the southern Indiana zoo is as well.
By court order over allegations of abuse, approximately 160 animals have been removed from the zoo over the past six days, according to a news release from Indiana Attorney General Curtis Hill. But many animals previously seen at the zoo in Charlestown, Indiana, are not there, as state officials continued the removal process on Friday.
The zoo's owner, Tim Stark, was ordered to stay at least one mile away from his property in Clark County, just northeast of Louisville, as the animals are moved.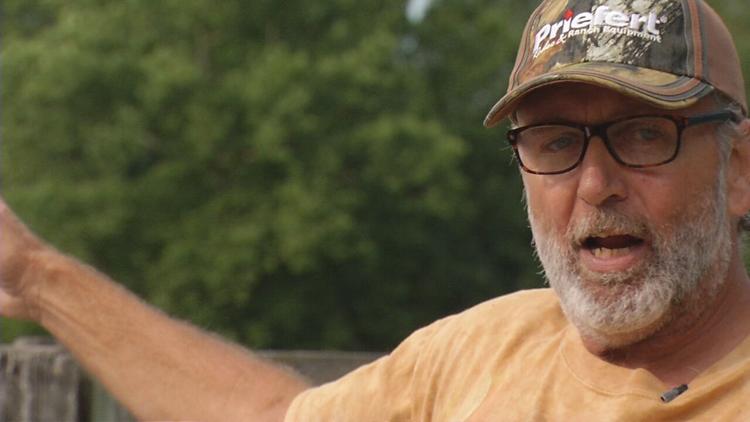 When $165,000 worth of animals went missing from Wildlife in Need, a warrant was issued for Stark on Wednesday finding him in contempt of court. According to the attorney general, the missing animals include: six spider monkeys; two toucans; one pied crow; one African grey parrot; two macaws; one caracal; one ocelot; three fishing cats; two cougars; two Asian small-clawed otters; one prehensile porcupine; and two African crested porcupines.
Stark also posted a video asking followers on Facebook to "go in there and tear the f*****g place up" and throw rocks at those removing animals.
About $50,000 worth of those missing animals, including a sloth, Debrazza monkeys, and booted macaques, were found in the back of a truck parked on a neighbor's property, Hill said. The animals were left without food, water or ventilation, according to the news release.
Stark has refuted accusations that he hid animals before the state could take them from his property. Instead, he said he was asked to crate up some of the animals for the zoo and put them in a box truck on his neighbor's property.
"If I was going to hide the damn thing, do I look like an idiot?" Stark told WDRB News on Tuesday. "I wouldn't have hid them right there in plain sight."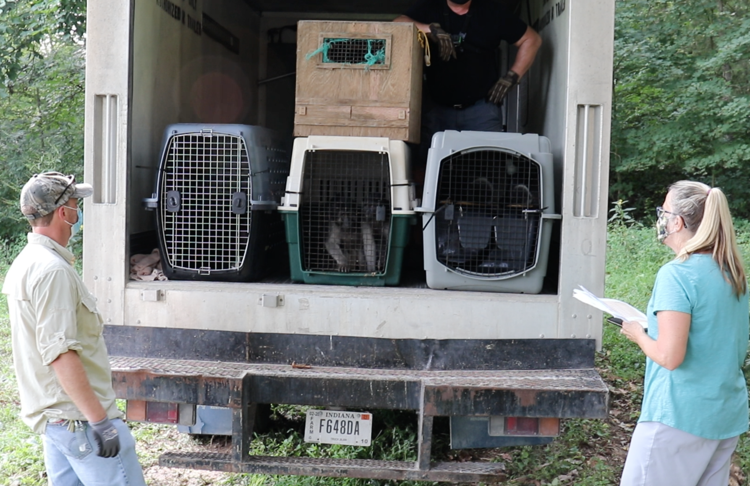 A caravan of trucks led by police entered the Wildlife in Need facility on Sept. 11 to help the Indianapolis Zoological Society begin the dayslong removal ordered by a Marion County judge.
The Indiana attorney general's office sued the center in February for allegedly abusing exotic animals, including incidents where the center's owner punched a sloth in the face and repeatedly stomped on a tiger cub that had bitten him.
According to court documents cited by Hill, Stark has a history of hoarding animals in deplorable living conditions, abusing and neglecting animals, trafficking animals and hiding animals from government authorities.
Under the court order, monkeys, birds, wolves and bears are among the animals that will be removed and cared by the zoological society. The Indianapolis Zoo will be in charge of coordinating where the animals go.
Stark was stripped of his U.S. Department of Agriculture license in June after agency officials said he violated the Animal Welfare Act more than 100 times. Many of the animals at the center were left without adequate care, no food and water, according to court documents.
Stark argued that he had never hurt the animals and that moving them put their lives at risk.
"I would never put my animals in jeopardy," Stark said. "I would never turn my animals loose. My animals are my life."
The People for the Ethical Treatment of Animals on Friday seized 22 big cats — tigers, lions, and tiger/lion hybrids — from the premises as part of an Endangered Species Act lawsuit it filed against the zoo and Stark in 2017, according to a news release. 
PETA said the big cats were taken to The Wild Animal Sanctuary in Keenesburg, Colorado and the Turpentine Creek Wildlife Refuge in Eureka Springs, Arkansas.
Related Stories: 
Copyright 2020 WDRB Media. All Rights Reserved.