LOUISVILLE, Ky. (WDRB) -- Investigators began the process of removing dozens of animals from a controversial zoo in southern Indiana Friday morning.
A caravan of trucks led by police entered the property of Wildlife in Need in Charlestown, Indiana, in the early morning hours to begin removing the animals as ordered by an Indianapolis judge. Police were there all morning talking to owner Tim Stark, telling him he needed to leave the property.
Stark came out and spoke with reporters. He says he is being falsely portrayed as a bad guy, and blames People for the Ethical Treatment of Animals (PETA) and the media for portraying what he characterizes as an inaccurate picture of his zoo. He says he's concerned that his animals are going to be harmed during the removal process, and offered to assist, but law enforcement would not allow him to remain on the premises.
Stark says he has made mistakes but denies abusing his animals. He blames PETA and the media for portraying him as a "bad guy." pic.twitter.com/3FFm3qZ061

— Lawrence Smith (@LASmithReports) September 11, 2020
A production crew from the Netflix show "Tiger King" was on the scene during the removal process. Stark has previously been featured on the reality show.
An afternoon live report by WDRB Reporter Lawrence Smith and Photojournalist Doug Smith captured a tense scene outside Wildlife in Need. Despite being ordered to leave his property, Stark could be seen sitting in the driver's seat of his truck, his window rolled down. A small dog was sitting in his lap, with a camera crew nearby.
"Legally, Stark is supposed to be at least a mile away from here during this process, but as you can see, Mr. Stark is still here, and he's concerned, he says, about his animals," Smith said.
"1.3 miles from my property," Stark volunteered, smiling from his vehicle.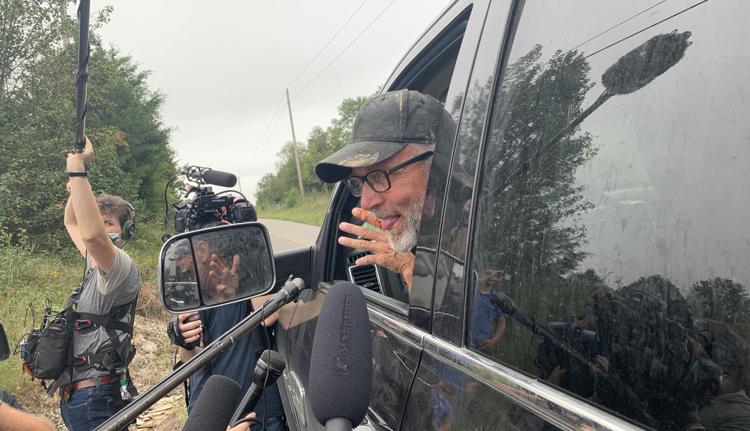 Monkeys, birds, wolves and bears are among the animals that will be taken, but the zoo's big cats will stay put for now because they are a part of a separate lawsuit that People for the Ethical Treatment of Animals have filed against the zoo. 
The zoological society will have access to Wildlife in Need from 9 a.m. to 6 p.m. on Sept. 11, 13, 15 and 17 to retrieve the animals, according to court documents. The society will be responsible for caring for the animals and arrange for temporary homes at qualified facilities. 
"They're trying to say that the animals are in jeopardy because Tim Stark ... is a loose cannon," Stark told WDRB News on Thursday. "I've never hurt nobody; I've never hurt animals; I've never done anything. Just because I'm passionate about what I do and I say f*** a lot, that don't make me a threat."
RELATED: Southern Indiana zoo owner accused of animal abuse gives WDRB News a rare behind-the-scenes tour
Stark said he will stand his ground and likely argue with members of the zoological society.
Law enforcement officers will be allowed at Wildlife in Need "to accompany and provide protection," the judge ruled. The officers have been authorized to "take all measures deemed in their discretion to be necessary to ensure the safety of all involved in the animal removal," including the detention of anyone trying to harass or interfere in any way, according to the ruling.
Stark said on Thursday that, "These people are requesting to be on my property without my supervision, and I'm the sole owner of this property. Wildlife in Need (the nonprofit) don't own as much as a blade of grass, and this is my property, but yet, they're trying to order me off the property."
Related Stories: 
Copyright 2020 WDRB Media. All Rights Reserved.