LOUISVILLE, Ky. (WDRB) -- The Louisville Metro Police Department has released the name and charges of a man arrested Monday for a series of attempted robberies around Louisville.
It's suspected Barney Mitchell, 62, attempted to rob the Thorntons on Poplar Level Road in Newburg, a Kroger on Dixie Highway in Pleasure Ridge Park and the Circle K gas station on St. Andrews Church Road, among other businesses, according to LMPD officer Beth Ruoff.
According to Ruoff, police got a description of Mitchell and his vehicle during the numerous attempted robberies.
According to an arrest report, an LMPD sergeant and officers with the Shively Police Department spotted Mitchell's vehicle at Dixie Highway and Gagel Avenue on Monday just after 5 p.m. When they attempted a traffic stop at Dixie Highway and Stewart Avenue, police said Mitchell "failed to comply" and fled northbound on Dixie Highway and onto Interstate 264 East.
The officers pursued Mitchell down I-264E and onto I-65S before calling off the chase at the Clermont/Bardstown exit, the arrest report states. Police said Mitchell reached speeds over 100 mph at times, creating "substantial danger of death or serious physical injury" to the officers involved and other vehicles on the road.
Mitchell was located by another police agency around 6 p.m. before he fled to Bullitt County, according to Ruoff. When he returned to Jefferson County, LMPD's Air Unit located his vehicle, allowing officers to follow him "at a safe distance," Ruoff said.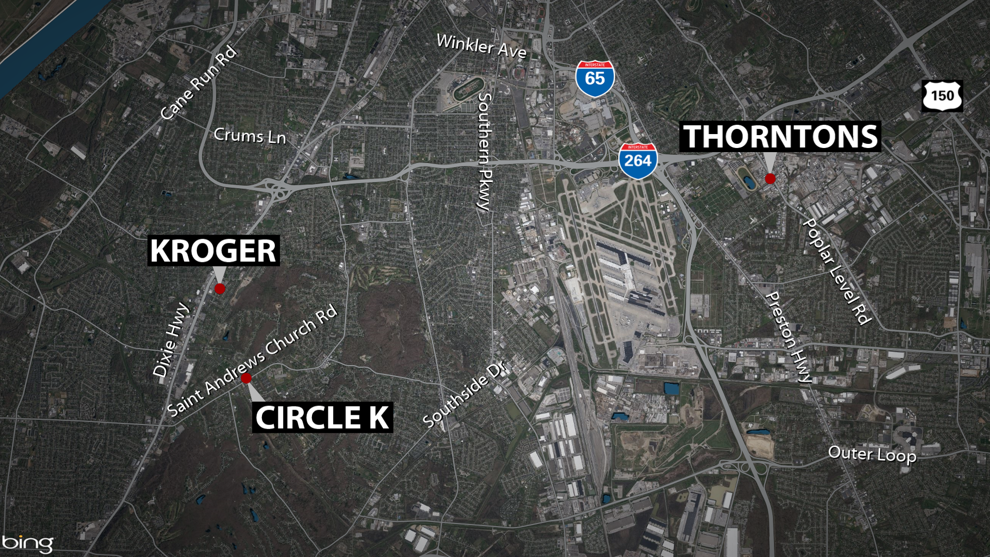 Mitchell was arrested at Frankfort Avenue and Clifton Avenue in the Clifton neighborhood around 7 p.m. with the help of several LMPD divisions, LMPD's K-9 unit and "multiple agencies," Ruoff said. He was taken to University of Louisville Hospital with minor injuries.
He was booked into the Louisville Metro Department of Corrections on Thursday, according to LMPD. He's facing charges of fleeing or evading police and wanton endangerment of a police officer.
Copyright 2021 WDRB Media. All Rights Reserved.