LOUISVILLE, Ky. (WDRB) -- The two Indianapolis men accused of shooting a pair of Clark County judges appeared in court Wednesday. 
41-year-old Brandon Kaiser was charged with attempted murder, aggravated battery, carrying a handgun without a license and battery. 23-year-old Alfredo Vazquez was charged with assisting a criminal.
According to the Indianapolis Metropolitan Police Department, both Kaiser and Vasquez were arrested May 4.
Clark County judges Brad Jacobs and Andrew Adams are recovering in the hospital, after they were both shot in the parking lot of an Indianapolis White Castle on Wednesday, May 1. The two were in Indianapolis for a judges conference.
Court documents describe what police say happened that night. Investigators say sometime between 2:30 and 3 a.m., both Vazquez and Kaiser were kicked out of Kilroy's Bar N' Grill, in Indianapolis. Police say they were able to identify them through surveillance video, and were led to Vazquez after he used a credit card to pay his bill.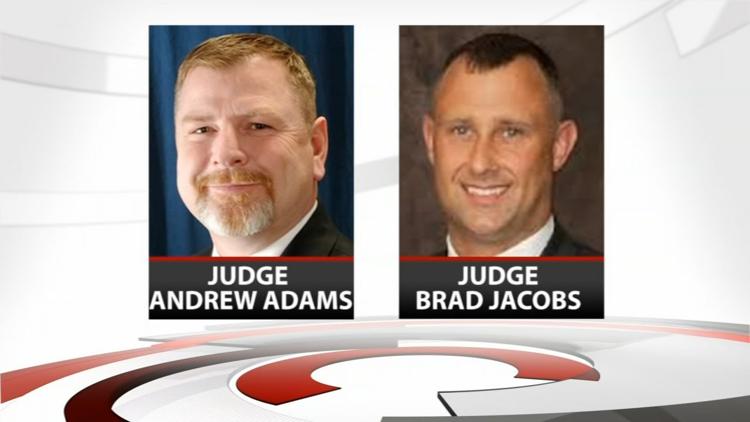 Just before 3:30 a.m., police say Vazquez and Kaiser got into a "physical fight" with the judges. Police say surveillance video shows Kaiser shooting both judges, then getting into an SUV with Vazquez.
On Friday, police released a YouTube video showing the SUV pulling up to a White Castle. Two people can be seen getting out of the SUV. 
When confronted, Vazquez allegedly admitted to going to White Castle on the night of May 1 and getting into a fight with Jacobs and Adams -- men he said he didn't know.
Vazquez said he eventually stopped fighting because he hit one of the men too much and felt he'd "had enough." At some point, police say Vazquez told them Kaiser pulled out the gun and shot Adams in the stomach. 
He said Kaiser then shot Jacobs in the chest, and when Jacobs fell to the ground, Vazquez admitted to holding Jacobs down while Kaiser "placed the barrel to Jacobs' center chest and shot him a second time."
Vazquez said both he and Kaiser then got into the SUV and drove away.
Police say they also tried to interview Kaiser, but he refused, saying he wanted a lawyer.
During a news conference Tuesday afternoon, just hours after the arrests were announced, attorney Larry Wilder and Clark County Sheriff Jamey Noel took questions from the media.
Wilder said both judges were recovering, but added that, "as anyone knows, a gunshot wound is something that's difficult to recover from no matter what."
Both men declined to speculate on what might have led to the fight between the two judges and the two suspects. Wilder said the only thing that mattered was that one of the suspects tried to kill the judges -- and anything else was just "speculation," and "insignificant and irrelevant."
"All the other facts bore me," he said.
Speaking with some emotion, Wilder noted that he was "louder" than usual, but attributed that to his long association with the Clark County area and the public servants who work there.
"You'd have to take a stick to run Jamey Noel out of Clark County," Wilder said, adding that he'd like to think the public would need a "bigger stick" to run him out.
He said both judges are patient, and are willing to let the entire matter play out in court.
"There's no expression of a rush to justice," Wilder said. "They understand that this is a long process."
Related Stories:
Copyright 2019 WDRB Media. All Rights Reserved.