LOUISVILLE, Ky. (WDRB) -- Authorities in Indianapolis say they do not plan to file charges at this time against the two men arrested in connection with the shootings of two Clark County judges earlier this month.
The announcement, which was made Friday afternoon by the Marion County Prosecutor's Office, does not mean the two men won't be charged at a later date.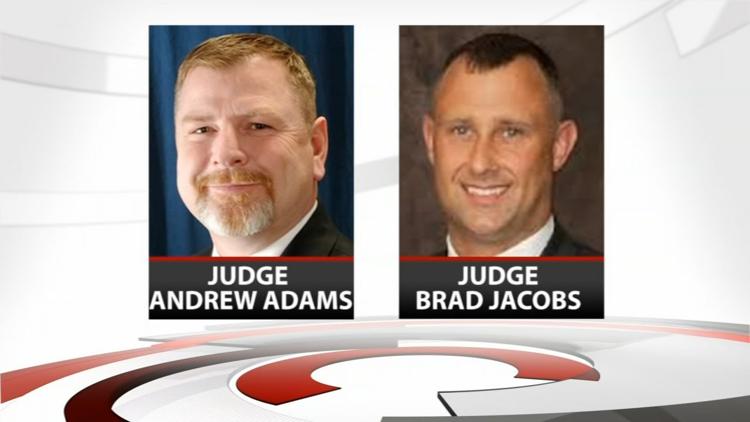 "We have received the results of the investigation conducted to date, including video retrieved from surveillance cameras," said Marion County Prosecutor Terry Curry, in a statement. "At this time, we have determined that additional investigation must be completed before we can make a charging decision in the matter."
Shortly after that announcement was made, Kathryn Dolan, a spokeswoman for the Indiana Supreme Court, issued a statement:
"The Office of Judicial Administration is aware that the Marion County Prosecutor's Office has declined to file charges at this time related to the May 1 matter involving Indiana trial court judges. Respect for the process requires independent offices to do their job. It is not appropriate for the administrative office or a member of the judiciary to comment on a pending case in a trial court."
The announcement came shortly before the two suspects -- 41-year-old Brandon Kaiser and 23-year-old Alfredo Vazquez -- are scheduled to appear in court.
Police said they're the men who shot judges Andrew Adams and Brad Jacobs outside an Indianapolis White Castle last week. Just before 3:30 a.m. on May 1. Investigators say Vazquez and Kaiser got into a "physical fight" with the judges. Last week, police released a YouTube video showing an SUV pulling up to a White Castle. Two people can be seen getting out of the SUV. 
Vazquez reportedly told police he eventually stopped fighting, because he hit one of the men too much and felt he'd "had enough." At some point, police say Vazquez told them Kaiser pulled out the gun and shot Adams in the stomach. He said Kaiser then shot Jacobs in the chest, and when Jacobs fell to the ground, Vazquez admitted to holding Jacobs down while Kaiser "placed the barrel to Jacobs' center chest and shot him a second time."
Investigators say that, just before the shootings, sometime between 2:30 and 3 a.m. on May 1, both Vazquez and Kaiser were kicked out of Kilroy's Bar N' Grill, in Indianapolis. Police say they were able to identify them through surveillance video and were led to Vazquez after he used a credit card to pay his bill.
Jacobs and Adams are recovering in the hospital. The two were in Indianapolis for a judges conference.
Related Stories:
Copyright 2019 WDRB Media. All Rights Reserved.