LOUISVILLE, Ky. (WDRB) -- Twenty-six people including Kentucky State Rep. Attica Scott, author of legislation known as "Breonna's Law," were arrested Thursday evening during protests demanding justice for Breonna Taylor.
Scott, a Democrat from Louisville, and others were arrested near the main branch of the Louisville Free Public Library and First Unitarian Church at the intersection of South Fourth and York streets, according to Tracy Dotson, a spokesman for the union representing Louisville Metro Corrections.
Scott and her daughter, Ashanti, were charged with first-degree rioting, a Class D felony, failure to disperse and unlawful assembly, according to LMPD. They were both released from Metro Corrections on Friday morning on personal recognizance and have arraignment hearings scheduled for Oct. 6, according to online court records. 
Scott on Friday morning shared an eight-minute video she recorded to her Instagram account that details the moments leading up to her arrest. 
LMPD is accusing Scott of being part of a group that caused damage at multiple locations, including setting fire to the main library branch. According to a statement from Sgt. Lamont Washington, marchers were also spotted "breaking windows on Fourth Street at Jeff Ruby's Steak House," and some graffitied TARC buses as the group moved through downtown. 
A WDRB News crew covering the protest saw one individual smash a library window and throw a flare inside the building. Protesters walking nearby condemned the individual's actions.
Washington said library maintenance took care of the broken window Thursday night. In a statement posted to Facebook early Friday morning, members of the union that represents Louisville Free Public Library workers said, "We have seen no proof that the flare thrown into the library has done any major damage, nor that Representative Scott had anything to do with it, and find these accusations inconsistent with her character and the constant support we have received from her."
Louisville Free Public Library spokesman Paul Burns said damage was minimal, but the main branch will be closed Friday. They hope to have the branch reopened Saturday. All other library locations are open for regular curbside services.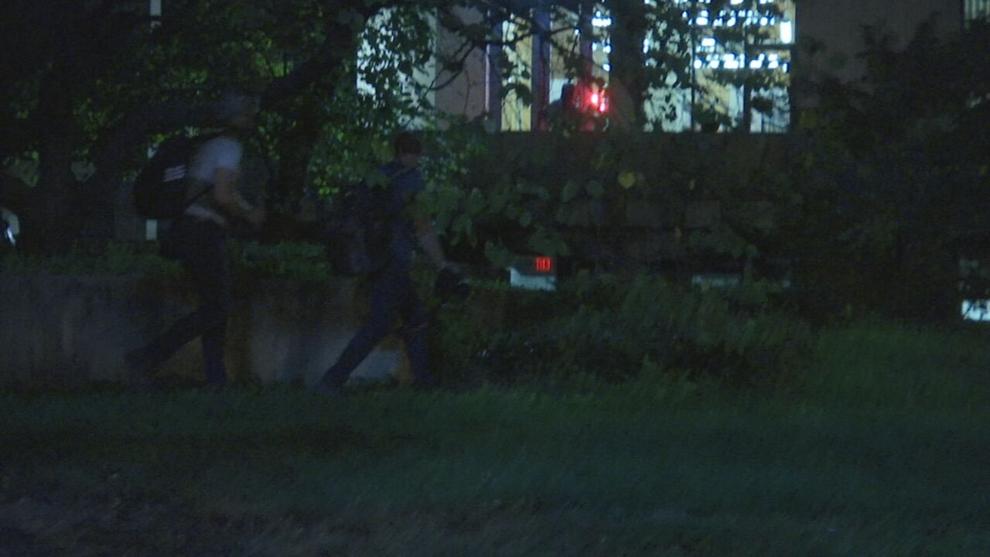 Shameka Parrish-Wright, co-chair of the Kentucky Alliance Against Racist and Political Repression, was arrested alongside Scott, according to her attorney, Ted Shouse, who told WDRB News that "it appears LMPD is targeting protest organizers." 
Parrish-Wright, the operations manager of The Bail Project Louisville, also faces charges of first-degree rioting, failure to disperse and unlawful assembly, according to LMPD. She was released from Metro Corrections on Friday morning on personal recognizance. 
"This arrest and these charges are outrageous," Shouse said in a statement. "Shameka Parrish-Wright is a pillar of this community. She was arrested alongside a sitting member of our legislature for exercising her First Amendment rights."
Protesters gathered on church property after the church's pastor, the Rev. Lori Kyle, said church officials "advertised" it as a safe space to demonstrators during the city's 9 p.m. to 6:30 a.m. curfew, which Mayor Greg Fischer extended through Monday morning.
Church members provided protesters food, water and buses that they said were available to transport people to their cars. 
"This is what churches are supposed to be, right?" said Dawn Cooley, a Unitarian Universalist minister and coordinator of the Thomas Jefferson Unitarian Church's Justice Center. "They're supposed to be sanctuaries and havens for people who are in need, and so this is absolutely what all churches should be doing."
A lieutenant with LMPD told Kyle that police hoped to leave the area "as soon as possible" while officers investigated the fire at the library. According to Kyle, the lieutenant said police had no plans "to interface with people on their property."
Washington said in a statement, "Contrary to rumors on social media, the LMPD, at no time, was waiting for 'a decision from legal about whether or not they can storm the property.' No arrests were made for being on church property. No National Guard was deployed to address these issues."
Around 11 p.m., LMPD and protest organizers reached a compromise that allowed demonstrators to leave the church and disperse as long as they remained on sidewalks. The group dispersed without further incident, according to WDRB News reporters.
For a livestream from the church, see below: 
Scott's Breonna's Law is named for Taylor, a Black woman who was shot and killed by LMPD officers who were serving a search warrant at her apartment on March 13 as part of a narcotics investigation.
A Jefferson County grand jury on Wednesday charged former LMPD detective Brett Hankison with three felony counts of wanton endangerment for shooting into a nearby apartment during the raid on Taylor's home. Neither Hankison nor the two other officers who fired their weapons, Sgt. Jonathan Mattingly and Detective Myles Cosgrove, were indicted in connection with Taylor's death.
Breonna's Law would ensure any law enforcement officers executing a search warrant in Kentucky would have to physically knock and verbally announce themselves. The proposed legislation would also mandate alcohol and drug testing in the event someone is shot and killed by police. It also calls for officers' body cameras to be turned on five minutes before and after serving a warrant.
The Louisville Metro Council already banned no-knock warrants in Louisville after Taylor's death.
Related stories: 
Copyright 2020 WDRB Media. All Rights Reserved.