LOUISVILLE, Ky. (WDRB) -- Paul Hornung, a football legend of the 1950s and 60s from Louisville, has died.
Hornung passed away Friday morning, according to a news release from the Louisville Sports Commission. He was 84.
Hornung battled with dementia, according to the news release. In July 2016, Hornung sued equipment manufacturer Riddell Inc., saying football helmets he wore during his professional career failed to protect him from brain injury. Hornung suffered multiple concussions with the Packers, the lawsuit said.
He is survived by his wife of 41 years, Angela Hornung.
Hornung won the 1956 Heisman Trophy at Notre Dame as a quarterback and was the No. 1 pick by the Green Bay Packers in the 1957 NFL Draft.
He switched to halfback in the NFL and became an All-Pro player during the 1960s who could run, pass, catch, block and kick. According to a news release, Green Bay Packer Football Coach Vince Lombardi once called Hornung, "The most versatile man ever to play the game."
"The zenith of his colorful NFL tenure came during three exceptional seasons in 1959, 1960 and 1961, when Hornung led the NFL in scoring two of those years and finished second the other year by one point," the news release says.
"In 1960, he capped by a stellar season when he scored a record 176 points in 12 games on 15 touchdowns, 15 field goals and 41 extra points – a mark that would stand for nearly 46 years. He was the NFL's MVP in 1961, and his Packers earned NFL titles in 1961, 1962 and 1965, and won Super Bowl I in 1967. Those years included a 1961 stretch in which Hornung was called to active duty in the Army to fulfill ROTC requirements from Notre Dame. He obtained weekend passes to play in Packers games, including the 37-0 rout of the New York Giants in the 1961 Championship in which he scored a record 19 points. Hornung scored the winning touchdown in the 1965 NFL championship game against the Cleveland Browns, and suited up for Super Bowl I, but did not play because of a neck injury. He was the first player selected by the New Orleans Saints in the 1967 expansion draft, but never played due to injury."
He was inducted into the Hall of Fame in 1986.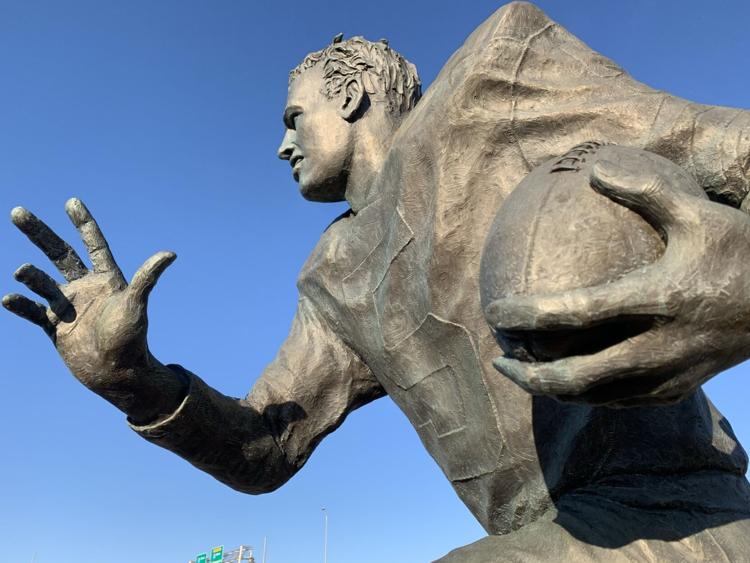 Those who knew Hornung say neither they nor the community will forget him.
"Short of Muhammad Ali, he was probably as big a personality as has ever come out of this town," said Paul Rogers, the play-by-play announcer for the University of Louisville. "He settled down and became just a pillar of the community — a guy that was great fun to be around."
Both Rogers and Ray Duran, Jr., the president of the Notre Dame Club of Greater Louisville from 1980-1982, said Hornung had a keen sense of humor and a generous spirit.
"He always helped our scholarship fund," Duran said. "I would say probably 200 kids (from Louisville) he helped attend Notre Dame over his years."
"... I have always said that Muhammad Ali, Paul Horning, Pee Wee Reese and Darrell Griffith — that's the four on our Mount Rushmore," Duran added.
Due to COVID-19 restrictions, there will be a private funeral mass for Hornung at St. Louis Bertrand Church in Louisville, followed by a private burial at Cave Hill Cemetery.
The Associated Press contributed to this report. Copyright 2020 by WDRB Media. All rights reserved.