LOUISVILLE, Ky. (WDRB) -- The area's first dog park bar is just weeks away from opening its doggy doors to furry friends and their humans.
PG&J's Dog Park Bar is leasing the old auto repair garage at 800 Baxter Avenue. It's currently undergoing renovations to transform it into an indoor-outdoor dog park bar, and the plan is to open in December.
"Everyone goes to dog parks because that's fun for their dogs but not so much for the humans," said Gina Nobles, PG&J's owner. "People want to spend time with their pups, but they want to go to bars. And that's fun for them, but not so much for their dogs. So now we've just put the two together!"
Nobles, a Louisville native, got the idea after living in Texas for several years and frequenting the neighborhood dog park bar. She loved getting to hang out with her four-legged and human friends and trying craft brews all at once.
Moving back to Louisville, Nobles believed the Highlands would be the ideal location for a similar venture.
"We love it here in the Highlands! There are about 4,000 dogs in this zip code area," she said. "And there's so much development happening here. There's so many new places that are being built. There's the Baxter. There's Highland Station. There's so many new places, and these people need a place to go with their pets."
The hopes, dreams and plans have been in the works for years, and Nobles finally secured the perfect location and signed the lease last summer. But the project hit some bumps in the road.
"We wanted to open last fall, but the right team wasn't in place," Nobles said. "Then we were going to open in March, and then COVID hit."
Finally, it's weeks away from opening. The bar is being constructed, light fixtures and televisions are being installed, tables are being made, the mulch is being delivered, and final inspections are coming up.
It will be a full-service bar with coffee from Fante's Coffee, craft beer from local breweries, wine and specialty cocktails. The bartenders will also be trained to monitor the dogs and take care of the dog park.
Dogs will be allowed off-leash, so everyone must sign waivers, and members will need to provide up-to-date veterinary paperwork.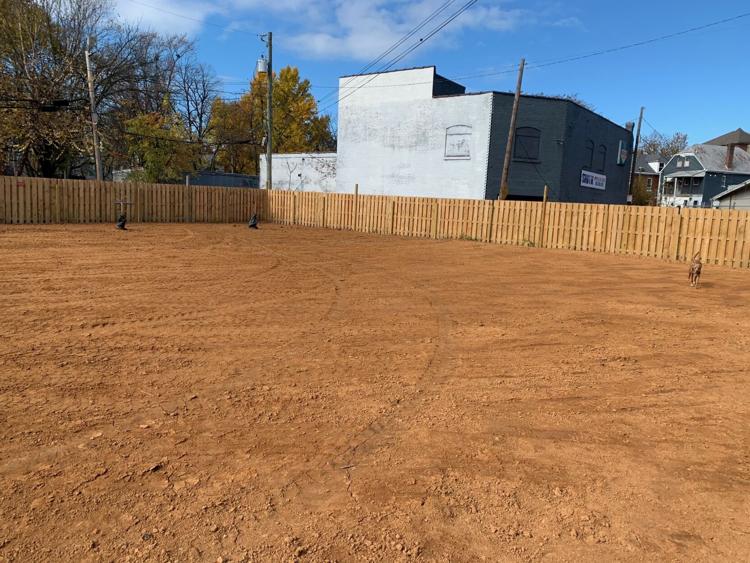 "This is not a doggy day care," Nobles said. "You are still responsible for your dog. So everyone has to sign a waiver, and that waiver states that your dog is social and not aggressive, and your dog is up to date on all of its vaccinations. And we do require your veterinary records for our members."
Humans get in for free, and you do not have to own a dog to visit the bar. However, there are fees for Fido. There are membership passes for one day, month or year at a time.
"The membership is for the dog, not the person," Nobles said. "And it does pay for staff, for park supplies and upkeep of the park."
PG&J's is running a special discount right now for anyone purchasing a membership pass before the opening date, which should be in December.
"You do not have to have a dog to come visit us," Nobles said. "So a lot of people think they have to have a dog. We just ask that you like them, because you're bound to get some wet kisses here and there from our furry friends."
The bar is actually named after Nobles' three rescue dogs: Paco, Ginnie and J. Roddy. Nobles and her managing partner Julie Christine, who is mom to rescue dog Hank, have a heart for rescue animals. So they wanted to make sure the business was also giving back to animal rescue shelters. When the bar opens, a portion of every dollar will go to support five organizations:
Mispits and Friends Rescue
Kentucky Humane Society
My Dog Eats First
Dogs Helping Heroes
Arrow Fund
There are hopes that in the future dog training might be offered from the location along with opportunities to help socialize anxious dogs.
Copyright 2020 WDRB Media. All Rights Reserved.