LOUISVILLE, Ky. (WDRB) -- The family of Louisville Metro Police Officer Nick Wilt has provided an update on his condition on the Louisville Metro Police Foundation's  Facebook page.
The update comes a little over two weeks after Wilt ran toward danger on April 10, as a shooter inside the Old National Bank in the Preston Pointe building gunned down five employees before he was killed in a shootout with Officer Cory Galloway, who was first on the scene with Wilt.
The five bank employees killed in the shooting were Joshua Barrick, 40, a senior vice president; Deana Eckert, 57, an executive administrative officer; Tommy Elliott, 63, also a senior vice president; Juliana Farmer, 45, a loan analyst; and Jim Tutt Jr., 64, a commercial real estate market executive.
Eight others were injured, including Wilt. 
According to the post, as of Tuesday, Officer Wilt remains in critical condition and in a medically-induced coma battling pneumonia and severe lung complications.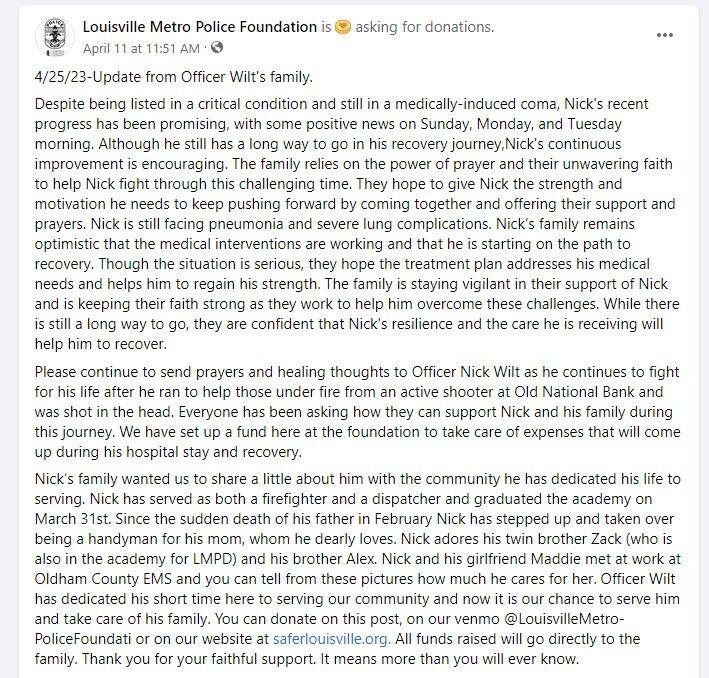 Wilt's family said his progress has been "promising" since Sunday.
"Although he still has a long way to go in his recovery journey, Nick's continuous improvement is encouraging," the family said on the Facebook post.
Wilt's family remains optimistic about his recovery, and are staying strong in their faith that he will recover, and asks that everyone "continue to send prayers and healing thoughts." The post also contained details about Wilt that the family wanted to share:
"Nick has served as both a firefighter and a dispatcher and graduated the academy on March 31st. Since the sudden death of his father in February Nick has stepped up and taken over being a handyman for his mom, whom he dearly loves. Nick adores his twin brother Zack (who is also in the academy for LMPD) and his brother Alex."
The Louisville Metro Police Foundation has set up a fund to collect donations to help Wilt and his family. You can make a donation on the foundation's website. Donations are also accepted via Venmo: @LouisvilleMetro-PoliceFoundati. All funds go directly to the family. 
Related Stories:
Copyright 2023 WDRB Media. All Rights Reserved.