LOUISVILLE, Ky. (WDRB) -- Police released portions of officer-worn camera footage from Monday morning's shooting at a downtown Louisville office building, where authorities said a gunman killed five bank employees. 
The video was made public during a media briefing Tuesday afternoon at Metro Hall. It includes footage from Louisville officers Nickolas Wilt and Cory Galloway as they arrived on the scene at the building at Main and Preston streets. 
Wilt's roughly one-minute footage shows him driving, with Galloway in the passenger seat, as they pull up and are fired upon while still in their cruiser. The video then shows the officers approaching at 8:41 a.m. the steps of the Preston Pointe office building, where police said 25-year-old Connor Sturgeon was shooting from an elevated lobby area. 
Wilt's video ends as the two officers climb the steps. It does not show him get shot. 
Galloway's footage is longer, four minutes and 42 seconds, and shows him ascending the steps to the building's main level, falling down after he was shot and then scrambling back down to the Main Street sidewalk to take cover behind a ground-level planter box. He then waits until other officers arrive.
After several shots are heard, Galloway yells, "God damn it!" After a few moments, he says, "The shooter has an angle on that officer. We need to get up there. I don't know where he's at. The glass is blocking him." 
Galloway moves around the planter box looking toward the building as sirens can be heard in the distance. Col. Paul Humphrey, deputy chief, said additional LMPD officers arrived on-scene in less than three minutes.
"It feels like eternity to watch, you can only imagine how it felt for them being there in that moment," Humphrey said. 
As more officers arrive, Galloway said, "he's shooting straight through these windows right toward the officer." 
Gunshots are heard in the video as Galloway moves away from the planter box. The video shows Galloway shooting toward the building. 
"I think I got him down, I think he's down," Galloway said in the video.
Galloway shot and killed Sturgeon, said Humphrey. He said it wasn't a close-range shot by Galloway.
Galloway told police to bring Wilt down the stairs. Police then enter the building, walking on top of broken glass.
Police released a third video — without sound — taken from a bystander on the south side of Main Street that shows police approaching the building. They also made public two still photos of Sturgeon holding an AR-15 rifle, one as he walked along an office corridor and another as he stood in the lobby surrounded by shattered glass from the building's windows. 
From the lobby, Sturgeon had an elevated position and could see officers, but police could not see him.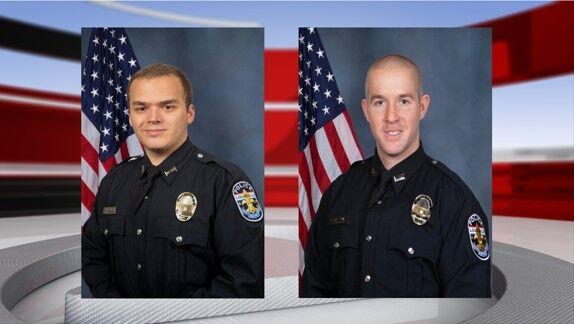 "That's why he was able to fire on them before they ever saw where he was," Humphrey said.
Sturgeon, a bank employee, killed five of his co-workers during an assault that began around 8:40 a.m. Monday, police said.
Wilt, who was in his initial weeks on the job, and Galloway, his training officer, were nearby on patrol and responded within three minutes of the first 911 call, according to police. 
"These officers unflinchingly answered the call to protect and their duty to serve," LMPD Interim Chief Jacquelyn Gwinn-Villaroel said. "They confronted acts of violence head on and neutralized the threat. Tragically, lives were lost, but countless lives were saved."
The Jefferson County Coroner's Office has identified the dead as Tommy Elliott, 63; Joshua Barrick, 40; Jim Tutt, 64; Juliana Farmer, 45; and Deana Eckert 57. 
This is a developing story and will be updated.
Copyright 2023 WDRB Media. All Rights Reserved.