LOUISIVILLE, Ky. (WDRB) -- Long before Chris Mack agreed to step aside as the University of Louisville basketball coach, fans were speculating as to who might be the person to replace him.
And while everyone has a list of candidates, perhaps the most important list is one that interim athletics director Josh Heird talked about Wednesday, the list of what he'll be looking for in the next coach.
Now, these usually read like pie-in-sky: the coach will be all things to all men, and women, and babies and animals, etc. But Heird's answers to a few of these questions may shed some light on how — and with whom — he'll proceed.
Despite being an interim, Heird did say, "It's my intention to hire the next head coach." And he said he has some people in mind.
"You always have a list. ... As an athletic director, if you don't have list, you're behind."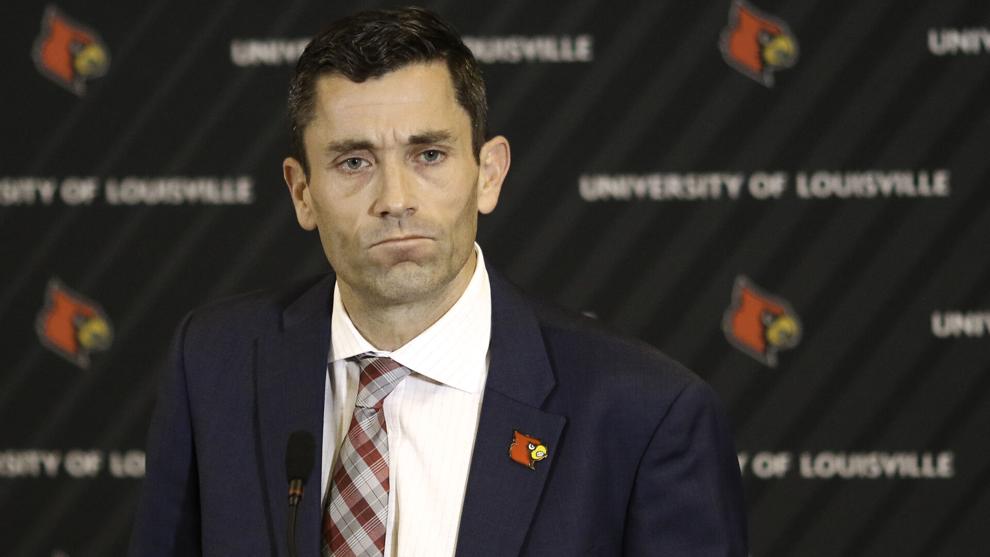 If those words sound familiar, they were often repeated by a predecessor at U of L whom Heird worked for: Tom Jurich.
He also promised a process that would pull various constituencies together.
"It'll be a collaborative process," Heird said. "And maybe not necessarily interviewing individual candidates. But I will seek as much information as I possibly can. ... whether they're former student athletes, whether they're members of the community, whether they're fans or donors, members of the campus community. What are you really trying to see in a head coach? And once again, for me, it's about compiling as much information as you can and making the best decision possible. And so that that's how we'll approach it."
He gave no timeline, other than, "when we find the right coach." But he did say that being one of the first major jobs coming open should give U of L and advantage.
"I think we're, as I've deemed it, first to market, right? And so I think that gives us a real advantage," Heird said. "It gives us more time to review candidates. It gives us more time to vet candidates. I think it gives candidates more time to look at us and say, 'Hey, what's going on over there in Louisville?' Because I can assure you, while it's not every coach in the country, I would presume it's a large, large majority of folks in the country saying, 'The Louisville job's open.'"
As to specifics of what he's looking for, several answers gave insight.
What is he looking for in the next coach?
"I think it's everything that makes a good head coach," he said. "And that's not just X's and O's. I would tell you, this job is difficult. There's a lot of pressure in that position. And there's a lot of things that you have to navigate internally, externally. So it's got to be somebody that has a vision to compete at the highest level, at the elite level. I think everybody understands that the expectation here is to win national championships. That's not going to change. I think it's somebody that has to be able to communicate to fans, to stakeholders, donors, to folks on campus here to folks inside the community. So that's going to be very critical. I think it's going to be somebody who just comes in and embraces this town. I'm a huge believer that you have to embrace the community that you're part of. And if you can do that, you can really start to fit in and really, quite frankly, be successful."
Oddsmakers are beginning to take a look at the Louisville coaching job, and the numbers early on favor a couple of close-to-home candidates to replace Chris Mack as head coach.
Will he require head coaching experience?
"I think I have one qualification right now," Heird said. "They're a good basketball coach. And I know that's very broad, but that's the qualification right now. I don't want to scratch anybody off the list. I want to make sure that we do a thorough vetting of all of the candidates out there so that we can hire the best coach."
He was asked if a history of NCAA violations would disqualify anyone in the search.
"I would tell you that I am going to want a coach that has the highest level of integrity possible," Heird said.
As to consideration of Black and minority candidates, a topic often mentioned by former players who feel such representation has been lacking in the department, Heird committed to it.
"It's a consideration in any position that we hire in the athletic department — at least it is for me — and it will continue to be for me, because I think it's something that we need to make sure that we're focused on," he said. "And we will be focused on it. Obviously, we just hired an associate AD for diversity, equity and inclusion in Derek Cowherd. And so, absolutely, it's important to me."
The ground rules are set. Let the speculation commence.
Related Stories:
Copyright 2022 WDRB Media. All Rights Reserved.