LOUISVILLE, Ky. (WDRB) – The RiverLink toll system handily beat its latest revenue goals thanks in part to an increasing amount of late fees.
Toll collectors took in nearly $112 million during the fiscal year that ended in June, according to a WDRB News analysis of reports obtained through public records requests. That exceeded projections of about $97 million.
The fiscal year data provides a glimpse into RiverLink trends as the bridge toll network hits its 2 ½ year anniversary. It shows that overall revenue climbed from the prior year – up from $96.5 million in 2017-18 – as did late fees and other penalties.
Those fees accounted for $14.3 million in 2018-19, or nearly 13 percent of all toll revenue. They made up about 10.6 percent of toll collections the year before, or about $10.2 million.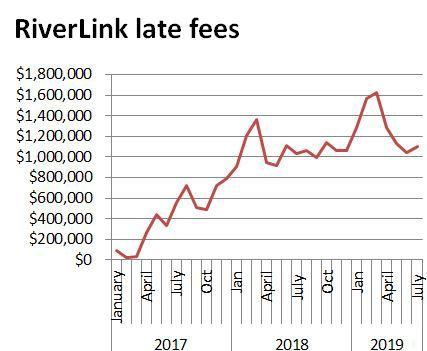 Drivers must pay a $5 late fee if they don't return their mailed invoice within a month. An additional $25 fee is added if the bill isn't settled within another month. If that second invoice isn't paid, a $30 fee is added.
At that point, Kentucky and Indiana drivers face vehicle registration holds if they don't pay. Drivers from other states aren't subject to those sanctions.
There is no standard for late fees as a share of a toll road's overall revenue, according to the International Bridge, Tunnel & Turnpike Association. WDRB reported last year that some toll networks have fee income that ranges between about 4 percent and 10 percent of all collections.
For RiverLink, the most recent data show that drivers are paying most tolls through prepaid accounts, by using local RiverLink transponders or E-ZPass devices that also work in other states. Overall, about 62 percent of all transactions were linked to a transponder last year, up from 56 percent the year before.
Those rates move the project closer to estimates made before tolling began that predicted that by 2018, the second full year of tolls, that 65 percent of all crossings would use transponders.
Austria-based Kapsch TrafficCom operates RiverLink, the all-electronic toll system on the Interstate 65 Kennedy and Lincoln bridges between downtown Louisville and Jeffersonville, Ind., and the Lewis and Clark Bridge that connects eastern Jefferson County with Utica, Ind.
Kentucky and Indiana oversee the work and evenly split toll revenue. Among other things, the states use the proceeds to pay off debt issued to build the Ohio River Bridges Project.
Megan McLain, the Kentucky Transportation Cabinet's innovative finance manager, said the states are "absolutely" pleased with Kapsch's work.
"Kapsch's system is meeting the requirements," she said in an interview this month. "They've worked with us to make improvements where necessary. We're meeting and exceeding all of our revenue projections."
Related:
RiverLink not pursuing out-of-state toll violators – yet
Car registration holds helped RiverLink collect $4 million in 2018
Did RiverLink 'get well' in Year 2?
Reach reporter Marcus Green at 502-585-0825, mgreen@wdrb.com, on Twitter or on Facebook. Copyright 2019 WDRB Media. All rights reserved.