LOUISVILLE, Ky. (WDRB) -- You might see people wearing masks when working out at the YMCA when it reopens. 
YMCA of Greater Louisville is making some changes to keep people safe when it reopens. The Y says touch-free check-in will be available using your phone or key tag to scan in.
"We will eliminate touch-points as best we can by something as simple as propping a door open," Greater Louisville YMCA CEO, Steve Tarver said.
Wellness centers, indoor tracks, and lap pools will be open, with social distancing. Cloth face coverings or masks are recommended for members. Staff members will receive a temperature check before each shift begins, and will be asked to wear masks and gloves. 
"Our staff will be wearing masks, and we encourage our members to wear masks as well," Tarver said. "Although, even the experts are suggesting you have to be very careful with that if you are exercising."
Some machines will be unplugged and marked with orange cones to allow for social distancing. 
"It will look differently as we reenter, and we hope people will cooperate and participate and share the responsibility that we have to each other," Tarver said. 
The Y is also reducing its hours to allow for daily, after-hours facility-wide cleaning. Signs and markers are also being installed around each facility to remind people about disinfecting equipment and social distancing. Tarver calls disinfecting "critically important."
Members are being asked to bring their own towels, yoga mat, locks for a locker, water, coffee, etc. during the reopening period. Access to towel services, lock exchanges and vending will be unavailable to reduce touch points.
During Phase 1 of the initial reopening period, YMCA locations will be open to members 10 years and older (with an adult). Guests and Nationwide members will not be permitted at this time.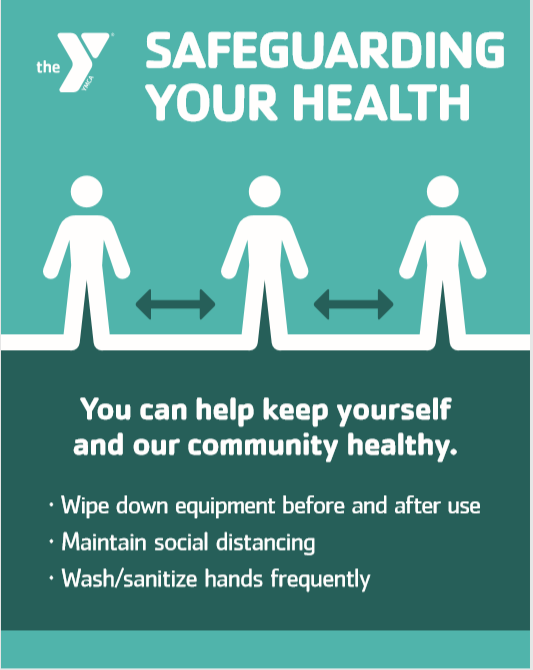 The following services won't be available at first: climbing walls, Kids' Club and Kids' Club playgrounds, steam rooms, saunas, whirlpools, gymnasiums for pickleball or basketball, racquetball courts, towel service, lock exchanges, coffee service, water fountains and vending areas.
Family, senior, small group, and one-on-one programs will not be available in the first phase of reopening.
A re-opening date has not been set.
"We really don't have an idea when we will reopen," Tarver said. "We are hopeful for June... in some cases, even at the county level, different counties having different guidelines, so we are following those very closely."
For additional updates visit the YMCA of Greater Louisville website. 
Copyright 2020 WDRB Media. All rights reserved.