LOUISVILLE, Ky. (WDRB) -- The attorney for Rick Pitino in his suit against the University of Louisville has filed a motion to "explore David Grissom's claim" that a university trustee was the "cash source" for payments to strippers who danced for and had sex with Louisville basketball players and recruits in a campus dorm.
Grissom, the former chairman of the university's board of trustees, made the comment under oath last month, citing something he said former U of L President James Ramsey told him. Grissom's assertion in the Katina Powell sex scandal – which Ramsey's lawyer unequivocally denies – came during a July 26 deposition in the financial fraud lawsuit U of L and its nonprofit foundation are prosecuting against Ramsey and a handful of former top aides.
In a motion filed Wednesday, Attorney Steve Pence argues that Grissom's statement "demands further exploration." He says Grissom heard this from Ramsey during a time in which the NCAA was investigating the university and the University of Louisville Athletic Association was considering whether to fire Pitino for his alleged role in it. Because of the timing of the alleged comment from Ramsey, Pence argues Grissom:
failed to inform the UL Board of Trustees about Dr. Ramsey's alleged statement.
failed to inform the NCAA, or its investigative tribunals, about the allegation.
failed to notify UL's compliance staff about the allegation.
failed to have ULAA disclose the information in this lawsuit.
took no action to learn the truth of the alleged statement.
As a result, Pence argues that Grissom's statement "fundamentally affects ULAA's claim that Coach Pitino is responsible for failing to monitor (Andre McGee's) activities." He goes on to say that Grissom's failure to take any of the above actions "risks tainting the NCAA decision on which ULAA relies." Lastly, calling Grissom's comment a "hearsay rumor," Pence draws a line between Grissom's failure to investigate it as a "red flag" to Pitino's eventual breach of contract, in which the ULAA said he failed to report a rumor that DePaul offered money to former U of L recruit Brian Bowen. 
He also says that if Grissom has lied about the trustee as the source of the money, "it constitutes perjury," meaning Grissom committed a crime.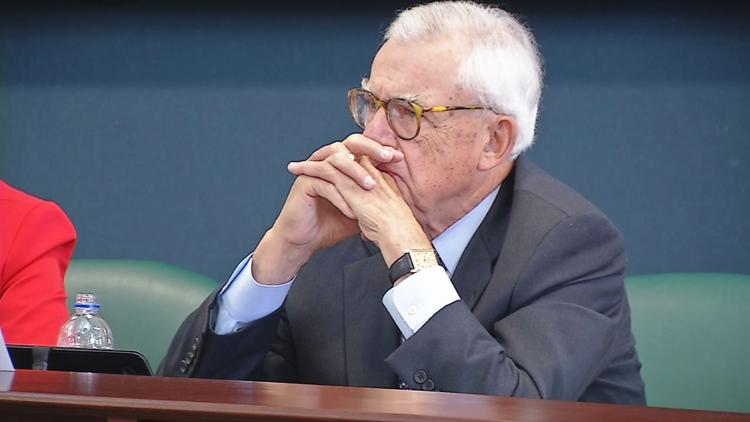 However, Pence has already questioned Grissom himself about the allegation in the sworn testimony on the day he made it, because Pence is also Ramsey's lawyer.
In the motion filed Wednesday, Pence is asking a judge to reopen the discovery in the lawsuit for 60 days to explore the allegations unearthed in Grisson's testimony and depose everyone with knowledge of Grissom's claim. 
Related Stories:
Copyright 2019 WDRB Media. All Rights Reserved.