If you're looking for some socially distant family fun during the holidays, there are many options in Kentucky and Indiana. Below is a list of locations with holiday displays. Some are free, while others charge admission. 
Blue's Light Show in Okolona is free, with lights flashing in sequence to music that plays on 91.3 FM. It runs every Wednesday and Sunday, from 6 p.m. to 9 p.m. and every Friday and Saturday, from 6 p.m. to 10 p.m. Open daily the last week of December until Jan. CLICK HERE for more information on Facebook. 
Located at 4602 Glenna Way.
Brown Park in Saint Matthews. The park was the center of activity for Light Up St. Matthews on Dec. 5, and the lights are still on display for families to walk around and enjoy. 
Gardens Aglimmer at Louisville's Botanical Gardens on the Waterfront. The new Beargrass Creek Pathway is lit with icicle arches and a glowing waterfall stream with swans, snowflakes, deer, Moravian stars, oversized flowers, light bursts, candles, and a multicolor tunnel of lights. 
IMAGES | Gardens Aglimmer at Waterfront Botanical Gardens
The self-guided walking tours are being held Saturdays and Sundays until Dec. 19. The cost is $7 per person. 
Lights Under Louisville at Louisville Mega Caverns is keeping the lights on a little longer than usual this year to give people more time to celebrate the holidays. Visitors can now drive underground to enjoy the millions of enchanting Lights Under Louisville starting at 11 a.m. daily until Christmas Eve.
The attraction closes for the season on Jan. 3. Passes can be purchased ahead of time, and start at $29.99 per vehicle. First responders in marked vehicles get in for free. To purchase passes, CLICK HERE.
The Louisville Orchestra is performing a Free Holiday Concert at 7 p.m. Thursday, Dec. 10, on Humana's Facebook page. The show will feature renditions of Antonio Vivaldi's "The Four Seasons" and many holiday favorites. 
Can't tune for the live show? That's OK. The video of the performance will remain on Humana's Facebook page until Jan. 8, 2021. 
The orchestra is also offering an on-demand performance of Vivaldi's "The Four Seasons" that will be available from 7:30 p.m. Dec. 19 through Feb. 1, 2021. The performance costs $20 for a one-time stream. For more information, click here. 
Louisville Winter Illuminations Trail Walk. This is a new event at the Parklands of Floyd Fork Park. According to its website, the "one-mile trail in Beckley Creek Park features more than 10 light installations harmonizing light, music, and nature." Open Sunday-Thursday from 5:45 p.m. to 8 p.m., and Friday–Saturday from 5:45 p.m. to 9 p.m.
Cost: $17.99 adults, $9.99 for children; children 2 and under admitted free. Tickets must be purchased in advance. CLICK HERE for more information. 
Minions Christmas Display. Dozens of bright yellow Minions have filled Michael Pourteau's New Albany yard for the past several years, and videos of the displays have been viewed thousands of times. If you want to check out the display for yourself, it's located at 2032 Indiana Avenue in New Albany.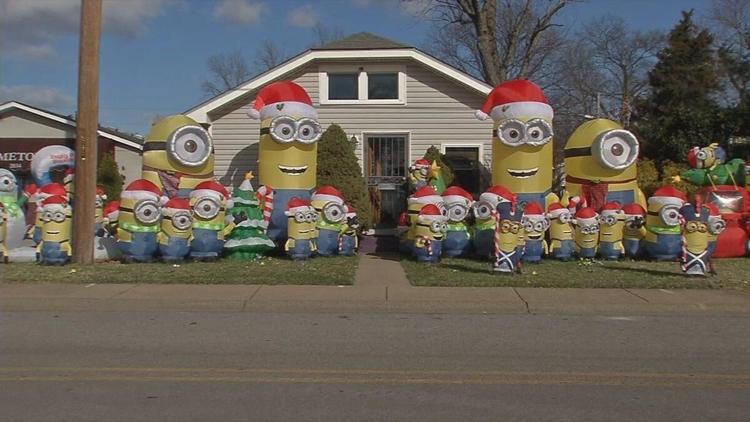 The Minions are on timers and will stay inflated until about 11 p.m. every night through Christmas. 
Rudolph's Run Presented by Danger Run - What would happen if Santa's Christmas list was destroyed? For $20 a carload, your family can find out and help Santa find the missing pieces of the list and save Christmas. The event runs through Jan. 2. CLICK HERE for more information. 
Toyland Christmas. This dazzling display of thousands of Christmas lights twinkling in time to music has raised nearly $227,000 for the Home of the Innocents since it started. The lights will remain on display seven nights a week through Dec. 25.
Located at 6801 Melon Court. Donations encouraged. 
Veterans Memorial Park in Jeffersontown has a free drive-thru light show. The lights will remain on display every night through Dec. 31. Located at 10707 Taylorsville Road.
Winter Woods Spectacular. The half-mile drive through the park features lights and art to celebrate the holiday season through Jan. 2, 2021. The venue has been known to sell out, so the public is advised to buy tickets online due to the COVID-19 pandemic.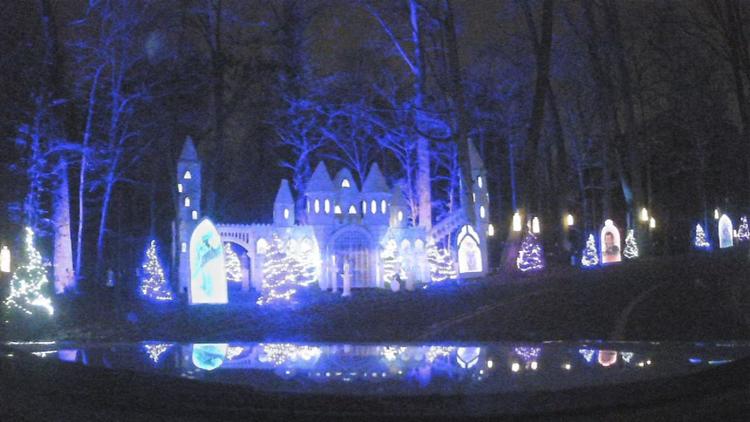 The cost for a car, SUV or van is $35, while admission for a limousine or passenger van is $50.
Copyright 2020 WDRB Media. All rights reserved.