CHARLESTOWN, Ind. (WDRB) -- A domestic violence run led to gunfire between police and a southern Indiana man. 
It happened Sunday night at a home in the 2200 block of Vienna Road in Charlestown. Both Charlestown Police and Clark County Sheriff's Deputies responded to the scene.
Brandy Sawyer, the suspect's estranged wife, said she left her husband because of a history of domestic violence. She said an emergency protective order on Thursday was granted.
"This ain't the first time he's done this to me," Sawyer said. 
Sawyer and her children were staying with her parents. She said her estranged husband, Travis Sawyer, broke into the home Sunday night while everyone was asleep.  
"Woke up with him on top of me, choking me," Sawyer said.
Brandy said Travis had a gun and bad intentions.
"He even told the kids to 'tell your mom goodbye, because she's leaving here in a body bag,'" Brandy said.
"He was going to kill me."
One of the children called 911 and got Brandy's parents.
"My 15-year-old daughter heard me," she said. "She come in running and woke them up."
Charles Arbuckle, Brandy's father, said he and his wife got his gun and confronted Sawyer.
"I said, 'Travis, you need to get out of my house,'" Arbuckle said. "She blocked the view so I could load the gun. I managed to get two bullets in the gun."
By then, police had surrounded the home.
"The next thing you know, he goes to the door ... he looks out, and then he comes back in and starts firing," Arbuckle said. "I think he got about five or six shots off."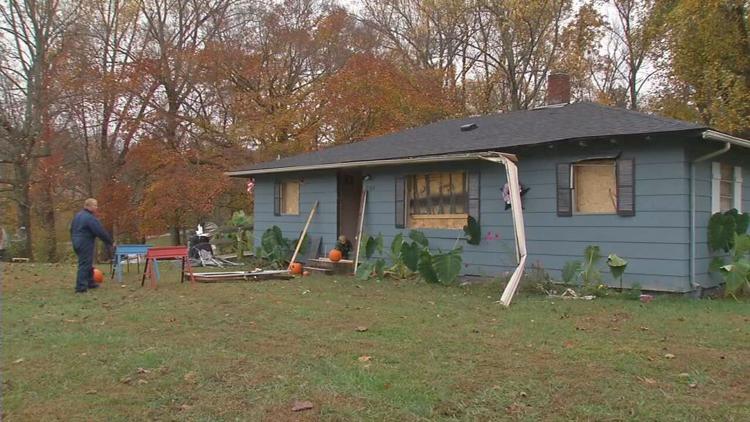 Arbuckle said at least three of those bullets hit his wife. Police said Sawyer also shot at officers, who returned gunfire. Sawyer was hit multiple times, according to police.
Both Sawyer and his mother-in-law were rushed to University of Louisville Hospital. Police say both their injuries are "considered serious and severe."
Arbuckle spent Monday boarding up what's left of his home. He said the house was nearly destroyed after police exchanged gunfire with Sawyer.
"All this happened after we went to my sister's house," Arbuckle said. "I was the last one out, because I couldn't hold him no more."
Arbuckle said he recently spent several thousand dollars on a basement and new roof, but he doesn't have homeowner's insurance or money to repair and replace what he lost.
"I'm the only one working in the house," Arbuckle said. "Seems like I take two steps forward, and I get three knocked back."
A friend has set up a GoFundMe account to help the family rebuild and recover some of what they've lost. To donate, click here.
Two of the officers who responded to the home were from the Charlestown Police Department. Charlestown Police Chief Timothy Wolf released this statement on Tuesday morning: "On Sunday October 25th, 2020, Officers from the Charlestown Police Department assisted the Clark County Sheriff's Department with a call of a Domestic Disturbance on Vienna Road in Charlestown.  After the Charlestown Officers arrived on scene, the suspect opened fire on officers.  One officer returned fire at the suspect.  Neither officer was struck by the suspect's gunfire.  Both Officers have been put on paid administrative leave which is standard operating procedure per department policy." 
Copyright 2020 WDRB Media. All Rights Reserved.