LOUISVILLE, Ky. (WDRB) -- Two members of the Breonna Taylor grand jury said Wednesday they believe additional charges should have been considered against Louisville Metro Police officers who fired shots during the fatal March raid of Taylor's apartment.
The jurors — two men who have remained anonymous — said Kentucky Attorney General Daniel Cameron's office presented the Taylor shooting case differently than dozens of others the Jefferson County grand jury deliberated on when it met in September.
In particular, they said, Cameron's staff waited until the end of the 2 ½-day proceeding to give the charges they wanted the jury to consider, rather than at the start. That ran counter to other cases the jury heard, they said.
"We heard dozens of cases, but when we got to this case, it seemed to me that they deliberately did it backwards," one juror said. 
Cameron's attorneys recommended wanton endangerment charges against former LMPD Detective Brett Hankison for shooting into an apartment near Taylor's unit. The jury ultimately indicted Hankison on those charges.
The jurors spoke publicly during a news conference arranged by Louisville attorney Kevin Glogower, who is representing them, and community activist Christopher 2X.
One man, known as Grand Juror No. 1, said that when Cameron's office presented the recommended charges against Hankison, "almost all of the people at once said, 'Isn't there anything else?' And it was asked more than once if any other charges could be brought."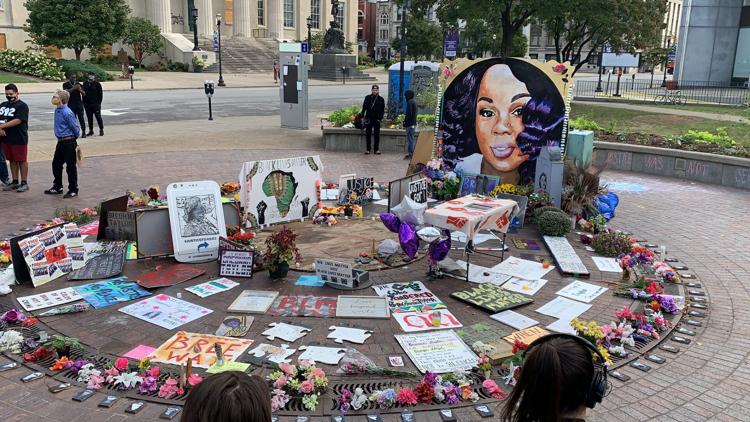 Cameron has said the officers were justified in returning fire after Taylor's boyfriend, Kenneth Walker, first fired a single shot from inside the apartment as police entered.
The juror said that Cameron's attorneys did not go into details of Kentucky's self-defense law or "any of the other possible charges that they themselves may have considered."
Elizabeth Kuhn, a Cameron spokeswoman, said Wednesday that the attorney general's office would not comment. Instead, she reissued a previous statement in which Cameron said he asked for an indictment on charges that could be proven under Kentucky law.
"Indictments obtained in the absence of sufficient proof under the law do not stand up and are not fundamentally fair to anyone," he said. "I remain confident in our presentation to the grand jury, and I stand by the team of lawyers and investigators who dedicated months of work to this case."
Another man, Juror No. 2, said jurors were not given an opportunity to question the prosecutors' recommendation. In addition, he said, Cameron's team did not share some information — such as police officers' video interviews and a drawing one officer made — with the jury.
"But it also would have been best if we were told upfront what the charges would be," he said. "We've always been told up front what the charges were, but they didn't do that. And then at the very end of it, we were left out of the decision process altogether."
Based on the evidence they did see and hear, Juror No. 1 and 2 said they feel the officer's actions were "negligent" and "criminal".
"Before the raid even began, this team skipped over a lot of safeguards," Juror No. 2 said. "They should not have proceeded, according to their own procedures. They went around those procedures, and they kept going ahead. So they made mistake, after mistake, after mistake."
Cameron's office made a recording of the grand jury proceedings in the Taylor case public on Oct. 2 after being ordered to do so by Jefferson Circuit Judge Ann Bailey Smith. However, some of the testimony, including Cameron's recommendation to the jurors, wasn't released.
Related Stories:
Copyright 2020 WDRB Media. All Rights Reserved.