LOUISVILLE, Ky. (WDRB) -- Louisville's top prosecutor said he won't decide whether to file new charges against Breonna Taylor's boyfriend, Kenneth Walker, while federal agencies continue to investigate the fatal police shooting from March. 
A day after the Louisville Metro Police Department released hundreds of pages of documents in its own probe of the shooting, Jefferson Commonwealth's Attorney Tom Wine said Thursday he is reviewing the file but will not make a decision regarding Walker until the U.S. Department of Justice and FBI wrap up their investigations into Taylor's death. 
The FBI's work may not be complete until 2021, Louisville activist Christopher 2X said on Sunday. 
Walker was initially charged with attempted murder of a police officer, but the case was dismissed without prejudice in May, meaning he could be charged again as more facts come out. 
Walker has said he fired a single shot after LMPD officers burst into Taylor's apartment before 1 a.m. March 13 while serving a search warrant as part of a broader narcotics investigation. Walker claims he believed police were intruders breaking into the apartment. Walker's shot hit Sgt. Jonathan Mattingly in the leg, Kentucky Attorney General Daniel Cameron said after his office investigated the case.
Officers returned fire. Taylor, 26, was shot six times and died at the scene. 
LMPD's investigation into Taylor's death, conducted by the department's Public Integrity Unit, was made public Wednesday. The report cites messages on Walker's cell phone, obtained through a warrant, that claim Walker was "clearly trafficking in marijuana and prescription medication" and "may have committed a robbery prior to March 13, 2020."
"Investigators believe this information should be noted because it may have contributed to Walker's actions on March 13, 2020," the report says.
Walker's attorney, Steve Romines, called that allegation "pathetic and completely consistent with the coverup that began that night and continues up to today."
In a statement, Romines said "it reflects the fact that over two months into the investigation of Breonna Taylor's death, LMPD is more interested in including unsupported allegations to smear Kenny Walker than it is in actually finding the truth."
Walker has sued state and city governments and 13 current or former LMPD officers, as well as former LMPD Chief Steve Conrad, whom Mayor Greg Fischer fired in June. The suit asks that Walker be immune from further prosecution in the case, as he is entitled to protection under Kentucky's "stand your ground" law, as well as a jury trial and unspecified monetary damages.
Walker, who spoke briefly at a Sept. 1 news conference announcing the lawsuit, said he "would never knowingly shoot a police officer. Breonna and I did not know who was banging on the door, but the police know what they did. The charges brought against me were meant to silence me and cover up Breonna's murder. For her and those that I love, I can no longer remain silent."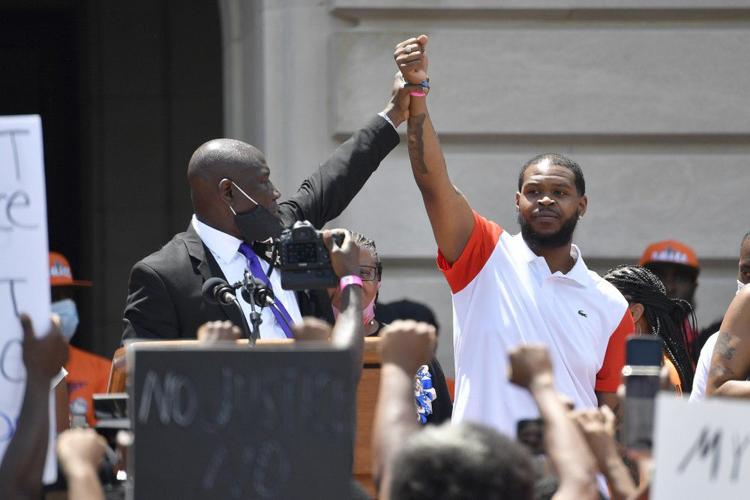 Although police had a no-knock warrant for Taylor's apartment, officers have said they identified themselves while repeatedly knocking on her door, according to recorded interviews Cameron's office presented to a Jefferson County grand jury late last month. 
Walker has said he and Taylor were watching a movie in bed when they heard loud banging on the apartment door. He said they never heard police identify themselves. 
"We're like, 'What the heck?' We both get up, start putting on clothes – another knock at the door," Walker told investigations with LMPD's Public Integrity Unit in the early morning hours of March 13. "She's like, 'Who is it?' loud at the top of her lungs. No response.
"… It's a long hallway," Walker continued. "Even if somebody was saying something on the other side, you probably couldn't hear them. But, as loud as we were screaming … I know whoever was on the other side of the door could hear us."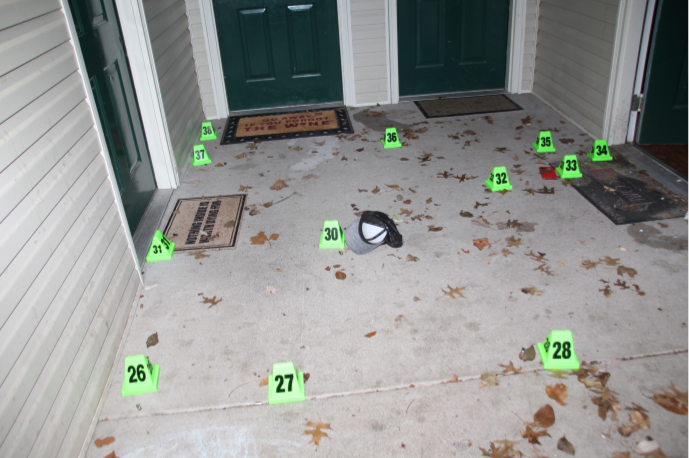 At least four of Taylor's neighbors told investigators they did not hear police knock or announce before bursting into her apartment, according to recordings of the grand jury proceedings. Only one witness said he heard police announce themselves before the shooting began, Cameron's prosecutors told the jury. Saying that witness "corroborated" officers' accounts, the attorney general singled out the man during a news conference discussing his office's investigation into the case. 
The witness in question, who used a babysitter who lives above Taylor's first-floor apartment, changed his story with investigators after initially saying he heard no one identify themselves as officers and heard no knocking.
Body camera footage from an officer who responded to Taylor's apartment after the shooting shows Walker slowly walking backward with his hands above his head toward a group of officers standing behind him with their guns drawn. 
Former LMPD Detective Brett Hankison, who faces three felony counts of wanton endangerment for firing into a neighboring apartment during the raid, can be heard telling Walker, "You're going to (EXPLETIVE) prison ... for the rest of your (EXPLETIVE) life."
"What did I do?" Walker asks. "What did I do?"  
Related Stories: 
Copyright 2020 WDRB Media. All Rights Reserved.