LOUISVILLE, Ky. (WDRB) -- Commonwealth's Attorney Tom Wine said Friday his office will not proceed with the prosecution of Kenneth Walker, boyfriend of the late Breonna Taylor, on a charge of attempted murder of a police officer.
Walker was indicted by a grand jury on March 19 after he fired at Louisville Metro Police officers who were executing a search warrant in the early morning of March 13 at Taylor's southwest Louisville apartment. LMPD Sgt. Jonathan Mattingly was shot in the leg and underwent surgery for what police said were severe injuries. 
Walker could be charged again later as more facts come out, Wine said during a Friday press conference.
"I believe additional investigation is necessary," Wine said, citing a pending FBI investigation of the incident.
Officers shot Taylor, a 26-year-old emergency room tech and former EMT, eight times during the raid, killing her, according to a wrongful death lawsuit her family has filed against police. The shooting of Taylor, a black woman, has drawn national scrutiny and calls for an independent probe.
Rob Eggert, Walker's attorney, applauded Wine's decision in a statement released Friday and said Walker "just wants to resume his life."
"Kenneth Walker is grateful to everyone who stood by him," Eggert said. "... We are also grateful to Judge (Olu) Stevens, who had the courage to release Walker on home incarceration before the case went viral."
In a statement, the attorneys representing Taylor's family called Wine's decision "a belated victory for justice and a powerful testament to the power of advocacy."
"Kenneth Walker and Breonna Taylor did everything right the night police ambushed their home," attorneys Ben Crump, Sam Aguiar and Lonita Baker said. "While dismissing the charges is the right thing to do, it comes more than two months after Breonna was killed and Kenneth was arrested. Louisville police spent these months defending their actions and smearing Kenneth's and Breonna's good names. This is just another step to the LMPD taking full responsibility for its actions."
LMPD Chief Steve Conrad said Friday afternoon in an LMPD Facebook post that he was disapproved of Wine's decision. 
"I am frustrated by this decision and I know you are as well, especially since we know how seriously our sergeant was injured. But I still respect Mr. Wine's integrity and judgment," the chief said.
Conrad on Thursday announced he will retire from LMPD at the end of June after leading the department for more than eight years.
"Mr. Wine presented additional information publicly today. Much of that information contradicts major points in the narrative being shared in the public," Conrad said. "But ultimately, Mr. Wine is correct – a jury would have to decide which version of the events they believe. And we will continue to let the investigations progress."
Police say they knocked '6 or 7 times' on apartment door
In audio clips Wine released, Walker acknowledged hearing someone knocking on the apartment door.
Eggert has said Walker thought he and his girlfriend were being robbed, and that he fired when officers rushed in.
Walker said in one of the audio clips, "So there's a loud boom at the door; first thing she said was, 'Who is it?' No response.
"So then I grab my gun, which is legal; like, I'm licensed to carry," he continued. "I've never even fired my gun outside of a range. I'm scared to death. So she says, 'There's another knock at the door.' She's yelling at the top of her lungs, and I am too at this point. 'Who is it?' No answer. No response. No anything.
"So we both are just putting on something to go answer the door and see who's knocking at the door, and it's late at night. So when we come out, when we get out of the bed or whatever, like walking towards the door, the door, like, comes, like, off the hinges, so I just like let off one shot. Like I still can't see who it is or anything. So now the door's like flying open. I let off one shot, then all of sudden there's a whole lot of shots, and we both just dropped to the ground."
In interview audio released Friday, Mattingly said officers repeatedly announced their presence outside the apartment. 
"Banged on the door, no response. Banged on it again, no response," he said. "At that point we started announcing ourselves, 'Police, please come to the door. Police, we have a search warrant.'
"I probably banged on the door six or seven different time periods," he continued. "Not six or seven times, but six or seven different, different times, which seems like an eternity when you're up at a doorway. It probably lasted between 45 seconds and a minute.
"So I hit this corner, and he goes, 'Boom!' And as soon as the shot hit, I could feel the heat in my leg. And so I just returned fire. I got four rounds off. And it was simultaneous. It was like, 'Boom! Boom! Boom! Boom!'"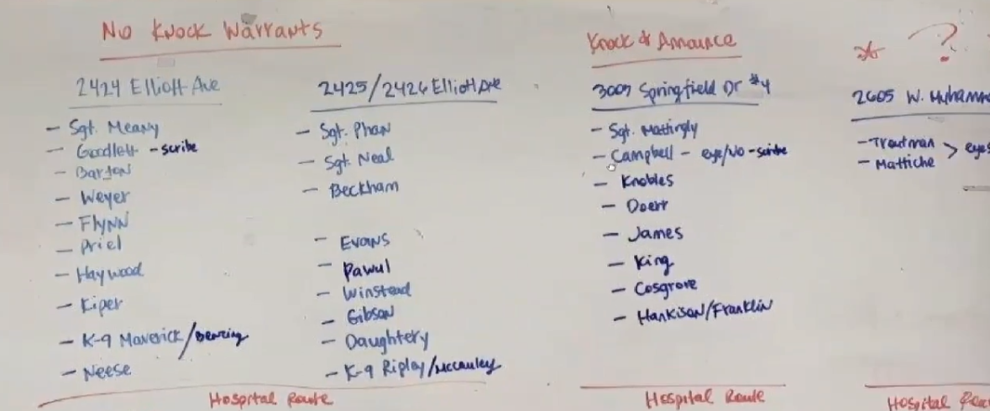 A judge signed off on a "no-knock" warrant to search the residence after officers claimed suspected drug dealer Jamarcus Glover was using the residence to receive packages and keep narcotics or proceeds from drug sales, according to a WDRB News report. The officers requested the "no-knock" warrant "due to the nature of how these drug traffickers operate," including trying to destroy evidence and fleeing police.
However, Wine on Friday displayed a "whiteboard" that he said showed officers' plans to execute the warrant as a "Knock and Announce" before the incident began. 
"Simply because the police secure a 'no-knock' warrant does not mean that they cannot knock and announced," Wine said. "They make a decision based upon the circumstances, and you heard Sgt. Mattingly say that when they got there they made a decision to give Ms. Taylor, who they believed to be the only person in the apartment, the opportunity to come to the door."
A U.S. postal inspector in Louisville said his office found "no packages of interest" going to Taylor's residence, according to a recent WDRB News report, and police did not use his office to verify the matter. 
Related Stories: