LOUISVILLE, Ky. (WDRB) -- A $700,000 federal grant will help fund a program in Louisville aimed at funneling resources toward kids at high risk of violence.
Mayor Craig Greenberg announced Monday the "Go Grant" grant — which will be received over a two-and-a-half year period — will go to The Spot: Young Adult Opportunity Campus, a collaboration between KentuckianaWorks, Goodwill Industries of Kentucky and Louisville Metro Government that began in 2021 at Jefferson Community and Technical College in downtown Louisville, which houses The Spot.
"We as a community need to continue to invest in programs like The Spot so that every young adult has hope and opportunity regardless of the circumstances of life that they were born into," Greenberg said during Monday's announcement.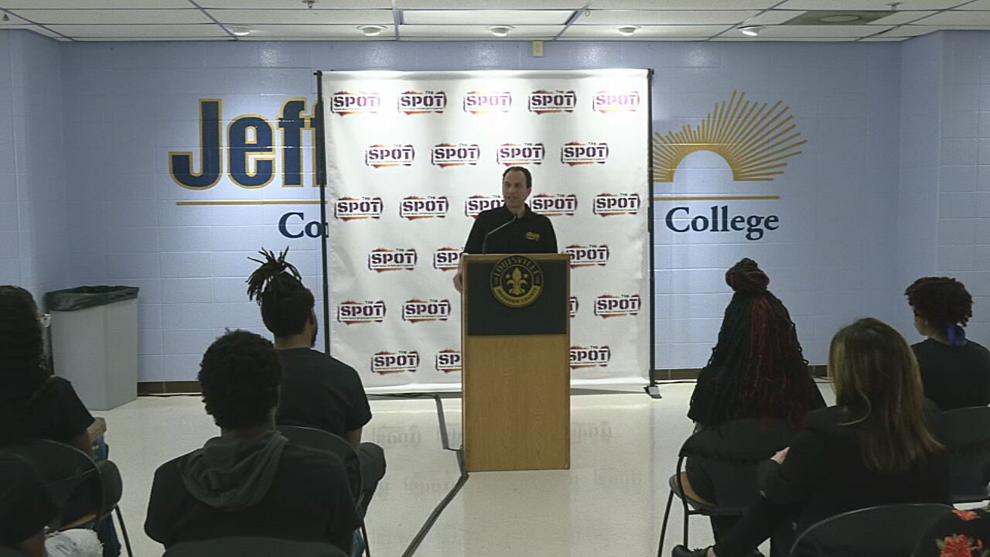 For nearly two years, The Spot has served as a free, one-stop center for helping young people in Louisville overcome life barriers and achieve their career and educational goals.
"It's better opportunities. I mean, it is all here," said Jacobe Daugherty. "I mean, it's like, you can't lose." 
Daugherty and Cashmon Usher completed the the program, and said it helped them overcome barriers they have faced in life.
"I've developed a lot. I used to, didn't even speak this way or anything like that. I've developed in speaking, technology, vocabulary, things like that," said Usher.
Daugherty said The Spot helped him apply to college. Usher was able to find a new place to live and become a certified insurance agent because of the program.
"I've seen people quit. I've seen people stay. It just depends on you and your dedication," Usher said. "You have to be dedicated, you have to want it for yourself."
Thanks to the grant announced Monday, The Spot will be able to continue helping people like Daugherty and Usher succeed and overcome barriers they may face in life.
"What we need is political will and courage to do the right thing with that money and the right thing is to invest in our youth today," said Louisville Deputy Mayor Barbara Sexton Smith. "So, it's a lot of money, yes. But every youth, every child, is worth every penny that we can invest in them." 
Representatives from Goodwill Industries of Kentucky and Kentuckiana Works said more than 100 people ages 16-24 will be connected to critical resources and career training through The Spot's programs.
"Often, too many times, folks are stuck," said Jerry Collins, director of the Louisville Metro Department of Corrections. "Young folks are coming into the system and they can't get out of the system. And this is such a great opportunity for Louisville to really get ahead of this problem and get folks back out and give them opportunity, give them education, job opportunity (and) some place to live."
The federal grant money will come from the U.S. Department of Labor through the nonprofit FHI360. It is also a partnership alongside the Office for Safe and Heathy Neighborhoods and the Louisville Urban League.
"In working to build a safer and stronger Louisville, we must use every resource we have to improve the conditions that lead to violence and despair in our community, especially our young people," Greenberg said in a news release Monday. "These new funds will help more young adults get connected to a team of caring adults, and basic resources like stable housing, transportation, and employment. Our city is stronger and safer when every young person, from every neighborhood and background, has access to a support system and quality economic opportunities."
Now, a new generation will be able to gain soft skills and personal development opportunities for free.
"I felt real good about myself and, I'm not finished," said Daugherty. "I feel like I got a lot more learning and a lot more growing to do."
The Spot has four locations. They serve 16 to 24-year-olds in Jefferson County, Bullitt, Henry, Oldham, Shelby, Spencer, and Trimble.
To learn more about The Spot, click here.
Copyright 2023 WDRB Media. All Rights Reserved.