LOUISVILLE, Ky. (WDRB) -- The Kentucky attorney general's office and an attorney for fired Louisville Metro Police Detective Brett Hankison will ask a judge to reconsider her ruling to allow evidence to be made public in the commonwealth's case against Hankison in connection to the fatal raid on Breonna Taylor's home. 
As an "alternative," the attorney general's office and Hankison's attorney will suggest the judge seal the evidence until a jury is seated for Hankison's trial, according to a joint motion filed Thursday. A notice on the motion says it will be presented in Jefferson County Circuit Court at 3:30 p.m. Monday, Oct. 19. 
Read the full motion below: 
A Jefferson County grand jury on Sept. 23 charged Hankison with three felony counts of wanton endangerment for firing into a neighboring apartment during LMPD's raid on Taylor's home in March. Hankison pleaded not guilty to the charges on Sept. 28 and is expected back in court on Oct. 28 for a pretrial conference.
During Hankison's arraignment hearing, Judge Ann Bailey Smith ordered evidence in the commonwealth's case against the former detective to be included in the public court filed and not just between the prosecution and defense. 
In arguing against the evidence being made public, the attorney general's office and Hankison's attorney say that is not a normal practice of Jefferson Circuit Court and would allow materials that "may never be admitted as evidence in court" to be published by media outlets and "permanently taint potential jurors for trial of this matter."
As precedent, the motion cites a 2009 Kentucky Supreme Court decision to uphold a trial court's sealing of evidence in a high-profile criminal case. In denying the Louisville Courier Journal access to the evidence in the case, the state Supreme Court ruled, "The right to a neutral jury is a sufficiently important interest to outweigh the public and press's right of access."
"The parties agree that the administration of justice can best be served by limiting materials published in the record to the evidence actually admitted in court," the joint motion says.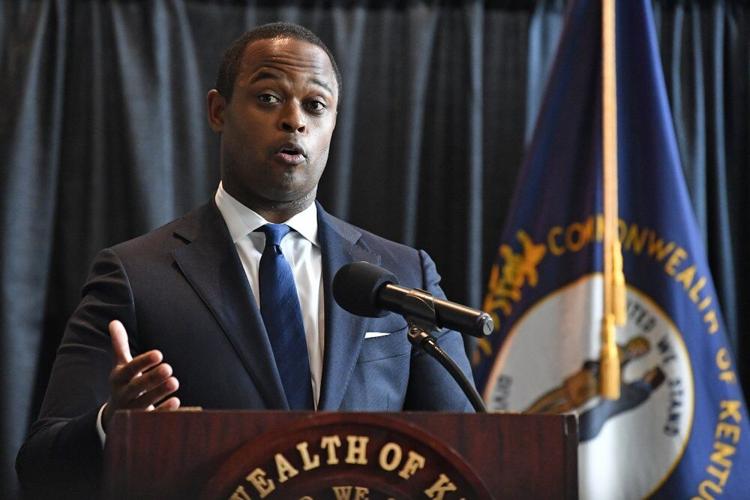 Additionally, both parties argue that making the evidence public "could only serve as an impetus for more" threats of violence directed toward Hankison and Attorney General Daniel Cameron. 
Hankison's attorney, Stew Mathews, has said the former detective "has received a number of threats" during the course of the Taylor case. 
"I have gotten calls from people outlining threats that they have seen on social media," Mathews said during Hankison's arraignment hearing while arguing against Smith's order restricting the former detective from possessing a firearm as a condition of his bond. 
Former LMPD interim Chief Robert Schroeder fired Hankison in June, saying Hankison violated the department's policies on using deadly force and following rules and regulations during the raid on Taylor's apartment. Hankison has since appealed his termination to the police merit board that he once served on.
Cameron, meanwhile, will have armed security through the end of 2020 after receiving "several serious, credible threats" against his health, "his wife, and members of his family," the attorney general's office told CNN in a statement. 
Taylor, 26, was shot six times by police during the raid on her apartment and died at the scene. Neither Hankison nor the two other LMPD officers to fire their weapons into Taylor's apartment, Sgt. Jonathan Mattingly and Detective Myles Cosgrove, were charged in connection to Taylor's death. Cameron has said Mattingly and Cosgrove, were "justified" in returning a shot fired first by Kenneth Walker, Taylor's boyfriend. 
Cameron's office made a recording of the grand jury proceedings in the Taylor case public on Oct. 2 after being ordered to do so by Smith. LMPD has also made its Public Integrity Unit's investigation into Taylor's death public on the department's website. 
Related Stories: 
Copyright 2020 WDRB Media. All Rights Reserved.