LOUISVILLE, Ky. (WDRB) -- Frustrated TARC3 riders had a chance to hear from the company on Tuesday about stranded riders and no-shows.
A lack of drivers is what the company says is to blame for the delay in pickups — but riders say something needs to be done fast so they can get on with their lives.
Metro Council President David James says the city has been dropping the ball when it comes to how disabled residents get to appointments and around town — specifically with TARC3.
"We as a city are not doing a good job taking care of them and it's really unacceptable," James said Tuesday.
Several TARC3 riders gathered at the back of Council chambers during Tuesday's Public Works committee meeting. It was a silent protest, many holding signs expressing their anger with the company.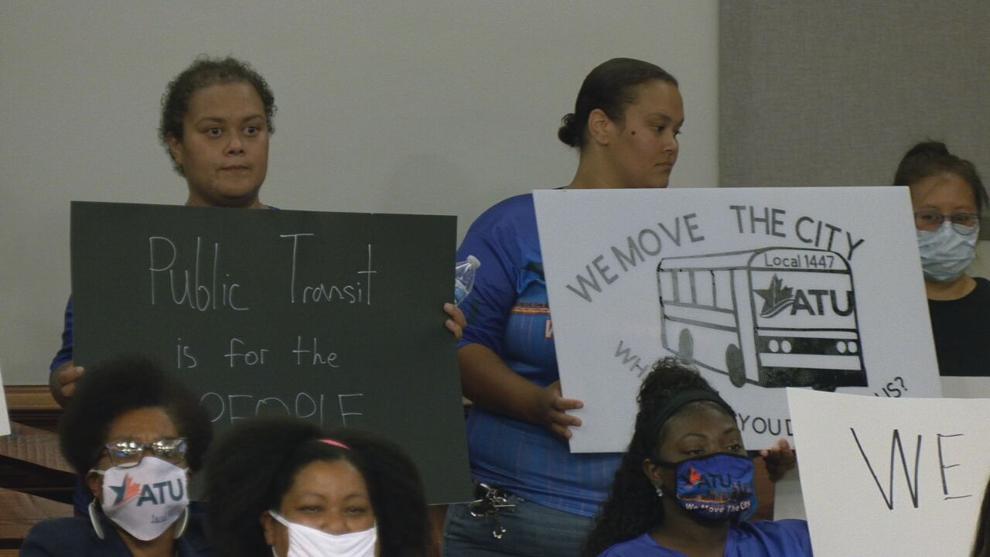 "I have to travel because I am on the outside area of the TARC bus so I have to go to the Goodwill," said George Mayes Jr., who often rides with TARC3. "It is a hardship when people that have a disability have to depend on that service and then they have, sometimes they can get where they're going and sometimes they can't."
A lack of drivers is why TARC says it had delayed TARC3 routes and some people with reservations who were never picked up.
"I think it's really concerning and making it difficult for some of the most vulnerable in our community to do the things they need to do," Councilwoman Cassie Chambers Armstrong, D-8, said.
TARC says it received 37 applications last week. The company is offering $500 referral bonuses and $1,000 sign-on bonuses. Pay rates for drivers is $15 an hour.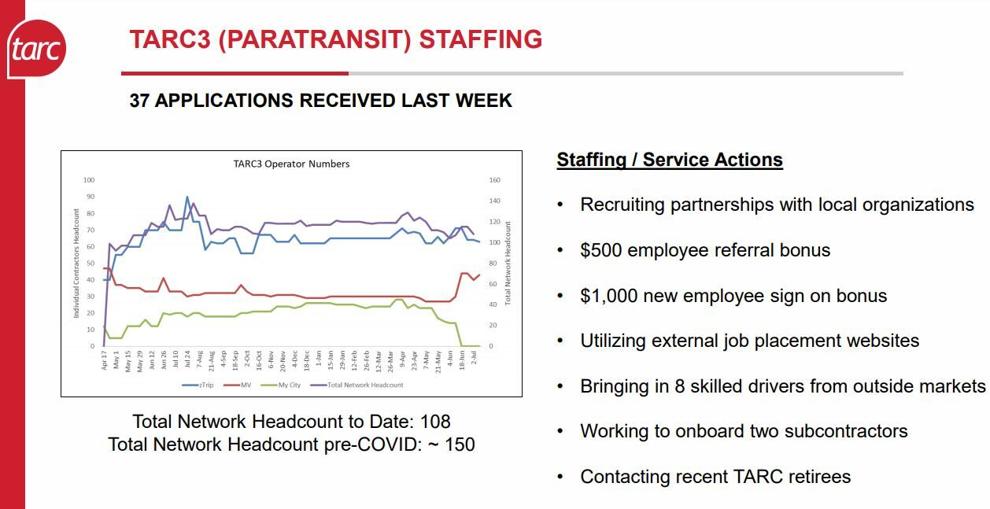 "If we want to get back up to those trips that we were providing prior to COVID, and if the demand gets there, we need to hire about 42 new people," said TARC Executive Director Carrie Butler.
But not everyone at Tuesday's meeting was upset. Denise Ervin said she understands what TARC and many other companies have gone through with a worker shortage during COVID. She, too, had been stranded at a pickup site several weeks ago.
"It was bad, it was. But for me, and I'm sure a lot of other people, it's gotten better," Ervin said.
TARC3 says most of the missed trips are on the weekends and it lost about 50% of drivers during COVID due to layoffs or reduced routes.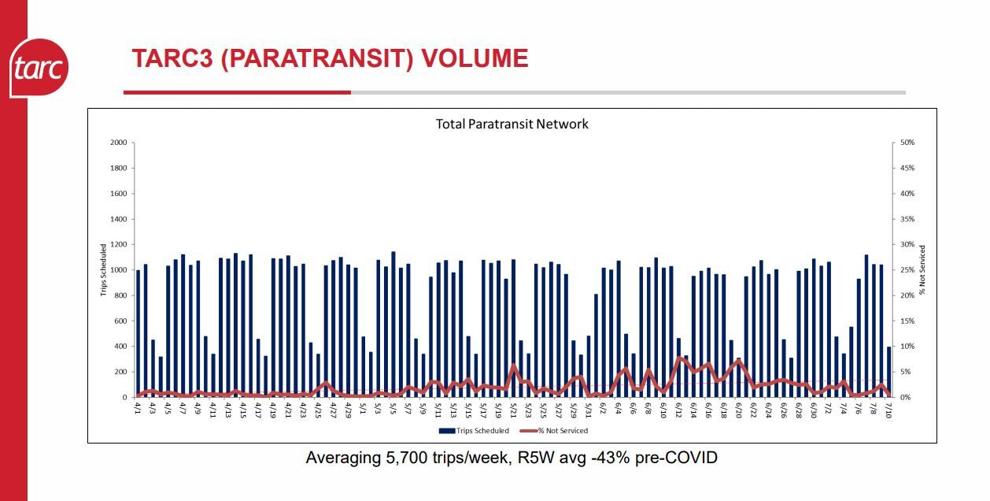 "We certainly want to work on all the ways that we can better communicate both with our riders as well as our employees," Butler said.
TARC3 is now working on an opt-in program with Uber to lessen wait times and work better with reservations.
Metro Public Works Committee has requested a progress update from TARC at its next meeting on Aug. 3.
Related Stories: 
Copyright 2021 WDRB Media. All Rights Reserved.