LOUISVILLE, Ky. (WDRB) – Every day for the past three school years at Jefferson County Public Schools, odds were that at least one student was hauled away in handcuffs.
And if they're younger than 18 and need to be detained for prolonged periods starting next year, they could be shuttled hours from Louisville and housed in youth detention centers throughout Kentucky until their cases are adjudicated.
Families, youth advocates and other stakeholders in the process have anxiously awaited a decision on what will happen with Jefferson County's youngest offenders after the city's decision to shutter its Youth Detention Services, a casualty of budgetary belt-tightening in the face of a $65 million jump in pension costs for Louisville Metro government.
Louisville Metro's impending closure of the city's only youth jail puts the onus of housing local juveniles in the state's hands. With no word on exactly how that process will work and less than two months before the transition, some worry about how Jefferson County's youngest inmates and their families will be impacted by the transition.
"The frustration is really just mounting for them, and there's no real clear answers about where this is going," said Christopher 2X, a family and youth advocate who heads the Christopher 2X Game Changers. "The only thing they do know is their young ones who are currently in the youth detention center here in Louisville, they won't be here pretty soon anymore."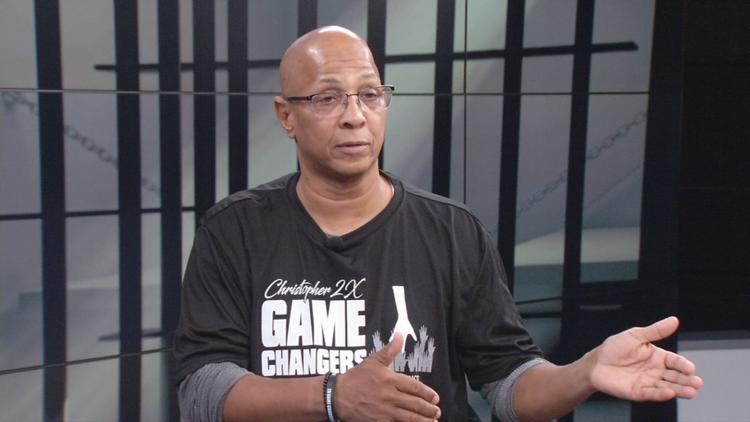 Denny Butler, commissioner of the Department of Juvenile Justice, hopes that's not the case, and he expects a developing partnership involving the state, Centerstone Kentucky and other local nonprofit organizations will allow more youth to remain in Jefferson County as their cases move through the judicial process.
Centerstone, which provides services like counseling, psychiatric evaluations and treatment and crisis intervention, will be "the backbone" of the agreement and provide "front-end services for the youth in Jefferson County," he said.
Butler met with representatives of Louisville's nonprofit community to discuss the proposal Thursday. The partnership, he said, will put more juveniles in alternative placements, such as home incarceration, with wraparound services to address any underlying issues they face rather than committing them behind bars at state facilities.
He said he "absolutely" understands the anxiety that many local families and advocates are feeling as the closure of Youth Detention Services approaches, but they shouldn't worry about how youth will be handled with the shift.
"Some people get nervous about change," Butler said. "We had a great meeting (Thursday) morning, but like I said, behind the scenes we've been meeting with the nonprofits, and the nonprofits have organized in Louisville."
"We think that some of these kids may be living with some behavioral health issues or problems in their family and community, and we want to work with those communities and those children and those families to improve those outcomes for kids and meet them right where they are as they enter the juvenile justice system or even before that," said Abby Drane, president and chief executive officer of Centerstone Kentucky.
Spokespeople with Louisville Metro and JCPS, which provides eight teachers and an assistant principal for Youth Detention Services, declined interview requests because many details of the facility's closure and its effect on juvenile detention here are still developing.
"We're not talking publicly about possibilities," said Jean Porter, communications director for Mayor Greg Fischer, in a message to WDRB News. "There's really nothing new that anyone can share."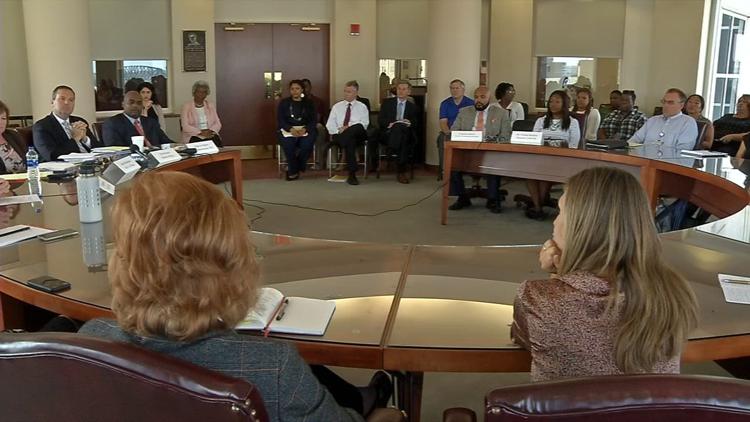 Impact of new protocols
There are about 30 juvenile defendants behind bars at Youth Detention Services now, Butler said, and he estimates that up to 16 could be eligible for alternative placements once the state assumes control. Some, he said, will age out and be transitioned to Louisville Metro Corrections.
That would leave 10 to 15 juvenile detainees for the state to absorb in its network of detention facilities, though Butler said his agency is looking to place them in the Adair Youth Development Center, about two hours away from Louisville.
That's where juveniles will likely land after short-term stays in the existing Audubon Youth Development Center, near Lyndon, which has 10 beds and will be operating as a "hybrid" facility used for brief detentions before youth defendants either receive alternative placements or continue being held elsewhere. Youth and teens will only stay there for 48 hours.
"If the numbers are lower, which we anticipate they may be lower, we could keep youth here," Butler said. "What we don't want is law enforcement driving up and down the interstate."
The state is setting up video messaging services like Skype so detainees can speak with their families and attorneys from Adair County, if that's where they land, he said.
But for some attorneys, that could still be problematic as they work to defend their clients.
Karen Faulkner, who started her career as a public defender in juvenile cases and represents young defendants in private practice, said face-to-face interactions with her clients are key to developing connections with youth who may be wary of the legal system. That trust, she said, is vital so she can "effectively represent them."
While Faulkner can visit with multiple clients back-to-back at Youth Detention Services now, that won't be the case if she represents local juveniles in facilities across Kentucky.
"Once they're moved out of Jefferson County, I wouldn't be able to just pop over there in an afternoon and do a 30-minute check-in with a client," she said. "I'd have to schedule a time where I could travel for several hours and then plan at least an hour to be there."
The added drive time would also increase how much she bills clients' families, another potential hardship.
2X worries that some families, too, will face difficulties getting to detention centers across the state to visit their kids.
He also fears that detaining youth and teens far from Jefferson County will only exacerbate the "school-to-prison pipeline" phenomenon. "I believe that with all my heart, bottom line," he said.
 "I know what it's like to be in the grassroots and kind of embedded in this situation where you have these kind of behavioral issues, but also I've seen lives saved when people can communicate in close proximity of the ones who are acting out, the ones who are not seeing with clarity the benefit of not being involved in this kind of behavioral issue," 2X said.
"When you take them far away and those voices are not close anymore … I don't see any great outcomes."
Data obtained by WDRB News show that the number of arrests at JCPS schools has begun a downward trend starting last school year, when 247 arrests occurred. That's down from a recent high of 276 arrests set in the 2017-18 school year, or a rate of about 1.6 arrests per day.
Through the first 46 days of the current school year, students have been arrested 31 times. That equals a rate of 0.7 arrests per day so far.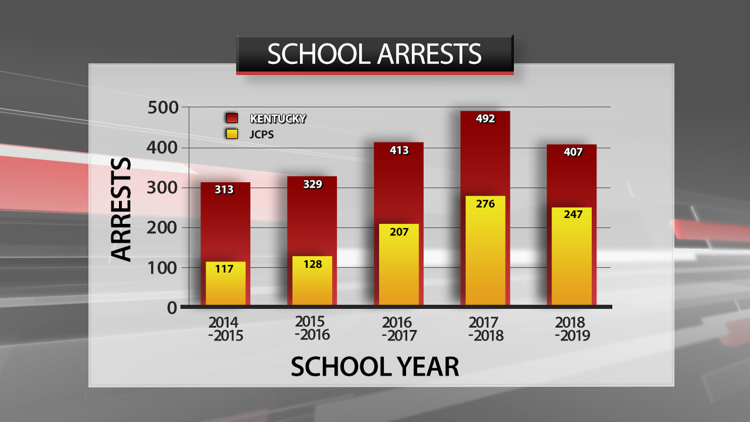 While the arrest rates are improving, data show that black students have made up the vast majority of those who find themselves in handcuffs. Of the 31 arrests so far this year, 24 involved black students. Last year, black students made up 72.5% of the 247 arrests at JCPS schools, according to district data.
Not all of those arrests were of juveniles nor do they necessarily reflect the amount of JCPS students detained long-term at Youth Detention Services.
2X also questions the quality of education that detained youth will receive outside the local youth detention system. Mike Wynn, spokesman for the Justice and Public Safety Cabinet, said local school districts where facilities are located are responsible for educational programming.
"Education saves lives," 2X said. "Even when you're incarcerated, it can save your life."
Faulkner, too, wondered how the change will impact the education that Jefferson County juveniles will receive during detentions and how they'll be reintegrated once they're released.
"We're going to have them in a facility for 24 to 48 hours where they will not get any education at all, and then if they are sent to another facility, how do we get their education started there?" she said. "How do we make sure that we're on par for what they were learning in JCPS schools? And then once they leave there, are they going to be able to enter their school back or are they going to place them in an alternative school?"
Renee Murphy, communications director for JCPS, said there are steps to reintroduce detained youth either to their previous school or new school after meetings to consider factors like what led to their detention and what sorts of supports and resources are available to them.
New juvenile detention facility in Louisville?
Juveniles already committed to the criminal justice system might be moving closer to home.
Butler said his department is looking to open a new state-run youth development center in Louisville on Audubon's campus, which could bring nearly 60 Jefferson County juveniles currently in facilities throughout Kentucky back home to serve out their sentences.
That will be reflected in the department's budget request that's being drafted for the upcoming legislative session, when the General Assembly will craft the next two-year spending plan for the state, he said. Butler could not yet say how much such a project would cost.
"The resources in Jefferson County could be used for them," Butler said. "… Our goal is to bring all of the kids, all of the youth back to Jefferson County that are from Jefferson County so they can be with their families and we can make that connection and make a healthier family."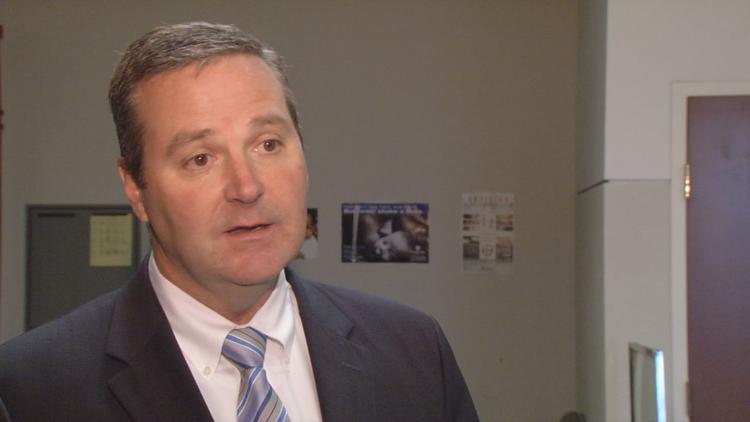 That would add to the department's 312 beds at its seven detention facilities. Wynn said there are 152 juvenile residents currently, giving the state enough capacity to absorb local detainees.
Butler said he feels "pretty certain" that the likely change in administration won't affect the Department of Juvenile Justice's plans for its handling of local youth detention. Democratic Gov.-elect Andy Beshear topped Republican Gov. Matt Bevin, who has requested a recanvass of the results, by 5,189 votes in Tuesday's election.
"When I was a legislator I had worked hand-in-hand with J. Michael Brown (Beshear's top deputy in the attorney general's office and head of the governor-elect's transition team) when he was the secretary of justice," Butler said. "These are the same beliefs. I think they will support this, and I think they will move the ball even further if they're the administration."
Beshear spokeswoman Crystal Staley said the governor-elect is "diligently working on the transition of state government" and "committed to finding solutions to the issues facing the state" in consultation with others.
"Juvenile detention services in Jefferson County is one of the issues he is reviewing for when he is sworn in as governor on Dec. 10," she said in a statement.
Others aren't so certain that the transition will be as smooth as Butler predicts.
"These are more unknowns now, and so if there was a plan on the table from the current administration right now, well, if this election stands for what it is, there's a whole new conversation that's going to be in front of this new administration coming up in 2020 about this issue," 2X said.
Copyright 2019 WDRB Media. All Rights Reserved.